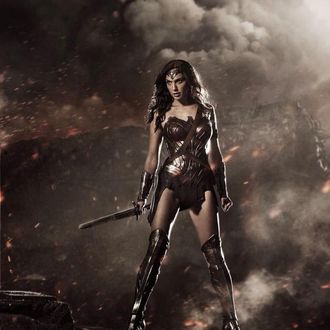 Warner Brothers just dumped a lot of news about its DC Comics films at today's shareholder conference, the biggest of which is that there will be a stand-alone Wonder Woman movie and that the Batfleck will ride again. Ben Affleck, Henry Cavill, and Amy Adams have all signed up to repeat their Batman v Superman roles in 2017's Justice League movie, which DC hopes will be its answer to The Avengers. Zack Snyder will be directing both that film and its 2019 sequel, so get ready to see the butt-chin in loving slo-mo.
Also, there's bad news for Grant Gustin: Like Tom Welling before him, the actor just learned that playing a superhero on the CW does not put you on the fast track to play that superhero in the movies. Instead, the lead role in Fox's just-announced Flash film will be played by Ezra Miller, who played the talked-about teen in We Need to Talk About Kevin. He was also at Occupy Wall Street, so presumably, he has a lot of experience running both toward and away from danger.
Other news from the rapidly gestating DC cinematic universe: Game of Thrones' Jason Momoa will, as rumored, be playing Aquaman; the Rock will be playing Black Adam in DC's Captain Marvel movie; and both Cyborg and the Green Lantern will star in films coming out in 2020.
Putting DC's newest schedule alongside previously announced films from the Marvel universe, here's a look at just how superhero-saturated the next six years will be:
2015: The Avengers: Age of Ultron, Ant-Man, The Fantastic Four
2016: Batman v Superman: Dawn of Justice*, Captain America 3, Suicide Squad, Doctor Strange, X-Men: Apocalypse, The Sinister Six, Deadpool
2017: Wonder Woman, Justice League Part One, Guardians of the Galaxy 2, The Wolverine 2, The Fantastic Four 2, two untitled Marvel films (one of which may be Thor 3)
2018: The Flash, Aquaman, three more untitled Marvel films (one of which will likely be Avengers 3)
2019: Shazam, Justice League Part Two, one untitled Marvel film
2020: Cyborg, Green Lantern
* This post originally stated that Batman v Superman would be released in 2015. Its release date is March 25, 2016.