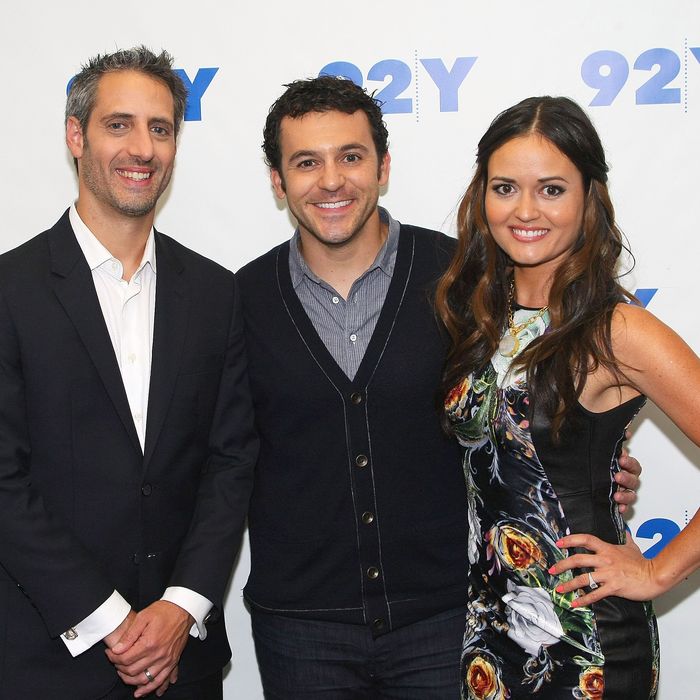 (l-r) Josh Saviano, Fred Savage, and Danica McKellar.
Photo: Mychal Watts/Getty Images
Last night at 92Y, our favorite Robert F. Kennedy Junior-High-Schoolers — Kevin Arnold, Winnie Cooper, and Paul Pfeiffer — waxed nostalgic before 200 fans during their "first public appearance together in front of a live audience," promoting season one of The Wonder Years on DVD. Only hours had passed since Fred Savage, Danica McKellar, and Josh Saviano appeared on Good Morning America together, so there weren't many hugs or how've-you-beens exchanged backstage. Still, it was fun to watch them watch generation-old clips of their precocious selves selected by the effusive moderator, "Fresh Air" TV critic David Bianculli. Vulture picked up a few factoids at the event.
It took six takes to film Kevin and Winnie's first kiss. During take one, McKellar's smile got in the way and she rolled her eyes. Director Steve Miner told Savage to give McKellar his coat, but he wound up stroking her hair on his own. McKellar is a year Savage's senior; when it came to kissing an older woman, he joked, "It was so hard to go back to 11-year-olds then."   
The glasses Saviano wore were fake — he's worn contacts since childhood. "Josh was also so much cooler than his character," said Savage, noting that he was a varsity athlete. "As the show progressed, it wasn't that they brought Paul out of his shell [as] they brought Paul closer to Josh."
Although Alley Mills and Dan Lauria (who played Norma and Jack Arnold) represent what McKellar called "the quintessential parents," neither had children. Meanwhile, Savage has three kids, McKellar has a son, and Saviano has a 7-year-old daughter, Noah, who sat in the front row and asked a question during the Q&A.
After the internet rumor first circulated that Saviano and Marilyn Manson were the same person, Saviano dressed as Manson for Halloween when he was 20. Initially, though, Saviano had to ask who Manson was, and they've yet to meet.
Savage and Saviano were McKellar's surrogate siblings — they're the ones who taught her "Pull my finger."
Until meeting this reporter, Modern Family director Savage had never heard of the Tumblr blog, Kevin Arnold Is a Dick. Upon seeing the site, he had no comment.
They aren't particularly thankful that they were child stars in the pre-internet age. "There was nothing to capture, you know?" Savage told me. "It wasn't like we got home and we'd be like, 'Oh shit, thank God no one caught that chase on camera.' I mean I do think that growing-up period — whether you're in the public eye or not — is so much more difficult now, as a result of technology. But yeah, we weren't like, coming off benders and just so happy Instagram wasn't around yet."
Citing guest stars John Corbett and David Schwimmer, Savage said, "When I was 12 and 13 years old, I always thought the guys [who played Karen's boyfriends] were always the coolest guys in the room."
Of Paul's bar mitzvah, Saviano said , "I think it was one of the first times religion and Judaism was addressed on mainstream television." He's not sure if Savage attended his real-life bar mitzvah, but McKellar did with her sister (who played another of Kevin's TV girlfriends, Becky Slater). Both McKellar and Saviano were at Savage's bar mitzvah, though. "Each table had a trophy that said 'FRED' on it," remembered McKellar.
For years, McKellar has dismissed the idea that Winnie and Kevin slept together in the final episode. But when confronted with a clip last night, she said, "Yeah, they probably did." "That was a lot of kissing," admitted Savage.
Despite it being one of the most memorable scenes they "shared," Savage and McKellar actually filmed saying "I love you" separately when Winnie is bedridden after a car accident in season four. According to child labor laws, each actor had to spend at least three hours of their workday in the schoolroom. Since Savage was in every single scene, the crew worked around him when possible so he could fulfill his academic requirements.  
Fans still bemoan that Kevin Arnold and Winnie Cooper didn't live happily ever after, but to the cast, it makes perfect sense. Savage said, "Your first love when you're a kid is so idealized … you never end up with your first love … I guess there are rare exceptions … You have this first love that you pine for, and that makes your heart sing and breaks your heart … Your life doesn't turn out the way you thought it would when you were 12. That's one of the lessons of the show."