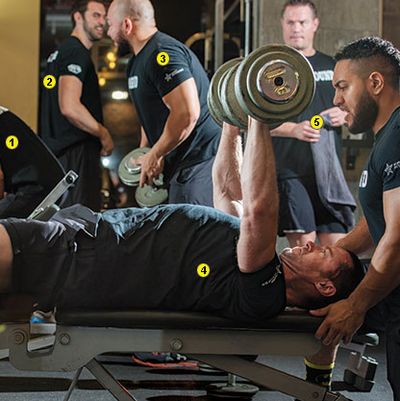 Hugh Jackman and the DogPound, photographed by Christopher Anderson/Magnum Photos/New York Magazine
Photo: Christopher Anderson/Magnum Photos
Every morning (except for Sundays), at 5:45 a.m. sharp, the DogPound meets at an elite West Village gym. A year ago, Hugh Jackman assembled this group of 14 guys — who include NYSE president Tom Farley, former America's Next Top Model judge Nigel Barker, and two Olympic-medal winners — from among the dads at his kids' school. The name is an homage to Dali, Jackman's French bulldog, who presides over all workouts.
"It's a bromance for sure," says lead trainer Kirk Myers, who, together with trainers nicknamed Menace, Monster, and Chief Smashing Officer, works out alongside Jackman and friends. The whole crew have been known to spend an entire day together and exchange more than a dozen emails daily. The hour-long themed circuit starts with a double espresso shot and often involves tasks such as flinging giant hammers and lifting 100-pound dumbbells. At some point every morning, the Rocky theme song is played. "It's very loud. Everyone is screaming, constantly," says Barker. "We all feel like little Wolverines in the making."
1. David Uyttendaele, age: 45, Co-founder and CTO of mimeo.com
2. Matt Targett, age: 28, Strategic partner manager at Google, Australian Olympic swimmer
3. Dawin Pena, age: 32, President of Kirk Myers Fitness personal trainers
4. Hugh Jackman, age: 45, Actor
5. John O'Neil, age: 45, Corporate partner of a private-funds group
6. Breylis Pena, age: 28, Trainer
Not Pictured:
Conor Dwyer, age: 24, U.S. Olympic swimmer
Tom Farley, age: 38, President of the New York Stock Exchange
Joe Geraci, age: 39, Co-head of markets at the municipal-securities division of Citibank
Alex Guira, age: 49, Investment banker in private equity
Nigel Barker, age: 42, Photographer, TV host-judge "It might be midlife crisis, but it could be worse. Our love handles and kegs are being traded in for six-packs."
Nicky McGrane, age: 46, CFO of Evolent Health
Dennis Pena, age: 19, Head of digital and social media for Kirk Myers Fitness, occasionally Jackman's driver
Kirk Myers, age: 35, CEO and founder of Kirk Myers Fitness "Nigel went out of town for two days, came back, and said, 'I'd tell you I missed you, but I've actually spoken to you more than I have my wife for the past two days.' "
*This article appears in the October 6, 2014 issue of New York Magazine.