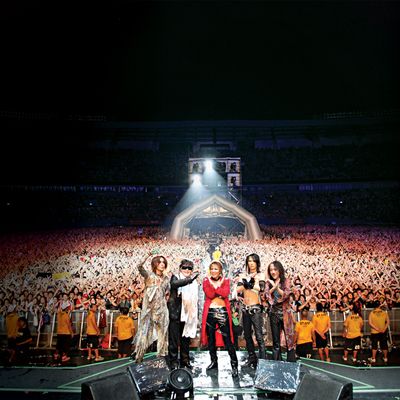 X Japan at the Summer Sonic festival in Japan, 2011.
As one of the world's biggest rock stars, Yoshiki Hayashi is at his most comfortable playing stadiums, basking in the adoration of tens of thousands of screaming fans. On a scorching-hot day in August, though, a thousand or so curious folks at the Baltimore Convention Center would have to do. Yoshiki had flown from Los Angeles, where he lives part-time, to perform at Otakon 2014, the country's second-largest anime festival. The event was an opportunity for attendees to promenade in costume as their favorite fictional characters and for the Japanese musician to chip away at the tough-to-crack American market.
Wearing a gray frock coat and leather pants, Yoshiki, 48, strode onstage at the center's drab ballroom a little after noon, taking a seat behind a piano. The audience, teeming with girls dressed as sorceresses and boys decked out as inter-dimensional manga ninjas, sat politely attentive as he and a string quartet performed selections from his recent highbrow foray Yoshiki Classical. The album had gone to No. 1 on iTunes' classical charts in ten countries, none of them the United States — not bad, but ho-hum for Yoshiki, bandleader and drummer for X Japan, a heavy-metal group that's sold 30 million singles and albums worldwide (and a mere 3,500 or so here). There was pleasant applause for the song he'd written at the request of Emperor Akihito and the romantic tune he worked on with ex–Beatles producer George ­Martin. Then Yoshiki raised his hand for silence. "X Japan," he said in his high-pitched voice, "have decided to rock ­Madison Square Garden." Fans shrieked as X Japan rhythm guitarist Pata and bassist Heath, fresh in from Tokyo, both resplendent in ruffles and studs, walked onstage. (Singer Toshi and lead guitarist Sugizo were at home dealing with other promotional duties.) Three-fifths of X Japan unleashed a few minutes of bombastic hard rock, a teaser for their October 11 concert at the World's Most Famous Arena, the 32-year-old outfit's biggest-ever U.S. headlining performance. As Pata and Heath took their bows, Yoshiki made the kind of request he wasn't used to making. "If you're around," he said, "please come to our show."
"I live a double life," says Yoshiki, sitting in his dressing room later. "It can be very strange. Though I like having a country to go where I can buy groceries and no one notices." The quantitative facts of Yoshiki's career are irrefutably impressive — he and his band have sold out the 55,000-seat Tokyo Dome 18 times, for example — but to an American interviewer, it's still cognitively wonky to hear this unassuming guy in lipstick and a leather jacket say things like "I remember asking David Bowie about the best way to draw the line between real life and onstage life" and "I tried to book a studio but I couldn't do it because Metallica was using it, so I bought the studio for several million dollars." In Japan, "it's a Michael Jackson level of insanity around Yoshiki," says Guns N' Roses guitarist Richard Fortus, who has played with X Japan. "It was shocking to witness."
Yoshiki is used to his humbler status on this side of the Pacific — sort of. "I was at the Golden Globes in 2012," he says, waving away a handler's offer of a sandwich wrap (he's on a no-carb diet). "One of the red-carpet interviewers said, 'Who are you? I don't need you.' " He grins — what a world, right? "That would never happen in Japan."
So why bother with America? The Madison Square Garden show is not part of any larger tour, and while it should satisfy the band's tiny U.S. audience, it's hard to see it creating many new fans. (Yoshiki estimates that half of the ticket buyers are Japanese expats living in New York.) Then there's the music — ridiculously over-the-top heavy metal — which doesn't sound like anything on domestic radio. And sure, Yoshiki has been called the "Bono of Japan," but the other Bono — see the underwhelming response to U2's recent Songs of Innocence — isn't exactly at a peak of cultural relevance.
Yoshiki knows the odds, and he doesn't care. "When I was 18, I said we would sell millions of records and fill the Tokyo Dome, and we did," he says matter-of-factly. "For a new goal, I realized that every band in the world wants to play MSG, so it's time to do that, too."
This isn't the first time the band have tried to break Stateside. In 1992, X Japan signed with Atlantic Records and came to Rockefeller Center's Rainbow Room to announce the deal. The press conference was a disaster. "We didn't speak any En­glish," says Yoshiki. "We had no idea how to communicate. I like to be mysterious, but no one cared." A planned album was quickly scuttled.
It wasn't until 2010 that X Japan again ventured westward. But rather than road-dog their way to new fans, Yoshiki & Co. played a mere seven North American cities, all with large, presold Asian populations. So how does X Japan plan to make headway in America when they have no tour dates outside of Manhattan and haven't released an album of new material in 18 years? Speaking over the phone and through an interpreter, Toshi answers obliquely and optimistically. "We are a band," he says, "that looks forward to challenges."
They've had plenty. X Japan's back story is a Behind the Music narrative blown up to epic proportions. When Yoshiki was 10, his father committed suicide. To help him cope, his mother bought him a drum kit. At a record store in his home city of ­Tateyama that same year, he had an epiphany. "I saw a Kiss album cover," Yoshiki remembers, still lounging in the dressing room, fiddling with his crucifix-and-handcuffs necklace. "I asked the people at the store to play it for me." He nods. "That was," he says, eyes gleaming, "my entrance to rocking."
Inspired by Kiss's theatricality and the Sex Pistols' anti-authoritarian sneer, Yoshiki and his friend Toshi formed X in 1982. (The "Japan" was added in 1992 to distinguish the band from the Los ­Angeles punk stalwarts X.) Taking as their motto "the violent crime of visual shock," Yoshiki, Toshi, bassist Taiji, and guitarists Pata and Hide became, in Yoshiki's words, "human animation characters," teasing their hair into elaborate gravity-defying structures, donning makeup and gender-bending outfits. "At the time," recalls Yoshiki, "cabs wouldn't stop for me because I had spiked blond hair. Now they would — if I took cabs."
The band performed pummeling songs with titles like "Orgasm" and "I'll Kill You" that quickly placed the quintet at the forefront of a flamboyant new movement dubbed "visual kei," which is essentially Japanese glam rock. "The Japanese can be very conservative," explains Ryu Takahashi, a former publicist for Sony Music's Japanese division, "but there's a long tradition of androgyny and extremism in the culture, and X Japan tapped into that."
Then — cue ominous voice-over — everything went wrong. In 1997, Toshi left the band and joined a mysterious community called Home of Heart. "I don't call it a cult," he says, "but they did brainwash me and con me out of money." In 1998, the charismatic Hide reportedly ­committed suicide, hanging himself in his apartment following a night of heavy drinking. X Japan split up. "It was too painful to carry on without my friends," admits Yoshiki.
For a while, anyway. In 2007, he says, "we decided to bring back the dream." The reunion peaked with concerts at the largest venue in Japan, Nissan Stadium in Yokohama (capacity: 72,327), during which Taiji, who'd been kicked out of the group in part for his alcoholism, was welcomed back. But things took another tragic turn when the bassist was rendered brain-dead after a failed suicide attempt. He died in 2011. "Our band has been so full of drama," Yoshiki says quietly. "It's almost like it's too bad to be true."
That drama has helped keep X Japan famous at home when most other visual kei groups have faded away. "There's always some People magazine story with them," says Takahashi. "The gossip keeps people interested."
For now, things seem to be trending in the right direction. "Only four years ago we played in the United States for the first time, and now we are playing Madison Square Garden," says Toshi. "That's proof we're rising in popularity." Yoshiki is optimistic, too. "Fifty thousand people in Tokyo or 20,000 people at MSG," he says, "the size is not the point." He leans forward. The point is that "X Japan," he says, grinning, "must keep trying to rock the world!"
*This article appears in the October 6, 2014 issue of New York Magazine.