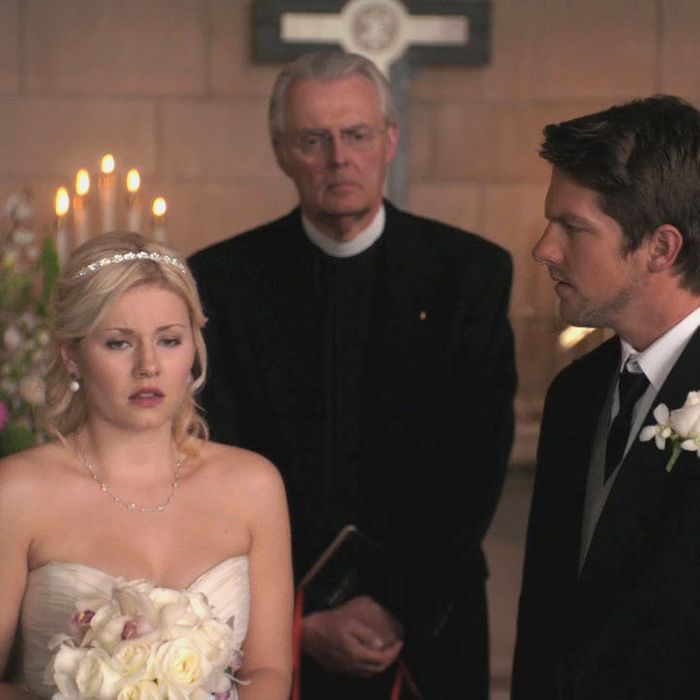 Mourn, if you must, for those lost to Game of Thrones' Red Wedding, but while you're drying your tears, consider that those fallen might be the lucky ones. While society conditions us to believe marriage is the gateway to a Champagne-soaked fairy tale, in this day and age, weddings will probably sooner lead to weekend meetings in a divorce attorney's office than some happily ever after scenario. Just consider these 13 TV-wedding fiascos:
1. Sex and the City Season 6, Episode 8: "The Catch"
Turns out curses don't exclusively target folklore heroines and Cubs fans. When Harry Goldenblatt (Evan Handler) catches a glimpse of his wedding-dress-clad fiancée Charlotte York (Kristin Davis) before the ceremony, he triggers a series of unfortunate events that would make Lemony Snicket cry out in envy. If this is what weddings are like, the maid of honor's speech going up in flames will be the least of your worries.
2. Grey's Anatomy Season 3, Episode 25: "Didn't We Almost Have It All?"
In Cristina Yang's (Sandra Oh) tragic case, it's the groom-to-be, Dr. Preston Burke (Isaiah Washington), who decides to bounce from the occasion (as Washington did from the entire series). But any absences can be devastating: an hours-late florist, a slow-to-arrive groomsman, or a sluggish polka ensemble will bring things to a screeching halt.
3. Modern Family Season 5, Episode 23: "The Wedding (Part 1)"
Considering their lengthy history together, Mitchell Pritchett (Jesse Tyler Ferguson) and Cam Tucker (Eric Stonestreet) were sure they were prepared for happily ever after, but instead, they become convinced they had invited the apocalypse when a fire, a flood, and a swarm (of dudes named Lucas, which they interpreted as "locusts") all threaten to destroy the big day.
4. Friends Season 4, Episode 23: "The One With Ross's Wedding"
Ross Geller (David Schwimmer) will forever be known as "the guy who said the wrong name at his wedding," and though his embarrassed bride Emily Waltham (Helen Baxendale) still manages to go through with the ceremony, the young couple's relationship flatlines almost immediately thereafter.
5. Scrubs Season 3, Episode 22: "My Best Friend's Wedding"
While Carla Espinosa's (Judy Reyes) sentiments could make statues cry, her fiancé Chris Turk (Donald Faison), who doesn't have the same facility with words, winds up ripping off a classic film speech to keep up, and Carla, for one, is pissed.
6. Happy Endings Season 1, Episode 1: "Pilot"
The onset of cold feet is an unfortunate possibility at any wedding, but rarely does the bride ditch the ceremony for a grown man in rollerblades. Alex Kerkovich (Elisha Cuthbert) leaves Dave Rose (Zachary Knighton) at the altar for an extreme-sports enthusiast, and though it's unlikely you'll suffer the same fate, some drunk uncle or your cousin's last-minute desperation date will almost certainly try to climb a stretch of scaffolding or expose himself to a cater waiter during "The Macarena" on your big day.
7. 30 Rock Season 7, Episode 8: "My Whole Life Is Thunder"
If you assumed Jenna Maroney was born with a shred of decency and wouldn't hijack Colleen Donaghy's funeral and reduce it to her own wedding's backdrop, you're a naïve fool. Will your bride also double for Narcissus? Probably not, but she might malign a harmless cater-waiter for any simple offense, and if you dare to look at her dress the wrong way, you better hope you're equipped with a flak jacket.
8. Frasier Season 7, Episode 24: "Something Borrowed, Someone Blue (Part 2)"
The idea of spending the rest of your days in the company of one other human being is completely insane, and at least a handful of engaged people — like Daphne Moon (Jane Leeves), on the verge of marrying a boring lawyer named Donny Douglas (Saul Rubinek) — will recognize this at the 11th hour and run off with someone else.
9. Boy Meets World Season 7, Episode 7: "It's About Time"
In an ideal world, childish fights die off with school-mandated recess, but in reality, they continue to reappear during formative adulthood rituals — like weddings! In this case, Shawn Hunter (Rider Strong) plays the role of petulant man-child at Cory Matthews's (Ben Savage) marriage to Topanga Lawrence (Danielle Fishel), stomping his feet until he gets the attention he doesn't so rightfully deserve.
10. Will and Grace Season 5, Episode 8: "Marry Me a Little, Marry Me a Little More"
No, a City Hall wedding won't spare you from marriage mayhem, either. While strolling through Central Park one afternoon, Leo Markus (Harry Connick Jr.) and Grace Adler (Debra Messing) come across Katie Couric doing a sweeps week televised marriage special and impulsively decide to let her marry them, only to quickly realize how completely unprepared they are for the reality of matrimony. Plus, the Today anchor proves to be an unordained hack, and when the couple is finally ready to commit, they have to repeat the whole process again.
11. Friends Season 10, Episode 12: "The One With Phoebe's Wedding"
If you're planning a Valentine's Day wedding like Phoebe Buffay (Lisa Kudrow), you can bet a blizzard will cancel your plans by dawn. (Date set for July? Expect a monsoon.) With roads jammed and no Plan B, Phoebe and Mike Hannigan (Paul Rudd) are forced to exchange vows outside of their friends' apartment building, surrounded by sewer grates, ornamental shovels, and a steel-drum-playing guest named Marjorie.
12. Gossip Girl Season 6, Episode 10: "New York, I Love You XOXO"
So long as weddings offer open bars, the local Five-O will have work to do — just as they do shortly after Chuck Bass (Ed Westwick) becomes a married man, for example. Bass is arrested in connection to his father's death, and though felony murder accusations will ideally be left off your big day's docket, you can plan on a misdemeanor or two.

13. Girls Season 1, Episode 10: "She Did"
Or maybe you'll just marry someone you eventually grow to hate.