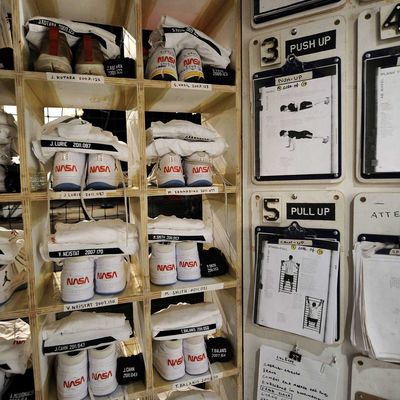 Tom Sach's SPACE PROGRAM: MARS, 2012 Timothy A. Clary 2012 AFP. Courtesy of Creative Time.
Photo: TIMOTHY A. CLARY/2012 AFP
Remember the terror and joy of freshman lock-ins? Well, the art world is having its equivalent tonight, courtesy of Creative Time, where 200 pajama-clad party people will descend on Neuehouse for a 24-hour sleepover. Word currently being passed around is proper dress code includes "designer sweats, sloth onesies, health goth, pj's, and even birthday suits." Also, unlike high school, where sleeping bags and adult chaperones were the evening's entertainment, the run-of-show reads more like a Burning Man than Bayside High.
For starters, there will be a re-creation of Salvador Dalí's infamous dinner parties, following his obscure, limited-edition, 136-recipe book Les Diners de Gala. Then Andrew Kuo and Mike Boner are teaming up as the duo Hex Message, which Kuo says is "close friends making a racket," probably on par with your high-school punk band. Following this will be Tom Sach's "Space Program: Mars" Red Beans and Rice, where the NASA-loving sculptor will wheel around a food cart filled with red beans and rice (which — fun fact! — follow Louis Armstrong's own recipe and are the traditional meal consumed by the NASA launch crew whenever they send a successful mission to space). Justin Lowe and Jonah Freeman have also put together a film program that includes a variety of shorts — from early Walter Ruttmann and Hans Richter abstract films to an amateur ethnographic film. Most of these are from film prints from the collection of David Hollander, founder and co-director of Cinemarfa. For those who survive the evening — and staying is not required; one can come and go as one pleases — at 6 a.m., Grey Area is sponsoring a yoga session, and then the cult-y downtown favorite Dimes is catering breakfast.
Will there be any actual sleeping involved? Creative Time has secured a few dozen "deluxe cots" and pillows and blankets, as well as toiletry kits from Aesop, ensuring that halitosis and under-eye bags don't spoil the fun, unlike the high-school principal.
For those with sleepover fright, tomorrow at 9 p.m. the events ends with a dance party with sets by Chairlift's Caroline Polachek and artists Matt Jones and Kadar Brock.