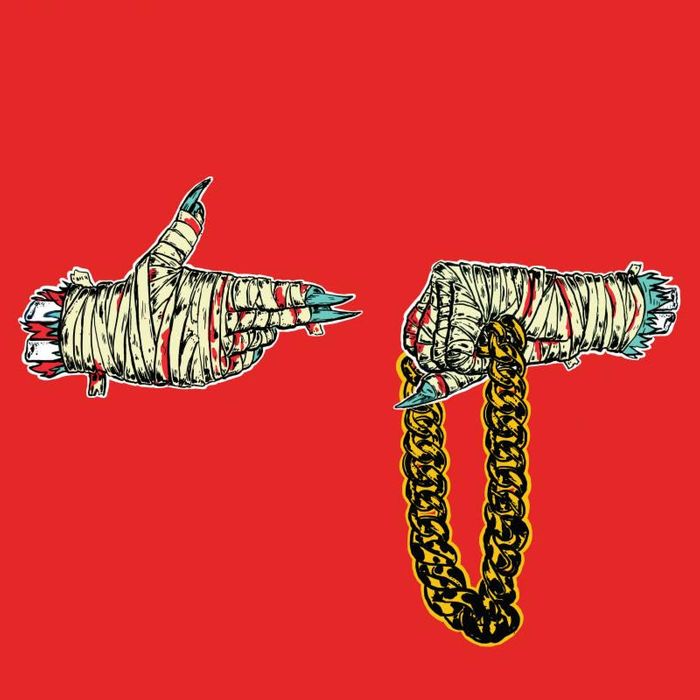 Fun fact: A few albums came out in the past few weeks that were not by Taylor Swift! Here are three of my favorites.
Run the Jewels, Run the Jewels 2
Over the weekend, the Washington Post ran a very good article about the commercial and creative decline of the rap album, which cited A$AP Yams's recent claim that 2014 has been "the worst year in rap history." This statement was dangerously close to coming true, before Run the Jewels 2. Run the Jewels is Killer Mike and El-P, both of whom have been making bold and adventurous hip-hop just below the mainstream for over a decade now. They joined forces two years ago (at the behest of Adult Swim, oddly enough), and the result was this kinetic, bromantic chemistry that crackles throughout every song they do together. Imagine some scenario in which, right before doing Watch the Throne, all of Jay and Kanye's mansions had been foreclosed and some judge told them that the only thing they had to do to get them back was just rap really, really well — that is the kind of hunger fueling a Run the Jewels song.
No big deal if you missed the first one. RTJ2 is harder, darker, and in just about every way more vital than its predecessor. Anger coexists with caustic humor, and the production is as exhilarating as the rhyming (if you see a write-in option today on your ballot for New York City's Global Welcome Ambassador: EL-P). RTJ2 has no time for Golden Age nostalgia: refreshingly, this is a rap record engaged in what it means to be a rap record in 2014. "Early" is, finally, the rallying cry that every other rapper was afraid to write in the aftermath of Ferguson; Gangsta Boo's verse on "Love Again" proves that Kanye's "I'm in It" would have been three times as nasty if he'd left room for the female perspective. Combine all of this with the fact that they gave this shit away for free? Your favorite rapper wept.
Bully, Bully EP
A couple of weeks ago, Jesse David Fox compared Nashville four-piece Bully's "Milkman" to the song Renée Zellweger sings on top of the building at the end of Empire Records, a comparison so perfect that I am doomed to never be able to unhear it. Lucky for us, Bully's self-titled debut EP gives us five more nuggets of fuzzy, grunge-inspired guitar-pop: Check the jangly, mid-tempo swagger of "Faceblind" or the sludgy sass of the eponymous "Bully" (Bad Company, eat your heart out). Guitarist/vocalist Alicia Bognanno is a compelling presence, exuberant and shit-kicking in the same breath. And in the grand tradition of fuzzy, grunge-inspired guitar-pop, her lyrics are surreal, cool-sounding nonsense: "A four-legged beauty queen / She's the best thing you've ever seen." "I could be a milkman, or I could get up and be what I want to be." Who says every day can't be Rex Manning Day?
Grouper, Ruins
When that first autumnal chill hits the air, there are certain records I dig out with the same sort of seasonal excitement reserved for my most treasured sweaters. Among them are my favorites by Grouper (2008's Dragging a Dead Deer Up a Hill and 2013's The Man Who Died in His Boat, if you're keeping track), the solo project of Portland-based experimentalist Liz Harris. Grouper songs are murmurs: a little too conventionally structured to be considered ambient music, but wispy and diffuse in ways that most things considered songs are not. Her excellent new record, Ruins, (which she recorded in isolation, on a weeklong artist's residency in Portugal) is in some ways her simplest: Most songs consist of nothing more than haunting piano chords and barely discernible whispers. But there's something inviting and calmingly warm about Ruins' atmosphere: "Lighthouse" envelops you in its beguiling background noises; the gorgeous "Holding" flickers like a dying bonfire. If your evil landlord has not yet turned on the heat, at least there's this.