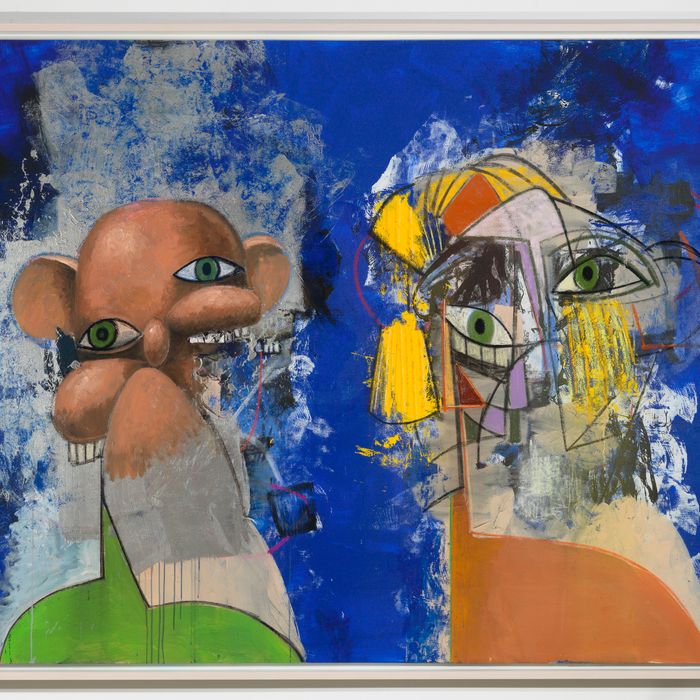 George Condo, Double Heads on Blue, 2014. Acrylic, charcoal, pastel on linen, 78 x 110 inches. © George Condo. Courtesy Skarstedt New York.
Photo: Adam Reich/? George Condo. Courtesy Skarstedt New York.
George Condo, "Double Heads / Black Paintings / Abstractions"
Skarstedt, 550 West 21st Street
Through November 8
George Condo's pizzazz-packed paintings are fun to look at and look like they were fun to make. Conglomerations of Picasso, Cubism, clown portraits, cartoons, Surrealism, dashes of Basquiat's megawatt graphic energy, and splashes of de Kooning (especially his abstract 1950 masterpiece, Excavation) provide wall power and give viewers a lot to look at and relish. Very briefly.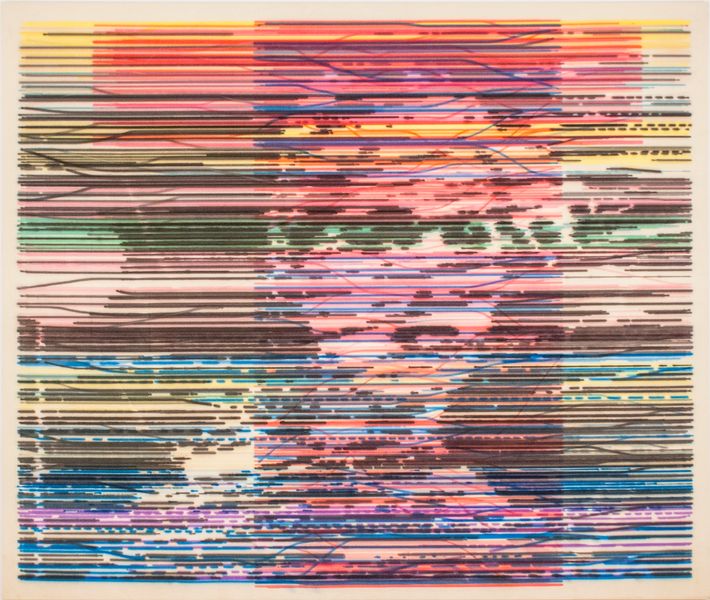 Anton Perich, "Electric Paintings 1978–2014"
Postmasters, 54 Franklin Street
The first sentence of this exhibition's punchy press release takes a direct shot at something I wrote, pointing out "No, Wade Guyton did not 'invent a new paint brush,' Anton Perich did it in 1978, when Guyton was six." (I stand corrected.) Indeed, once upon a time in 1976, Perich developed what the gallery refers to as "a colossal electric painting machine, a painterly precursor to the inkjet paintings of today," to make Warhol-like portraits of downtown scenesters and even an abstract painting that in itself is a precursor to a lot of today's icky look-alike abstraction. So the let the record be straight: Blame Anton Perich.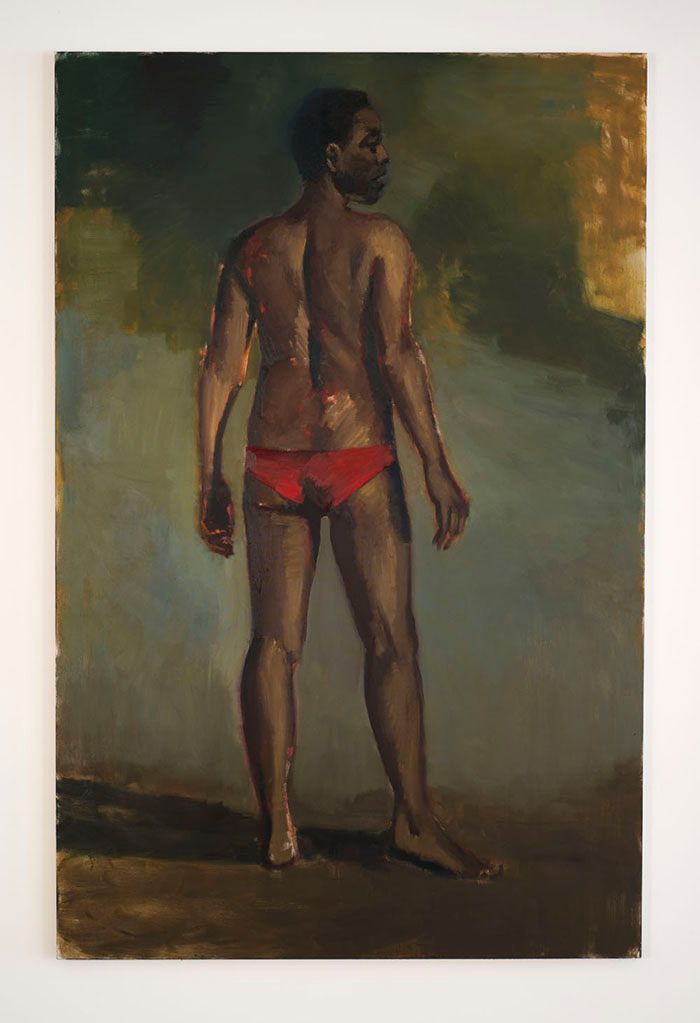 Lynette Yiadom-Boakye, "The Love Within"
Jack Shainman Gallery, 513 West 20th Street and 524 West 24th Street
Through January 1o, 2015

At 37, English painter Lynette Yiadom-Boakye has already had worldwide solo museum shows, been featured in numerous biennials, collected by Charles Saatchi and institutions all over, been the subject of a new monograph being released by Prestel this month, and continued to be a fiction writer and poet (her poetry is pedestrian and long-winded). Her painting echoes realists like John Singer Sargent (albeit without the brushy fireworks and flare for fashion) and the early 20th-century American artists known as the Eight, especially George Bellows and Robert Henri, who painted unorthodox subjects in conservative styles. While too many of Yiadom-Boakye's portraits are conservative in style and unoriginal in their ideas of surface, in the works where she depicts full figures head to toe or when she introduces flashier color, the real tension in her work — between the nearly academic figuration she uses to depict black subjects — creates radical cracks in depiction itself and should be plumbed further.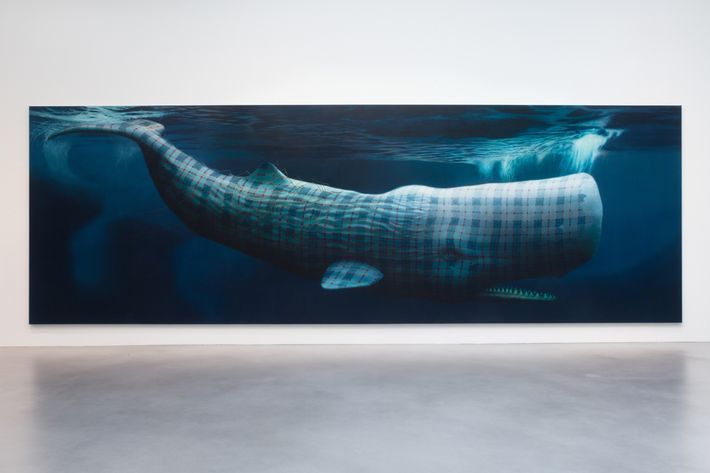 Sean Landers, "North American Mammals"
Petzel Gallery, 456 West 18th Street
Through December 20
The sheer pretension and impossibility of an American artist — especially Sean Landers, known for his epic battles with painting and the demons of the inner self — grappling with the darkest American narrative, the mystic vision of Moby-Dick, is simultaneously clownish, bothersome, and breathtaking. Behold Landers's gigantic, blue-tinted, plaid-clad white whale complete with shattered harpoons lodged in the beast's back, evidence of the age-old struggle of artists taking on serious subject matter while standing at a distance from this subject matter, knowing one is portraying something silly to even think about. Landers takes on a second impossible task as well, in nine meticulous paintings of a library, all the book titles cumulatively spelling out an epic tale of painterly longing, all find Landers looking for, confirming, and negating the self of an artist who, hit or miss, is nothing if not one of the great gamers working today.