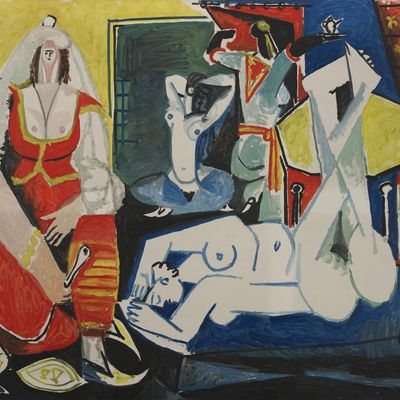 Pablo Picasso, "Women of Algiers / Les Femme d'Alger(after Delacroix) [version J]," January 26, 1955; oil on canvas; 44-7/8" x 57-1/2" (114 cm x 146 cm). Private Collection. ©2014 Estate of Picasso/Artists Rights Society (ARS), New York.
Photo: 2014 Estate of Picasso / Artists Rights Society (ARS), New York
"Picasso & Jacqueline: The Evolution of Style"
Pace Gallery, 534 W. 25th St.
Through January 10, 2015
With more than 140 works on exhibit, all created in the last 20 years of his life, this is an immersion into Picasso's obsession with the last woman (presumably) in his life, Jacqueline, a noble presence whom he cast in his famous Delacroix-inspired Women of Algiers series and more than a few odalisques. I love Picasso's last works; I think there's an argument to be made that Picasso is one of the best painters of the 1960s. Too bad this show is so overhung and chaotic that it's almost impossible to focus on anything at all.