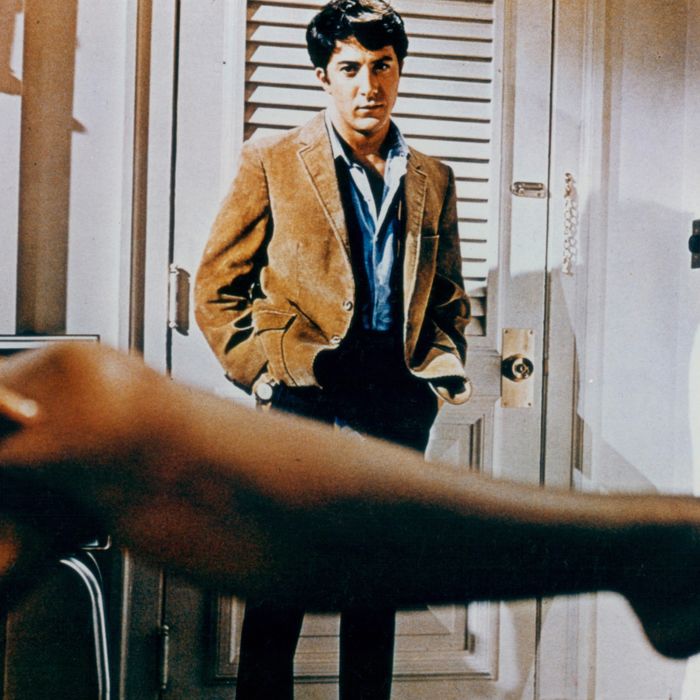 Photo: Archive Photos/Getty Images
Today the theater, television, and cinema communities are all mourning the loss of Mike Nichols. While his career began onstage with his inimitable comedy partner Elaine May — where he eventually nabbed a staggering eight Tony awards for Best Director — Nichols nonetheless remains most widely known for his movies, some of the greats of the second half of the 20th century. An astute observer of human behavior and interpersonal relationships whose wry touch and deft visual sense allowed him to skillfully segue between genres, Nichols's body of work as a film director is close to peerless, though he only won a single Academy Award for Best Director, for 1968's seminal The Graduate. In honor of his legendary career, we present a rundown of the finest Nichols films with which every true movie lover should be acquainted.
Who's Afraid of Virginia Woolf? (1966)
Nichols's transition from the stage to the silver screen began with an adaptation of a play: Edward Albee's caustic Who's Afraid of Virginia Woolf? Far from merely transposing stagey material, however, Nichols brings vibrant, vicious life to this account of a married professor (Richard Burton) and his drunken wife (Oscar-winning Elizabeth Taylor) engaged in all-out marital warfare, much to the chagrin of a visiting couple. Almost exclusively set in their house and largely fixated on its two stars, it's a tale of fury, resentment, and drunken, hysterical madness. Notorious at the time for its profanity (though still revered enough to be one of two films ever nominated in every eligible Academy Award category), its continued vitality is due to Nichols's expert stewardship, full of piercing close-ups and dancerlike camera movements that capture the action's (and his characters') volatile mood swings. Forty-six years later, it's as auspicious a directorial debut as any ever.
The Graduate (1967)
Nichols's sophomore effort would become his crowning achievement, an adaptation of Charles Webb's novel that almost immediately became a defining cultural touchstone. Recounting the May-December affair struck between aimless college graduate Benjamin Braddock (Dustin Hoffman) and Mrs. Robinson (Anne Bancroft), the oft-ignored wife of Braddock's dad's law partner — and then, the complicated amour that Braddock develops for Mrs. Robinson's daughter (Katharine Ross) — the film turned Hoffman into a superstar, made Bancroft an eternal symbol of irresistible mature sexuality, and won Nichols his sole Best Director Oscar. It was an unquestionably deserved accolade, given how adeptly he conveys both his story's humor and anxieties through visual compositions (never more iconically than the shot of Hoffman spied from beneath Bancroft's crooked leg), as well as via his groundbreaking use of Simon & Garfunkel's music. Very much a film of its time, it's also a timeless classic of American cinema. (Watch on Netflix and Amazon Prime.)
Carnal Knowledge (1971)
Nichols took a scalpel to the male ego (and masculine sexual impulses) with 1971's Carnal Knowledge, which (like Virginia Woolf) stirred the pot during its initial release due to its explicitness. However, Nichols's film is anything but a superficially titillating affair, instead precisely tracing the decades-long failure of two playboy friends (Jack Nicholson and Art Garfunkel) to find happiness in the arms of the opposite gender. Buoyed by nuanced lead performances by Nicholson, Garfunkel, Candice Bergen, and Ann-Margret, it's both an amusing and tragic study of two men who think they know what they want, even as they prove, time and again, that they don't understand themselves, much less the women they're pursuing. It's a portrait that Nichols, as was his trademark, outlines with unshowy, economical poise and clarity.
Heartburn (1986)
Reteaming with Jack Nicholson (who famously replaced Mandy Patinkin after only one day of filming), Nichols exhibits similar directorial resourcefulness in Heartburn, a dissection of a marriage scripted by Nora Ephron from her semiautobiographical novel. Though the story's characterizations at times veer a bit too close to one-note caricatures, Nichols elicits two sterling turns from his leads, Nicholson and Meryl Streep, who share contentious chemistry as a couple who start out meet-cute promising and then fall apart courtesy of Nicholson's husband's cheating ways. Like so many of his best big-screen efforts, it's a film that proves Nichols's tremendous skill at collaborating with actors, giving them the room to breathe, explore, and take risks in a way that gives the material authentically intoxicating life. (Watch on Netflix.)
Working Girl (1988)
Perhaps the defining workplace rom-com of the decade, Working Girl found Nichols operating in a borderline-screwball mode, detailing the little-person-who-could saga of a Wall Street investment-firm secretary (Melanie Griffith) who uses her domineering boss's (Sigourney Weaver) absence to take charge of the business. Those efforts, in turn, catch the eye of her superior's boyfriend (Harrison Ford), who's soon swooning for Griffith's charming, quick-witted upstart. With this heady, tangled fantasy of professional and romantic maneuvering, Nichols was able to bring forth career-defining performances from his stars — Griffith has never been tougher (or more radiant), and Weaver and Ford are at their absolute comedic apex. Twenty-six years later, it still stands as a preeminent example of how to craft a modern-day romantic comedy about smart, shrewd adults.
The Birdcage (1996)
An update of La Cage aux Folles, The Birdcage again reconfirmed Nichols's unparalleled ability to handle multi-character comedies of intertwined relationships. Like Who's Afraid of Virginia Woolf?, it's a story set largely in one location — in this instance, the South Beach home of a gay couple (Robin Williams and Nathan Lane) who are forced to impersonate heterosexuals in order to impress the conservative political parents (Gene Hackman and Dianne Wiest) of their son's fiancé. What ensues is comedy of a rollicking, rambunctious, delirious sort, which Nichols accentuates by keeping his camera trained on the pitch-perfect turns of his cast. Nichols's direction is the unifying force amid the story's unruliness. (Watch on Netflix and Amazon Prime.)
Primary Colors (1998)
Arguably the most undervalued film in the Nichols's canon, 1998's Primary Colors (adapted from the book that, it was eventually revealed, was written by Joe Klein) is a delicately handled, engaging depiction of the rise to power of Bill Clinton, who's here presented (in thinly disguised form) as southern governor Jack Stanton (John Travolta). Told from the perspective of a young idealist (Adrian Lester) who joins Stanton's campaign for the White House, it's a fictionalized recent history lesson that refuses to shy away from the failings of its power-seeking protagonists (including Emma Thompson's faux Hillary and Kathy Bates's PR manager) — as well as the consequences of their ambition — while recognizing that such imperfections don't necessarily make them unfit to lead. Yet another example of Nichols's talent at weaving together ensembles built around charismatic protagonists, it remains a film of enduring warmth, intelligence, and relevance.
Angels in America (2003)
Though it was followed by two final, less-than-wholly-successful movies (2004's Closer and 2007's Charlie Wilson's War), Angels in America — a 2003 miniseries made for HBO — is Nichols's true triumphant swan song. Scripted by Tony Kushner (adapting his own celebrated play) and ultimately earning 11 Emmy awards (including one for Nichols's direction), it's a saga at once grand and intimate, charting the intersecting fates of a group of New Yorkers in 1985 who are all touched, one way or another, by the burgeoning AIDS crisis. Marrying the realistic and the fantastic with hallucinatory elegance — the latter coming in the form of an angel who visits a man dying of the wretched disease — Nichols imbues his story with an epic sense of import by rigorously maintaining focus on the complex emotional circumstances of his many characters. As with his finest work, it's alternately funny, tragic, and profound, and crafted with an unassuming, masterful measure of dexterity and grace that few, if any, will ever match. (Watch on Amazon Prime.)
And here are four great comedy sketches that Nichols did with Elaine May: