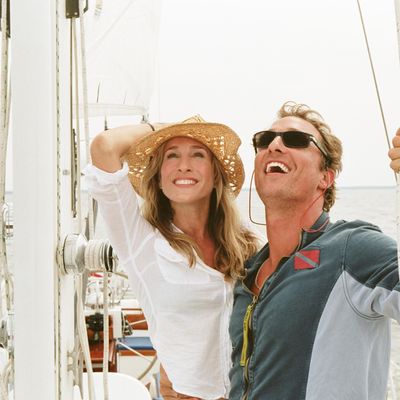 To get to the McConaissance, we first had to trudge through some horrible movies. Some were done because Matthew McConaughey was coming up through the ranks and didn't know any better. Others were failed attempts to set himself apart from the pack. And then there are the ones that we'll chalk up to McConaughey being McConaughey. We can all look back now and laugh (or cringe) at these nine.
9. Texas Chainsaw Massacre: The Next Generation (1994)
Originally released as The Return of the Texas Chainsaw Massacre, then rereleased in 1997 with a new title following its lead actors' rise to fame — McConaughey had appeared in A Time to Kill and Renée Zellweger in Jerry Maguire — this third installment in the horror franchise deserves to be forgotten. McConaughey plays Vilmer, a greasy, batshit crazy, inbred cannibal who, along with Leatherface, torments the hell out of the lone survivor (Zellweger) of a group of high-schoolers who crashed their car on prom night. By far the most excruciating parts are McConaughey and Zellweger trying to out-crazy each other.
8.  Two for the Money (2005)
In 2005, McConaughey pressed pause on his dominance as a rom-com leading man to play opposite Al Pacino in this disastrous "based on a true story" drama set in the sports-gambling world. McConaughey plays Brandon Lang, a former college quarterback who transitions to sports handicapping. Having a knack for picking winners, he draws the eye of Pacino's high-stakes gambling tycoon, leading to a poor man's Gordon Gekko/Bud Fox–like relationship. The film then quickly crumbles into a onslaught of outlandish Pacino rants and sly McConaughey grins … and a shirtless workout montage by Mac.
7. Failure to Launch (2006)
The McConaughey rom-coms that work best aren't those that ride on his looks and game with the ladies, but rather those in which he displays believable chemistry with the gal opposite him. Failure to Launch is not one of those rom-coms. Sarah Jessica Parker's snobby act may work for Big in Manhattan, but paired opposite a good 'ol boy like McConaughey, it is extremely uncomfortable to watch. With no spark between them, we are left to be entertained by the rising stars that make up the supporting cast: Bradley Cooper, Zooey Deschanel, and Justin Bartha.
6. Sahara (2005)
Following one of his highest-grossing films (How to Lose a Guy in 10 Days), McConaughey was ready to go next level with his own franchise, and Dirk Pitt from the best-selling adventure novels by Clive Cussler seemed to be the perfect character to inhabit. A wisecracking Indiana Jones type, Dirk does everything in Sahara from traveling the globe searching for gold to building a land-yacht out of a wrecked plane. But with an unpolished director and four (!) credited screenwriters, no big-budget special effects or quips from sidekick Steve Zahn could save this colossal bust. The movie halted any plans McConaughey had of being an action star.
5. Fool's Gold (2008)
McConaughey and Kate Hudson reteamed five years after How to Lose a Guy for this rom-com disguised as a treasure-hunt movie, and we guess it was foolish to expect another hit. Playing a recently divorced couple who rekindle their love while chasing after buried booty, McConaughey and Hudson retain a spark. However, the silly antics and harebrained plot get old pretty quick.
4. Ghosts of Girlfriends Past (2009)
McConaughey's final rom-com to date is his most forgettable. Playing off the plot of A Christmas Carol, McConaughey's character is visited by, you guessed it, three former flames who take him through his romantic past, present, and future leading him to the realization that Jenny (Jennifer Garner) has always been his true love. The two would fare much better in their next movie together: McConaughey's Oscar-winning lead performance in Dallas Buyer's Club.
3. Scorpion Spring (1996)
Marking the first time McConaughey played a villain, this low-budget Tarantino knockoff is not a memorable one except for its befuddling finale, in which McConaughey shows up out of nowhere as a Mexican cartel drug-lord named El Rojo.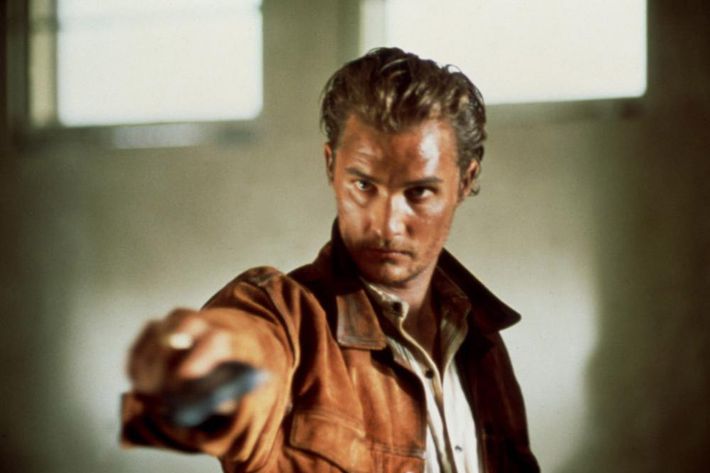 2. Surfer, Dude (2008)
The years before 2011's The Lincoln Lawyer — where the McConaissance arguably began — are full of truly puzzling movie choices for McConaughey. But the strangest is Surfer, Dude. It's hard to tell if he's aware good work is ahead, so he's just having fun, or if, at this point in his career, work is work. Whatever the case, he seems to be having a blast playing a surfer searching for meaning. Can't say the same for anyone who watched it. The film currently has a 0 percent rating on Rotten Tomatoes.
1. Tiptoes (2003)
You've likely seen the trailer. Or the Daniel Tosh bit. Yes, there is a movie where Matthew McConaughey plays an average-size person in a family of dwarfs, and Gary Oldman, in a "role of a lifetime," plays his dwarf twin-brother. This family drama is so bad that, at its 2004 Sundance Film Festival premiere, the film's director publicly bashed it. Granted, he had been fired in post-production. Thankfully for McConaughy's career, Tiptoes went straight to DVD. The bad news: YouTube came along, and now it lives in infamy.