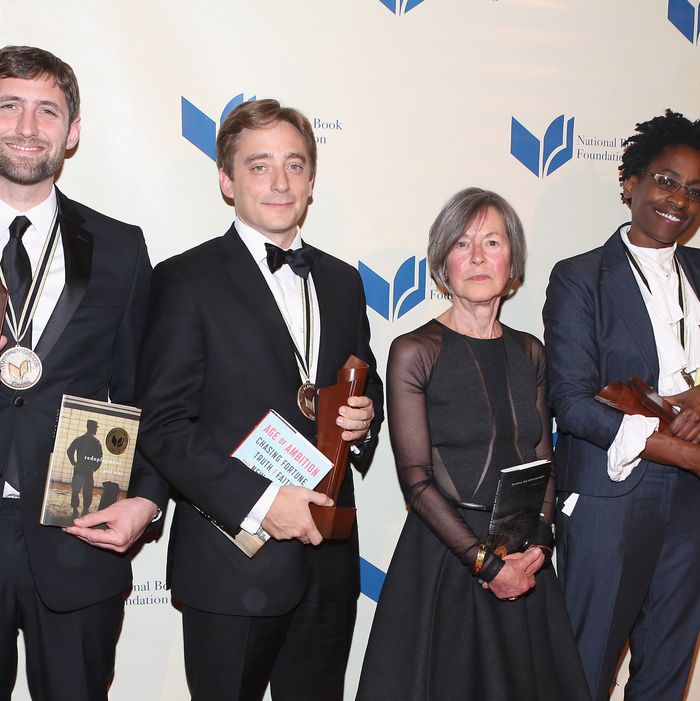 Phil Klay, Evan Osnos, Louise Gluck, and Jacqueline Woodson, at last night's National Book Awards.
Photo: Robin Marchant/Getty Images
Not since 1974, the year a disheveled comic pretended to be Thomas Pynchon and a streaker ran across the stage, has the National Book Awards ceremony felt as radical-chic as it did last night. Some of it had to do with the best emcee in years, Daniel Handler (a.k.a. Lemony Snicket), whose edges were as sharp as his timing. Maybe too sharp: His joke about African-American children's-lit winner Jacqueline Woodson's actual allergy to watermelon was roundly castigated today, and he's issued an apology.
The star of the night was a renowned 85-year-old fantasy novelist with a white bowl haircut out of a German expressionist film. Ursula Le Guin, who accepted this year's Medal for Distinguished Contribution to American Letters, got a standing ovation for castigating corporate publishers (including her own, for a brief "silly panic of ignorance") and calling all writers to the barricades: "We live in capitalism. Its power seems inescapable; so did the divine right of kings."
Grove Atlantic publisher Morgan Entrekin later came over to her and said, "Brava: Thanks for speaking your mind." The New Yorker editor David Remnick (also a capitalist) was happy that it made some publishers uncomfortable (including one who told me privately that her speech was "passé" and "terribly misinformed"). "I enjoy kick-ass speeches," Remnick said — and added, "I assume it was the aftertaste of the whole matter of Amazon."
Le Guin saved her keenest shiv for the company that battled publishers for most of the year before settling its seismic dispute with Hachette last week. "We just saw a profiteer try to punish a publisher for disobedience and writers threatened by corporate fatwa, and I see a lot of us" — the writers — "accepting this, letting commodity profiteers sell us like deodorant and tell us what to publish and what to write."
Writers almost universally praised Le Guin's call to arms, though it's interesting that Emily St. John Mandel, whose Station Eleven was the most fantastical fiction finalist, gave a pointed "no comment" when asked what she thought of the speech. She did appreciate Le Guin's pushback against "so-called realists," and her plea for more "poets, visionaries, the realists of a larger reality."
It's become a truism that dystopian tropes have proliferated in reaction to a world that feels ever more unstable (whether in publishing or in Ukraine). But that trend seemed palpable here — at least during the first half of the ceremony — as Handler and Le Guin spoke, and as Le Guin's presenter, the fantasist Neil Gaiman, praised her writing because it "opens your head" to alternative social structures. At the end of a year when publishing talk was dominated by terms and contracts, discounts and royalties, it felt like a decisive turn away from grim Capital when Le Guin said, "We who live by writing and publishing want and should demand our fair share of the proceeds. But the name of our beautiful reward is not profit. Its name is freedom."
The winners, though, seemed to point in another direction. In the nonfiction category, Roz Chast's poignant, idiosyncratic graphic memoir, Can't We Talk About Something More Pleasant?, lost to Evan Osnos's Age of Ambition: Chasing Fortune, Truth, and Faith in the New China. And in fiction, Station Eleven lost to a true dark horse, Phil Klay's Redeployment, a debut series of short stories based on the author's tour as a Marine in Iraq and its Stateside aftermath.
Klay gave a grave and wet-eyed speech, a tribute to community as an antidote to war's solitude, which he said he'd written that morning. "I can't think of a more important conversation to be having," he said. "War is too strange to be processed alone." But at least one writer in the audience, Yelena Akhtiorskaya, was disappointed with the decision to award the book that hewed closest to Le Guin's "so-called realism." "It's kind of sad," Akhtiorskaya said, "that there was no fiction prize."
But then, the most fictional notion of all is the idea that there's any dichotomy as clear as realism versus fantasy, freedom versus profit, or even Amazon versus Hachette. As publishers filtered upstairs for the after-party at Cipriani Wall Street, a posh restaurant in the baroque and soaring quarters of a former bank that was passing for the night as a palace of art, they expressed relief over the temporary détente in the Amazon dispute. So did one Amazon employee.
"You know, it's hard to work for a place where everybody you respect hates your guts," the employee said, referring to the literary universe surrounding us. "But it's only been a week, so we'll see. Almost every joke tonight was still about Amazon. And if I were up there, I'd make them too."