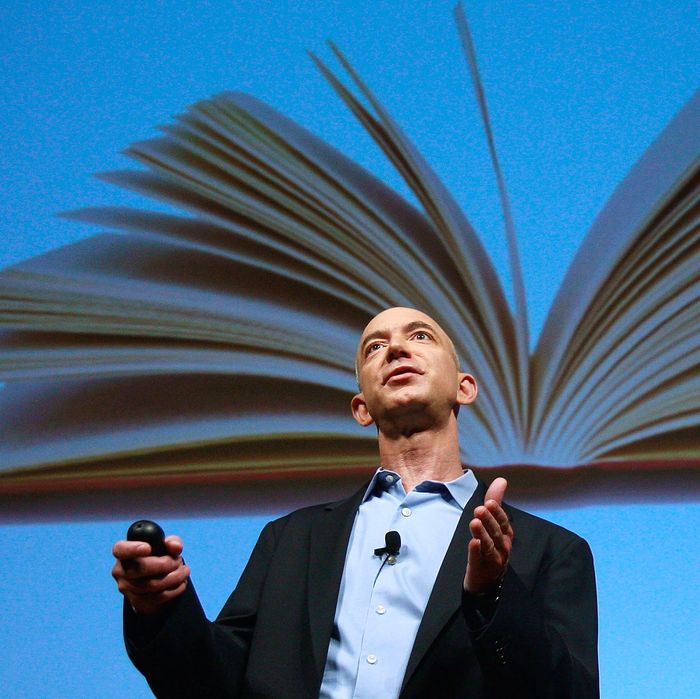 56683097
Photo: Mario Tama/Getty Images
The first ten guests arriving last Monday for a cocktail party at the New Museum got a surprise gift. Literary agent Meredith Bernstein, guessing (correctly) that it was a Kindle Fire, was first in line. "I'm not worried," she said, about working with a company one of her peers had compared to ISIS. "Whoever I'm talking to at Amazon, they're caught in the middle. Agents are caught in the middle, writers are caught in the middle."
Editors, too, are caught in the middle. The occasion for the party was the first birthday of Amazon's weekly digital literary journal, Day One — fifty-two issues of one poem and one story apiece available exclusively on the Kindle for $19.08. Greeting guests by the elevator was the editor Ed Park, formerly of the Voice and The Believer, and currently — for a couple more days, anyway — the head of Amazon's highbrow imprint, Little A. Literary-handsome in a pea-green corduroy blazer, he enthused about one of his titles, David Gordon's story collection White Tiger on Snow Mountain. "If nothing else, the title story — I think it's the best thing you'll read this year. I don't know if I should say that! But it's the culmination of his powers."
A charming and keen critic, novelist, and conversationalist, Park was the draw of the party, but this was to be his last on behalf of a company feared by most everyone in New York publishing (though they profit mightily from what Andrew Wylie called "this sort of ISIS-like distribution channel"). Less than a week later, the Times would announce his departure to become executive editor of the prestige "legacy" imprint Penguin Press. His successor will be Carmen Johnson, who happens to be the editor of Day One — a woman on the eroding edge of Amazon's effort to establish a beachhead in literature's capital.
Park and Johnson operated out of Amazon Publishing's small New York outpost (all the thriving genre imprints are out in Seattle). Their manners, tastes, and friends are familiar to anyone who's been to a handful of New York publishing parties — even if this one had better liquor and snacks and wraparound views of twinkling towers and bridges. The party's absent benefactor could easily have been Fox or Viacom or any of the other conglomerates that run most of publishing. And while Amazon's demonizers decry its virtual boycott of Hachette's books, Day One's editors and motley young contributors talked of themselves as the real underdogs — faultlessly suffering from brick-and-mortar bookstores' decision to boycott Amazon.
Bezos's last line of defense against the ire of the literati had been Park, the lone survivor of Amazon's initial push into publishing of the big-time, hardcover variety. Three other promising hires out of "legacy" publishing, including former Time Warner Book Group CEO Larry Kirshbaum, all preceded him out the revolving door. In the intervening five years, genre books have done well — sometimes very well — over at Amazon's West Coast operation, while big fiction and nonfiction have floundered, partly due to the bookstore boycott. Genres sell briskly as e-books, while the literary mid-list is still largely hand-sold in physical bookstores, so the Amazon authors hurt most of all by the lit world's hostility are those it might like the most. Out of the earshot of the hosts, one agent at the party told me that for his kind of work, "Amazon is the publisher of last resort."
Without Park, that might feel even truer. There certainly would have been a lot more personal space at the party if he'd announced his departure beforehand. "I came to catch up with Ed, whom I haven't seen in years," said Avi Davis, who writes for The Believer and is raising money on Kickstarter for his fiction podcasts. His friend Christopher Wait, who works for New Directions, "just heard about this thing today. It reminds me of a project that a friend of mine from Vassar put together. They had a Kickstarter campaign and funded themselves for a year."
Outside, a war was raging; inside, there were friends, food, and funding — for now. Passed hors d'oeuvres were loudly heralded: roasted cauliflower with almonds and fried capers; fried-chicken sliders. Michael Miller, who edits Bookforum, was also here to catch up with Park. "I saw the sliders coming around and it just suddenly crossed my mind: I guess all this is being paid for by Amazon!"
Agent Paul Lucas was here for his client — David Shapiro. "He's published through lowercase A, or whatever it's called. It's a great book." He tried taking the long view on Amazon's disputes with the book world. Publishers, he said, had made their own beds by insisting on a digital-rights-management system that locks books into specific devices, "so a lot of these arguments are disingenuous." Working with Amazon was "like working with any publisher. When things are going great, they're great, and — oh my God, Jane!" He interrupted, greeting a friend with a hug. "But working with Ed Park is a dream, it's fabulous. Is Amazon a monster that's going to take over the world? Sure. But, like, what are we supposed to do?"
Daphne Durham, the publisher of Amazon Publishing's trade and children's division, was in from Seattle. "We know that we're not yet able to be a print publisher," she said, "and there are constraints because booksellers don't want to carry our books." As she saw it, Amazon Publishing is just a hatchling, not unlike the Kickstart-ups that were being pitched from all corners of the room. Aside from self-published books and works in translation, "we didn't start doing any other genres until 2011. We're babies. Day One is a baby. To build a reputation and find readers, it takes years."
Another agent speaking anonymously — because complaining openly "would feel churlish at their party" — said she was waiting eagerly for a "brokered peace" between stores and Amazon. But she didn't blame the bookstores; she blamed Seattle. "The people in New York are book people and the people making the decisions in Seattle are not. They're selling lots of different things and services: cloud, shoes, diapers. The people in New York are well read, and the people in New York are not guiding the decisions." Another round of musical chairs will do nothing to fix that impression.The question of whether the Seattle folks are readers was a popular one. "People should understand that it's not a bunch of robots," Durham said. "It's real people — including Bezos, who's passionate about books. [His wife] MacKenzie Bezos is a real writer, published by Knopf. We're a company that's focused on writers and readers. It just gets lost in all the noise."
Carmen Johnson, in a sleek cocktail dress and flesh-tone pumps, fought the party's noise to explain how Day One operated. Unpublished writers are solicited through MFA programs and recommendations (many of them from Park). Four of the story contributors are now contracted for books with Amazon, but locking in authors isn't the main goal. "We're building relationships but also we just want the writers to do well. If they do well, that's good for Day One."
There are roughly 6,000 subscribers so far — not bad for a literary journal — and contributors reported that the pay was good, though they couldn't be specific (Amazon being one of the most secretive businesses in the country). The company's advances for traditional books seem to have dwindled, and all the crowd-funding talk at the party reminded me of a summer panel during which an Amazon defender recommended Kickstarter as an alternative to author advances. But journal fees might be another matter, especially if your only alternatives are faculty publications or blog posts. Contributor Khaliah Williams got her MFA at the Iowa Writers Workshop, where "a lot of my friends had very strong opinions about Amazon. So I was a little hesitant." She said she's been edited meticulously and treated very well. "Also, I'm addicted to Amazon Prime."
"And they're very generous to their writers monetarily," interjected Williams's friend, Laura von Holt — a romance novelist, performer, and "aspiring aerialist" whose theater company is currently crowd-funding for a show called Bambifucker. "I want writers to get paid. You can be picky about morals or all self-righteous, and you're still starving on your grad degree."
The music grew louder as the crowd thinned. The DJ was New Yorker music critic Sasha Frere-Jones. "Hey, man, how are you?" He said. "You're covering this? Oh, man." His grandfather, Alexander Frere, was one of England's most important old-school book publishers. I asked him what Frere would have thought of Amazon. "He would have fucking hated it," Jones shouted. "I'm not sure how I feel." He was here because of Ed Park (and he was being paid). "But I don't know what I think because I have no illusions. If Amazon keeps books alive, that's okay. If the model changes radically, then that's that. There is no Golden Age, we know that."
Paul Lucas circled back. A couple of drinks later, he was feeling philosophical about the future. He worried about the pressure industry-wide for writers to work faster for less. "The challenge is that you might sacrifice great books for good books," he said. "I think books are important — that's a personal narrative of mine. But someone else who makes tables and chairs or solders or welds — it's all craft, and a lot of those things were brutalized 50 years ago. So maybe publishing is due."
He sounded unduly pessimistic at a party celebrating a literary journal funded by Silicon Valley — or maybe prescient. Reached on Saturday, Amazon publicity head Katie Finch wrote that they plan only to grow — doubling Little A's title count next year, increasing advances, and "betting on them to succeed." But if Amazon Publishing's internal battle is between the handcrafted model of the New York office and the genre churn of Seattle, there's no question which coast is winning.