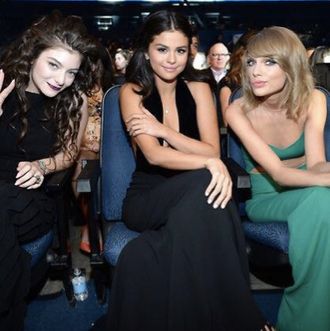 You can't sit with us, etc.
Did you miss last night's American Music Awards? It's okay! We've got your highlights right here. The show was 99 percent performances and a bunch of awards that you probably don't even care about. (Here's the complete winners list.) Pitbull hosted again, which was a great idea because he's great — you either love him ironically or sincerely. Either way, Pitbull for president:
Before we really get started, the  Most Important thing that happened on the red carpet was when Harry Styles quoted When Harry Met Sally and no one around him realized:
(Except for me. I see you, Harry, and I fully understand your hype now.)
Taylor opened the show with her stunningly misandrist interpretation of "Blank Space." We (women) are all so very lucky to have this girl around:
And then she took her place in the front row (duh) with her BFFs Lorde, Selena Gomez, Sam Smith, and Karlie Kloss (the latter two not pictured):
5 Seconds of Summer did a cover of "What I Like About You." Cue hundreds of parents watching this awards show alongside their children finally recognizing a song.
But if Jaden approves …
Not technically part of the AMAs, but Waka Flocka appeared in a throat-lozenge advertisement during the break, and it was actually high point!
The dudes of MAGIC! (must we continue to add that exclamation point?) and "reggae legend" Wyclef Jean collaborated on a performance of their still-baffling summer hit, "Rude":
Sick of "Fancy" yet? Well, too bad:
Sick of Ariana Grande yet? Well, too bad:
Lorde performed "Yellow Flicker Beat" off The Hunger Games: Mockingjay soundtrack and did her own version of Solange's nuptials (you'll see what I mean if you watch, promise):
And her BFF Taylor supported her by doing what she does best (dancing along, duh):
Selena Gomez performed that song that's 100 percent about That Very Famous Pop-Star Who Shall Not Be Named and Definitely Was Not at the AMAs Last Night. Naturally, she cried …
… and so did her BFF, Taylor Swift.
Weezy and Christina Milian opened for Nicki Minaj, ha-ha:
And then, as if things couldn't get any weirder, Diana Ross presented Taylor Swift with an award in honor of Dick Clark. Taylor thanked Diana and then directly addressed her fans: "I love talking to you online." That's nice of you, Tay.
The boys of 1D did "Night Changes" (and they also won all the awards, by the way):
The ritual "Bang Bang" was performed. Guess which famous pop-star in the front row happened to know all the words?
And how does one even begin to describe what happened here?
To finish out the show, Jennifer Lopez (whose 2013 AMAs showing is still not to be missed), did an Iggy Azalea–assisted performance of "Booty" — which was way better than its video:
And that's it.