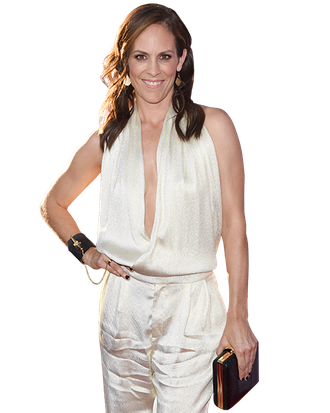 Photo: Axelle/Bauer-Griffin
There's a new sheriff in town for Sons of Anarchy's final season: Annabeth Gish's Althea Jarry, a corrupt Charming, California, cop who's been sleeping with the would-be enemy, SAMCRO gang-member Chibs (Tommy Flanagan). The X-Files and Bridge alum spoke with Vulture about her controversial SOA sex scenes, her reunion with fellow West Wing–er Jimmy Smits, and the legacy of Mystic Pizza.
You seemed to make a seamless transition between FX's The Bridge and Sons of Anarchy this season. How did that play out?
It was my good luck that I was killed on The Bridge and went directly over to another fantastic, provocative FX show. They use their actors like a kind of rep company — you see Walton Goggins on Justified and Sons. They cast such amazing actors who can transform. It was so great to join the show in its last season, and in such a pivotal role.
Your character has been crooked from the get-go. Have you created a backstory for when and how she went bad?
Early in the season, I lifted up my shirt and showed Chibs that I have a bullet wound. This is a cop and a woman whose own morality is confused. She likes the adrenaline of both the good side and the bad side. She's attracted to the dark side, but she's really trying to do the right thing, in the wrong way.
How so?
Ultimately, she does want to keep Charming safe on her watch. And the writing is already on the wall that Chibs and Jarry can't be a normal couple. Like he says, they can't go walking down Main Street. It's that realization that they've dabbled in this netherworld of each other, but in order to maintain their own identities, they have to go back to their traditional roles.
Was that the nature of the initial attraction to Chibs — the forbidden fruit?
Absolutely. But Tommy and Kurt [Sutter] and I have wanted it to be a genuine attraction between these two people. But Althea has her own motives. She's not clean. She's had her own willingness to break the rules.

The Parents Television Council denounced last week's episode, which included two graphic sex scenes between you and Tommy. What's your reaction as a parent?
I'm a liberal actress. I don't believe in censorship. While I wouldn't allow my 6- and 8-year-old children to watch that yet, I am not the moral police, nor do I judge the characters that I play. And I don't think anyone else should.
How was it for you to shoot those scenes, especially the more violent one?
I've read comments that said this scene was promoting domestic abuse, and while I always take that into the outside analysis of it, I'm playing a character. This is how these characters get down. And sometimes violence is a way in and through their own emotional puzzles. Because Jarry is so lost emotionally — she's not a therapized individual — she's messy and scrappy. The way into her emotions is to be a scrappy, tough chick. She was the one who pushed him first and slapped him first. So it's not like she's a victim. She invited it. I find it a very fascinating scene to play, and not one that's typical to any relationship that's normally seen on TV, which is why I was totally behind shooting it.
As an actress, how do you deal with all the testosterone floating around the SOA set? Are you one of the guys, or are you treated differently?
In general, I'm a pretty easygoing actor. I like everyone to be comfortable. We're all there to do good work, but we also have the gift of play, so it should be fun. None of us are in an operating room performing brain surgery. Yes, there is a lot of masculine energy, but it was never overwhelming to me. One of the greatest things about this show is that while you do have a hypermasculine motorcycle club, you have these tender hearts underneath their kuttes. I would say the same for the actors that I worked with as much as for the characters they play.
Yes, as Tommy said to me last week, "I'm just a TV tough-guy."
The reality is, we're all nervous and scared and insecure on some level about what we're putting out into the world. But you have to commit to it. For me, playing this cop, I had to stand and talk differently. There is something powerful about that uniform. It's pretty empowering to stand there with a badge — high and tight, man.
You have a background in playing a law-enforcement officer on The X-Files, which you also joined late in its run. Does this feel different because you're not so front and center and trying to extend the franchise?
Most certainly. But X-Files was almost 16 years ago. I was a bit more ignorant to the attempt to try to uphold and extend that franchise, which we obviously didn't do. But I don't know if anyone could have, frankly, given Scully and Mulder chemistry, after nine years. That's one of the great things about TV now, is that life cycles of shows are more concise.
And characters' lives in some cases are more concise. Did you have any mixed feelings about getting killed off The Bridge?
Of course! I loved the show. You do feel a little mortally wounded to know that you're on the chopping block. But think of Game of Thrones — who knew Sean Bean was going to get killed? No one is safe anymore, which makes television drama very exciting and unnerving as an actor who has two children to feed.
Are you enjoying a West Wing reunion with Jimmy Smits on SOA?
Yes, we have a great relationship, and I have such respect for him. I loved him on that show, and I love seeing him in such a different capacity on this show. He's one of those actors and men who has this element of grace in whatever he plays. We've chatted and said maybe next time we can work on a romantic comedy or something with levity, so we don't have to take ourselves so seriously.
Speaking of romantic comedies, did you have a sense when you were making Mystic Pizza that the cast would go on to have such successful careers?
Yes, there was something palpable when we were shooting that film about the burgeoning talent and the gathering of these individuals to make this movie, which is still iconic 25 years later. Every one of us has had different trajectories, with Julia [Roberts'] being the amazing astral one, but well-deserved, because without a doubt, she does have that particular charisma.
So what's next for you?
I just finished two movies, Term Life with Vince Vaughn, and an independent film called Highly Functional, so honestly, I'm just looking forward to relaxing the rest of this year. I feel strengthened by working on Sons, so I'm optimistic about what will come next. I'm excited.
Well, you're a member of the FX repertory company now, so maybe they'll put you on American Horror Story next.
Exactly. That would be an honor.