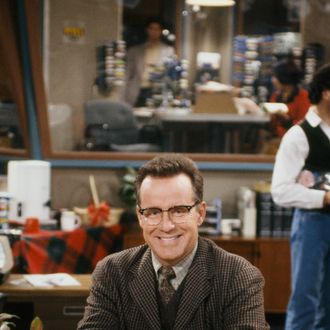 Everybody loves a "Phil Hartman was the best" story, and today's entry in the canon comes from Maura Tierney, as part of a very charming career retrospective in the AV Club. Tierney and Hartman of course co-starred in the beloved NewsRadio, a set Tierney describes as "a blast." When asked if she has any particularly fond memories of Hartman, Tierney pauses and then tells this story.
I do remember one thing he said to me. Joe Rogan was being so fucking mean to me one day — and mostly we were all friends, but Joe could be a weirdo — and I was sort of upset about it, so I was just sitting over in the corner. And Phil came over and put his arm around me, and he said, "You know, I just want to tell you you're loved." Isn't that really nice? I know you expected me to tell some wacky story about Phil, but he was like that, too. He just put his arm around me and said that. He was so sweet. He was a really nice man.
Let the well of touching anecdotes about Phil Hartman never run dry.