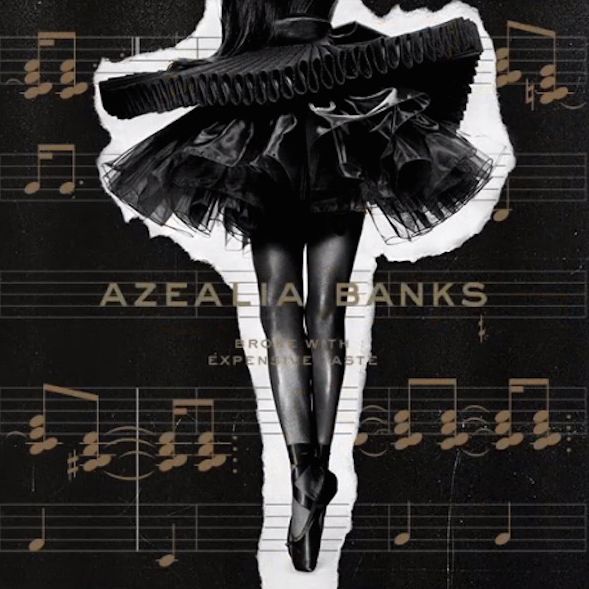 "Hey, I can be the answer."
Back in late 2011, that six-word promise was our introduction to Harlem-born rapper and singer Azealia Banks — the opening lines of her brilliant debut single "212." And for a minute there, it actually seemed like her career would live up to that audacious prophecy. The Banks of "212" was fearless, ambidextrous, and refreshingly iconoclastic: A gleefully outspoken woman in a game still dominated by men, a queer antagonist ("You're a Kool-Aid dude, plus your bitch might lick it") working in a genre still stuck on "no homo," a ferociously talented upstart unafraid to declare herself bored with the direction in which mainstream rap was heading. For anyone looking for some kind of alternative, it seemed, for a while at least, like Azealia Banks was it. Universal quickly scooped her up in 2012, and before long, she was hyping a forthcoming debut Broke With Expensive Taste on her hyperactive Twitter account.
Which was around the time the trouble started. Months — eventually, years — passed, and the album never materialized. All we got from Azealia Banks were a few underwhelming singles ("Yung Rapunzel," "Heavy Metal and Reflective," a formless Pharrell collaboration called "ATM Jam"), and, much more prolifically, a petty, mean-spirited (and often one-sided) online beef with pretty much every person with a verified Twitter account. She came after Disclosure, Lily Allen, Baauer, and Perez Hilton, to name just a few. The outspoken quality that had once made her feel forward-thinking suddenly curdled; her continued use of gay slurs was particularly disenchanting. You got the sense — every fan's greatest fear in our era of digital procrastination and distraction — that Azealia Banks was too busy checking Twitter to finish her album. But there were problems behind the scenes, too. Banks rather publicly butted heads with her label, and at the beginning of this year, she took to Twitter to ask, "Can someone at Sony buy me off of Universal please??" Not surprisingly, Universal dropped her from her contract, but, because of Banks' now notorious reputation, no other labels were interested in putting the record out either. As 2014 began to wind down, it seemed like the phrase Broke With Expensive Taste was forever doomed to be a punch line — the "when pigs fly" of the Tumblr generation.
Then last week, with no warning, we got perhaps the most unexpected Azealia Banks tweet of all time: "Voila!!!! Here it is… 'Broke With Expensive Taste!'"
I was once an ardent believer in Banks, but I'll admit that when I heard the album had finally come out, my first reaction — fatigued from almost three years of false promises and disappointments — was that I found it hard to care. And yet, after spending a few days with it now, I'm ready to give Broke With Expensive Taste a higher compliment than I ever imagined: It is, in flashes, good enough to bring me back to that first moment I heard "212." Nothing here is quite as immediately in-your-face explosive as that first single, but Banks also works well in a more laid-back mode. BWET has a real sense of atmosphere, and listening to it often feels like accompanying her as she wanders through a disorderly mansion where a different party is happening simultaneously in every room. It moves fluidly from the blasé, stoned-afternoon drift of "Desperado" to the strobe-lit orgy of "BBD" to (inexplicably) the kitschy Gidget theme-party of "Nude Beach-A-Go-Go" (a collaboration with fellow Twitter nuisance Ariel Pink). Banks has a tendency to repeat some of her themes, but her greatest strength as a rapper hits at a visceral level — it's just fun to listen to her. She spits at such a clip, you can sometimes barely make out what she's saying; she chomps vowels like bubblegum. There's something contagiously exuberant about her vulgarity — her flow sometimes reminds me of that scene in A Christmas Story where Ralphie is kicking the shit out of a bully, dribbling a stream of expletives so rapidly that they sound like they were invented for the occasion.
Are listeners willing to forgive Banks for her extra-musical transgressions and focus on the album itself? Time will tell. Broke With Expensive Taste isn't a masterpiece; it's a little formless and overlong, and although it is probably better and bolder than whatever Universal would have signed off on, it could have benefited from a firmer edit. Still, it's good enough to make me ask an uncomfortable question of myself as a listener in the digital age: Was I asking too much, expecting, off the strength of one single, Azealia Banks to be the Answer? Is she the one with the Twitter problem, or are we? Now that young artists develop in the fishbowl of social media, they have more chances than ever to disappoint us before ever making any kind of musical statement — and we are more likely than ever to write them off before they have a chance to redeem themselves. As Banks herself reflected in an interview with Pitchfork yesterday, "If you give a 19-year-old a couple million dollars and a hot record … just think about it. If it was in the 80s and you were on your fucking coke binge … and you had a little machine where you could just light shit up instantly, imagine what would have happened." I can't forgive Banks, the Twitter handle, for some of the nonsense she's spouted, but now that Broke With Expensive Taste is out in the world, I'm willing to give her another chance as an artist — I feel a little guilty about how surprised I am that the album is actually good. Before the hyperspeed rise and fall of digital-era celebrity, we allowed developing artists to stumble on their way to finding themselves. I hope, now, that this is only the first chapter in the Azealia Banks story.