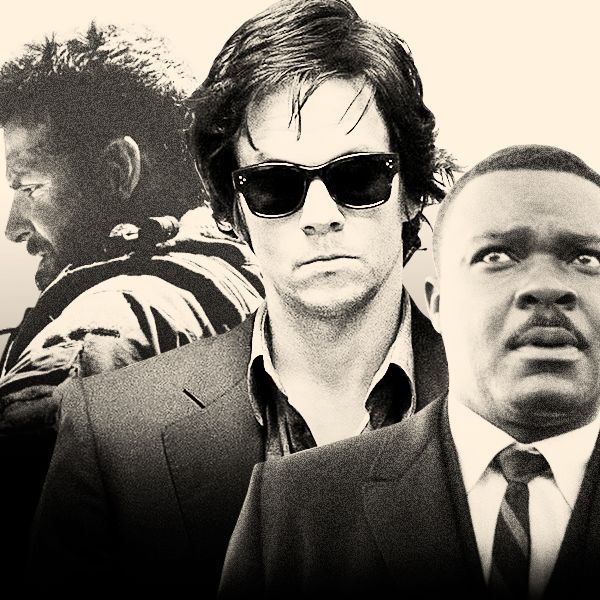 It may sound like we say this every Oscar season, but this year, it holds especially true: The field of strong Best Actor candidates is impossibly crowded, and plenty of worthy contenders are going to be shut out when the short list is whittled down to just five nominees. Most pundits agree that the four men now likeliest to earn a nod are The Theory of Everything's Eddie Redmayne, Birdman's Michael Keaton, The Imitation Game's Benedict Cumberbatch, and Foxcatcher's Steve Carell, but that leaves a fifth slot up for grabs, and over the last two days at the AFI Film Festival in Los Angeles, three men in new films have emerged who'll be gunning for that last open spot.
Bradley Cooper, American Sniper
Cooper has been Oscar-nominated each of the last two years and will be touted for the trifecta after his work in Clint Eastwood's American Sniper, where he plays Navy SEAL Chris Kyle, the pinpoint-precise shooter who emerged from several tours of duty in Iraq as the most lethal sniper in U.S. history. That's a distinction Kyle wears uneasily: On the battlefield, his men call him "Legend" and treat him as such, even as he's constantly forced to make queasy snap-judgment decisions about whom to kill, while back at home, his inability to reacclimate to domestic tranquility forever frustrates his wife, Taya (Sienna Miller).
Cooper does a very good job here in a performance that's the inverse of his laurel-laden work in Silver Linings Playbook and American Hustle: No longer the lean, wired motormouth, Cooper put on 40 pounds of muscle to play the comparatively recalcitrant Kyle and packs all of his character's personality into pinched replies of "Mm-hmm." The movie around him will likely be heralded as Eastwood's best since Million Dollar Baby, and that's true, insofar as it easily exceeds his misfires like J. Edgar and this year's Jersey Boys. Still, this is familiar war-movie territory with themes well tilled by the recent Best Picture winner The Hurt Locker, and while it's filmed with verisimilitude, the scripting leaves something to be desired. If you've ever seen a movie like this before, you will not be shocked when one young soldier is shot after conspicuously discussing the diamond ring he's just procured for his lady; so, too, will you find Miller's endless procession of "Chris, just talk to me!" scenes to be wearyingly rote.
That said, this has been a thin year for Oscar contenders and Eastwood is a longtime Academy darling, so the movie still has a shot at landing several nominations, including Best Picture, Best Director, Best Actor, and a clutch of technical nods.
Mark Wahlberg, The Gambler
This remake of the 1974 James Caan film has been a passion project for Wahlberg, who lost 40 pounds to play a dissolute gambler with a self-destructive streak. (Of course, when Wahlberg takes off his shirt, he still looks far more ripped than any mere mortal, with an apparent weight-lifting regimen that seems more than a little out of character for an end-of-his-rope guy like this.) By day, he's a college professor with a crush on one of his students (a woefully underwritten Brie Larson), and by night, he's hitting up private gambling establishments and doubling down on each bet until he gets closer to oblivion.
As an actor, Wahlberg has always been one of our most skilled underplayers, but that's a tendency that often gets him overlooked by the Academy: Just think of what happened with The Fighter, where every significant principal got an Oscar nomination except him. It was galling for Wahlberg when his big shot at a showy performance in Silver Linings Playbook evaporated — though he was attached to star in the film, David O. Russell incurred Wahlberg's ire by swapping him out for the cheaper Bradley Cooper — and it's tempting to read The Gambler as his "here's what I woulda done" rebuttal, since it, too, is about a garrulous mess who's addled by his parental bonds and redeemed by the love of a younger woman.
The result, though, just misses the mark. This remake was scripted by William Monahan (who wrote The Departed, which earned Wahlberg his sole Oscar nod), and it's filled with macho-bluster monologues that are a lot of sound and fury, signifying nothing. Here are two things I don't ever need to see in a movie again: The scene where a loquacious loan shark goes on at length about money and power, and the scene where a gangster has his minions beat up our poor, indebted hero while doling out weary life lessons at a casual remove. The Gambler is those two scenes repeated ad nauseam. Guys, there are other places to put your chips.
David Oyelowo, Selma
If it wasn't clear that this Martin Luther King Jr. biopic was intended to humanize an icon, consider that an early scene in Selma literally features King taking out the trash. We watch the great man (played by the British actor David Oyelowo) hem and haw about his image, rip into his meals with gusto, confess to self-doubts, and fret over his troubled marriage; then, when King is at the pulpit, the goose bumps will come as he transforms from the searching, conflicted man we've seen into a passionate vessel of divine righteousness that the whole world will know and come to be transformed by.
Oyelowo is a powerhouse as King, and at last night's premiere, the Christian actor confessed that he felt picked by God to play this part; in fact, he can even tell you the specific day that heavenly message came through. Should Oyelowo receive Academy recognition for his role, then, he can thank God and really mean it — and I suspect he'll have that chance. Oyelowo leads a deep-bench cast that is uniformly strong, including Tom Wilkinson as Lyndon Johnson and Carmen Ejogo as Coretta Scott King, though it's mostly comprised of extended cameos like Oprah Winfrey's physically compelling work as voting-rights activist Annie Lee Cooper.
After a standing ovation at the film's premiere last night, Selma director Ava DuVernay admitted that she didn't necessarily see herself helming a historical biopic — in her words, "I'm more of a black-indie-romance kinda gal." Perhaps that's why the scenes between Martin and Coretta are clearly the ones DuVernay is most compelled by — while you might expect those moments to give the movie its heart, DuVernay instead emphasizes Coretta's intriguingly cool remove — and why other parts of the film can feel just a smidge too genteel. Still, there are some very strong sequences here, and the notion that one all-too-human figure can galvanize the world is an inspiring one. Duvernay herself might learn that lesson firsthand: If the Academy sparks to Selma, she has a real shot at becoming the first black woman nominated for Best Director.