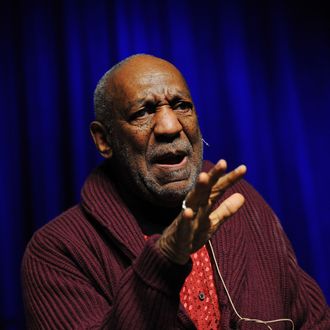 Photo: Bryan Bedder/Getty Images
Bill Cosby has been remarkably consistent with his strategy on the 13 rape allegations against him: stonewall. In his first public interview since Twitter had a field day turning him into a meme, Cosby went on NPR's "Weekend Edition" with his wife, Camille, to chat about his African art collection. Host Scott Simon asks, "This question gives me no pleasure, Mr. Cosby, but there have been serious allegations raised about you in recent days." To which we hear dead silence, followed by some narrating from Simon (ah, radio):
Meanwhile, one of Cosby's accusers Barbara Bowman wrote a piece in the Washington Post called "Bill Cosby raped me. Why did it take 30 years for people to believe my story?" Bowman writes that she was a 17-year-old actress when she met Cosby in 1985 and he began sexually assaulting her. In a CNN interview about her experiences with Cosby, Bowman said the star kept her in a "very controlled environment." According to Bowman, he paid for her expenses and used that arrangement to manipulate her. "I was terrified of my agent and I was terrified of Bill and I was being groomed to tolerate and deal with what was coming my way," she said.
The Post headline refers to the renewed scrutiny brought to Cosby's alleged crimes by fellow comic Hannibal Buress. "I want to just at least make it weird for you to watch Cosby Show reruns," Buress said when he brought up the charges against Cosby. He's certainly done more than that.
Cosby has also canceled his upcoming appearance on David Letterman. His spokesperson did not give a reason.