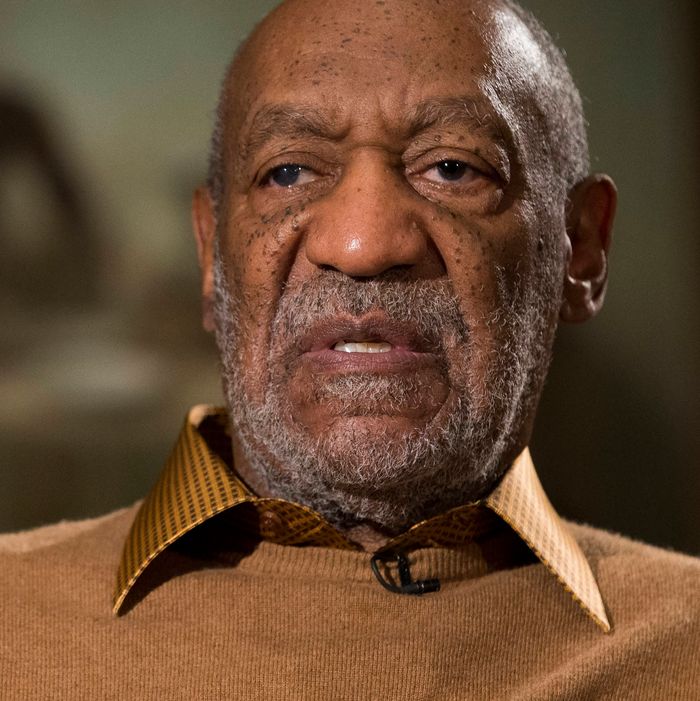 Photo: Evan Vucci/AP Photo
UPDATE: 1:15 p.m. Nov. 19: NBC has killed its Cosby sitcom.

UPDATE 1 a.m. Nov. 19: Netflix has indefinitely postponed the launch of its Bill Cosby stand-up special.
This summer, NBC execs were very happy to talk about the new sitcom they were developing for Bill Cosby. "We're very committed, and that's an important show for us," Peacock entertainment president Jennifer Salke told reporters at NBC's portion of the TV Critics Association summer press tour in July, announcing that former Glee star Mike O'Malley had agreed to write the new Cosby show (with another sitcom vet, Mike Sikowitz). A month later, Netflix was equally eager to kvell about Cos, saying it was "thrilled" to include a set by the comedy icon on its ambitious new slate of stand-up specials. But following a flurry of attention to decades-old allegations of sexual assault by Cosby against multiple women, as well as a brand-new accusation, NBC and Netflix have suddenly gone silent: When Vulture inquired about the status of the projects, both companies replied with a terse "no comment." While it's still possible Netflix will quietly begin streaming its already-filmed Cosby special as scheduled next week, Hollywood insiders are starting to speculate that the planned primetime Cosby comeback may be doomed. As one such insider told us, "I'd be shocked if it happens now."
Considering Hollywood's history of forgiving, or at least overlooking, talent transgressions — Woody Allen and Roman Polanski still make movies despite being accused of sex crimes against children, and Polanski was actually convicted — it might seem a bit premature to declare the NBC sitcom dead. And certainly, if Cosby were to offer some vigorous new defense against his multiple accusers, or there were new revelations that damaged the credibility of those who've spoken out against him, the narrative surrounding the comic could change enough to allow NBC to proceed as planned. But if nothing changes, it's hard to imagine how NBC could even consider filming, let alone broadcasting, a show starring an actor who's now — rightly or wrongly — openly mocked on Twitter as a sexual predator. While Allen and Polanski have always been known for exploring dark subjects and adult themes, Cosby's brand has been all about family and kids. He's supposed to play an advice-giving grandpa on the NBC show. "The reason you do a show with a Bill Cosby is because he's beloved," our Tinseltown vet told us. "That's changed now." Even if NBC thought viewers would give Cosby the benefit of the doubt, or separate his private and public personas, getting advertisers to buy time on a new Cosby series would almost certainly prove difficult — particularly if the same social media forces that attacked Team Cosby for their misguided meme ploy decided to call for a boycott of companies that supported his theoretical new show with advertising dollars.
By contrast, Netflix might have more leeway to proceed as planned with the November 28 debut of 77, the Cosby comedy special filmed on his birthday this past July. The streaming giant can argue the special has already been shot and Cosby has been paid, and that, much the same way its streaming of Allen's films doesn't constitute an endorsement of him in any way, neither does the posting of a Cosby special. Netflix also doesn't have any advertisers to answer to, nor does it have to commit any continued marketing or promotion of Cosby the way NBC would have to were it to proceed with its sitcom. (In fact, it seems a safe bet Netflix will simply cease all marketing of 77 over the next week, with the exception of any magazine ads in issues that have already gone to print.) Still, even it it seems likely Netflix won't change course, it's also not far-fetched at this point to imagine the opposite scenario —  i.e., announcing an indefinite delay if any sort of online pressure builds on Netflix to pull the plug. While the company doesn't have to worry about advertisers or affiliates, it is hyperaware of its own brand as a progressive, forward-thinking entertainment company. If Cosby's 77 threatens that in any way between now and November 28, Netflix will not hesitate to bail.