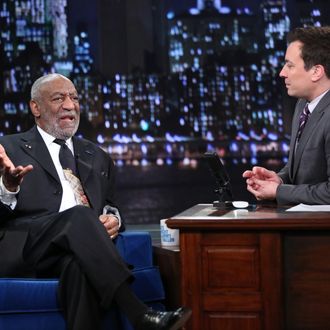 Photo: NBC/2013 NBCUniversal Media, LLC
Bill Cosby has finally released a statement addressing the renewed interest in the dozen or so rape allegations against him, but it doesn't say much. Up until now, Cosby has steadfastly refused to address the accusations, stonewalling on NPR's "Weekend Edition" yesterday and cancelling appearances on David Letterman's and Queen Latifah's shows. The statement, posted to his website via lawyer John P. Schmitt, says only that he won't "dignify these allegations with any comment," which is a longer way of saying "no comment":

Over the last several weeks, decade-old, discredited allegations against Mr. Cosby have resurfaced. The fact that they are being repeated does not make them true. Mr. Cosby does not intend to dignify these allegations with any comment. He would like to thank all his fans for the outpouring of support and assure them that, at age 77, he is doing his best work. There will be no further statement from Mr. Cosby or any of his representatives.
Will Cosby's nonresponse be enough to satisfy the court of public opinion? Unlikely.