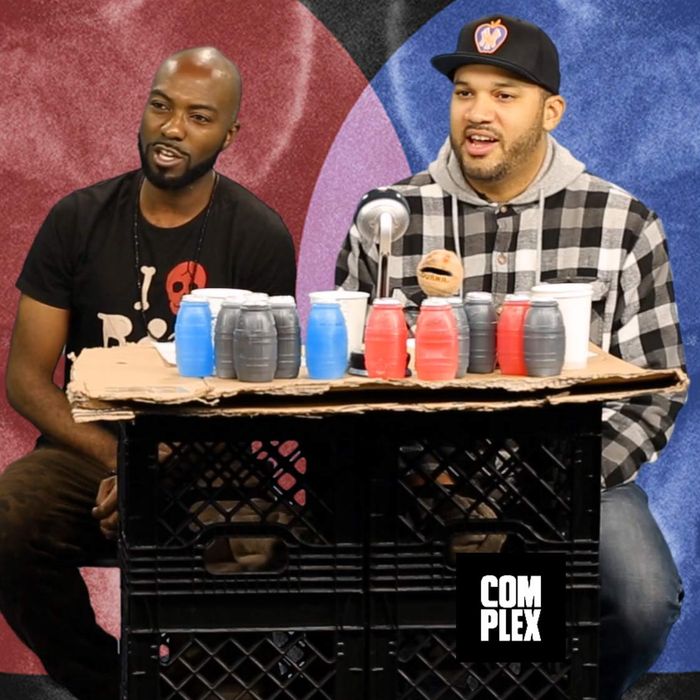 "Damn, it's like Africa hot," remarked Desus Nice as he surveyed the half-block vacant concrete expanse at 50 Kent Avenue in Williamsburg before a performance this past September.
"Fuckin' slavery degrees out here, fam," added the Kid Mero, the other half of Desus vs. Mero, the Complex Magazine web video-series and podcast where the two Bronx lifers toss off their takes on each week's news, pop culture, and gossip. After building — and toying with — their measure of internet microcelebrity, the two were finally having their IRL coming-out party: They were in Williamsburg to host the Fool's Gold record label's all-day rap concert, cutting up between sets by hip-hop stars like DJ A-Trak and the rapper French Montana. The podcast and video series began last year, after the two developed their own independent, impressive Twitter followings. (A shade under 25,000 for Mero; a shade over 50,000 for Desus.) Wickedly funny, wildly offensive, and unabashedly New York–obsessed, the series has a cult audience that ranges beyond Complex's typical rap-nerd readers. The Hairpin suggested Chipotle feature them on branded cups after the chain did the same with authors like George Saunders and Toni Morrison. NFL running back Arian Foster challenged Desus to the Ice Bucket Challenge. Now, after tweeting their way into the Cool Kids Club, Desus and Mero, a.k.a. #DESUSVSMERO, a.k.a. Young Chipotle and the Human Du-Rag Flap, a.k.a. the Morenito and the Spectacular Spic, are trying to parlay their online success into real life — and a proper paycheck.
At 2:30 in the afternoon in Williamsburg, the audience poured into the venue, a blur of Supreme T-shirts and limited-edition Jordans. Desus and Mero showed up in their Bronx uniforms: Desus, a rangy Jamaican with a shaved head and close-cropped beard, sported a large T-shirt printed with his Twitter avatar, a dog in a balaclava, and what he called his "formal" Timberlands: "I wear them to weddings, bar mitzvahs, quinceañeras." He'd tied a Jamaican-flag bandana around his ankle. Mero — stockier and goofier, the Costello to Desus's Abbott — advertised his heritage with a leather Republica Dominicana baseball hat and Bronx-branded T-shirt, eyes behind black Wayfarers. Both wore identical camo shorts.
If you're not a hip-hop fan and don't spend your days glued to Twitter, it's most likely you first heard of them in the spring as a result of a clever Twitter stunt. (Desus had been tweeting since 2008, Mero blogging and tweeting since 2009.) But despite their steady stream of jokes and accessibility on social media, they were both known by their internet aliases, which they retained when they started the podcast late last fall. Mero didn't exactly hide his real name, Joel Martinez, but he didn't publicize it, and Desus kept his identity closely guarded, especially as their profile grew. Even now, when asked, he refused to reveal his birth name, explaining, "Mero knows. My agent knows. But I still live in the Bronx. I'm not trying to catch a home invasion."
In April, right as their podcast became a video series, Mero tweeted a picture of himself with a husky white guy, captioned "DESUS VS MERO IN THE FLESH." The idea of a white Desus felt to many fans like another cherished bit of the internet revealed as a scam. One follower on Twitter replied in disbelief, "…Nah. Nah. NAH," another noting "Desus got some explaining to do for all them N-bombs." The flabbergasted response to the possibility of a white Desus cut to the core of what these two mean to their fans: Following their internet output felt like bullshitting at the bodega with the sharpest smartasses in New York. Their appeal is their "realness" — if you got their jokes, you were in on the joke. You knew about the bootleg sneaker stores on Broadway, the price Jay Z paid for shedding his entourage of goons, earning the right to laugh along with their 'hood high-low (or, in their words, educated ignorance). But if Desus was white, how the hell did he know what he was talking about? What was Mero doing hanging out with him? What authority did they have to anoint a "Real Nigga of the Week"? Was their authenticity another joke?
Of course, when the video series debuted the next day and Desus showed his face for the first time, it was revealed as a hoax of a hoax. He was, in fact, black, and took on "Desusgate" in the next episode: "I spend 23 hours a day cursing out white people … but people thought I was white!" The brief freakout on the part of their fans ultimately boosted their visibility, getting them featured on Gawker as the rare internet stunt that doesn't leave the public feeling swindled.
In the five years or so leading up to Desusgate, Desus and Mero had attracted not just thousands of followers, but established themselves as peers among a certain slice of New York's internet-savvy cool-kid demimonde, many of whose members were backstage at the Fool's Gold concert. By late afternoon, they'd filtered through a security cordon so tight, Desus compared it to prison visitation ("They got 'em spreading and coughing to get in here"). Desus and Mero exchanged daps with Eddie Huang, the Baohaus restauranteur, who was a fan of Mero's early hip-hop blog, Victory Light, and called him "the all-caps Junot Díaz" for his consistently uppercase prose. They talked shop with the Rosenthal brothers, fellow hip-hop satirists behind ItsTheReal, a sketch series known for cameos by the very rappers it skewers. Miss Info, pillar of the hip-hop-media Establishment since the early '90s, met them for the first time after becoming a fan over what she calls "this magical mystical thing called Black Twitter … the digital version of the Apollo Theater." (For the uninitiated, she was referring to a particularly lively, contentious community on Twitter focused on issues of interest to African Americans, who use the service at nearly twice the rate of whites, according to Pew Research. For those familiar with Desus and Mero's contributions to Black Twitter, the previous sentence would qualify as an instance of what they call "peak caucasity.") Ezra Koenig, lead singer of Vampire Weekend, politicked with them. Koenig, who first met Mero through Twitter, said he considers him as "a friend and colleague." He regularly dines with the Kid and his family up in the Bronx, and the two have worked on some "long-gestating" TV projects together.
Finding themselves in the same circles, they'd occasionally go back and forth even before Complexeditor Donnie Kwak decided he wanted to start a two-smartasses-and-a-microphone podcast, on a lark bringing them in for a tryout. Luckily, the two had quick chemistry — "Within ten minutes, we knew we had a hit," says Desus. But in truth, their Twitter paths had already crossed over into real life. When asked about their early meetings, Mero recalled a Bronx meet-cute: Back in his old job as a paraprofessional in a public high school special ed program, he'd had to restrain a disruptive student who then vowed to come back to school with guys from his block to get even. The student happened to recruit Desus, who was ready to settle things with "this Spanish teacher who was touching [the kid]." He arrived one day after school, only to recognize Mero from Twitter — and turned to the kid, shouting, "Yo, don't fuckin' disrepect Mero at school!"
Though Desus and Mero get a lot of comedic mileage out of hood anecdotes like this and are prone to shouting "BX all day," they are eager to convert their newfound popularity into actual dollars. They joke about making the typical move rappers make when they cash in: to high-end suburban enclaves like Alpine, New Jersey. "I want all my neighbors to have yarmulkes," says Mero. "I'm trying to live next door to an orthodontist," counters Desus.
While they pursue more remunerative opportunities like books and TV-writing, they're happy to enjoy their current micro-trending moment. Backstage at the concert, Mero in particular lost himself to the schmooze, nowhere to be found when it came time to introduce one of the acts.
"Calling the Kid Mero to the Stage — has anyone seen the Kid Mero?" Desus mutters into his mike as he looks back into the VIP section. "Fuck it, he's probably taking a dump."
After Desus kills a minute, Mero dashes onstage, mike in hand. "Sorry, fam. I'm late to everything."
"Dude was late to pull out — he's got two kids!" riffs Desus. Mero's family is a recurring subject on the show (though the wife and kids are afforded a veil of anonymity). For all his foulmouthed banter and Bronx Bully persona, Mero also gives the impression of the archetypal sitcom dad. Back offstage, when he talks about his family, he's garrulous, goofy, and beams with pride. While his 1-year-old is "oblivious" to the past year's meteoric rise, his 3-year-old has garnered some sort of understanding of what Daddy does for a living. "He knows Daddy gets money from being funny. He sees me on the computer, and he thinks I'm the only thing on the internet. I'm the only thing on the internet! I take that shit with me."
His wife is a bit more circumspect when it comes to Mero's celebrity. A teacher herself, with two masters' degrees, she was offered an assistant-principal gig before opting to take a few years off with her young children. "She's a white Jewish girl from New Jersey. The type of white bitch that scrapbooks and listens to Jewel," he says with warm sarcasm. "She doesn't care about the fame — she just cares about the money and the upward mobility of this shit. She's a superwoman."
As the day in Williamsburg wore on, hosting became a bit more like real work. They had to quell a confrontation between the crowd and the security, provided by members of the Zulu Nation. Desus warned concertgoers not to mess with the Zulus since they were the type to rack up felonies while already in prison. More established  hip-hop personalities showed up, like Hot 97's controversial DJ Pete Rosenberg, expecting a turn at the mike. The two hosts had to weave between the ever-growing entourages massing onstage. When headliner French Montana appeared, he brought up Flatbush's own 20-year-old Bobby Shmurda — along with what Mero estimated were 95 other people who could barely fit on the temporary stage. "That was some real rap shit," Mero said afterward, not entirely as a compliment.
"They were trying to push the shit out of us like we're not getting paid to host this shit," said Desus, visibly exhausted.
Which reminded Mero: "So where's your man," he said, "to talk to about getting that bread?"