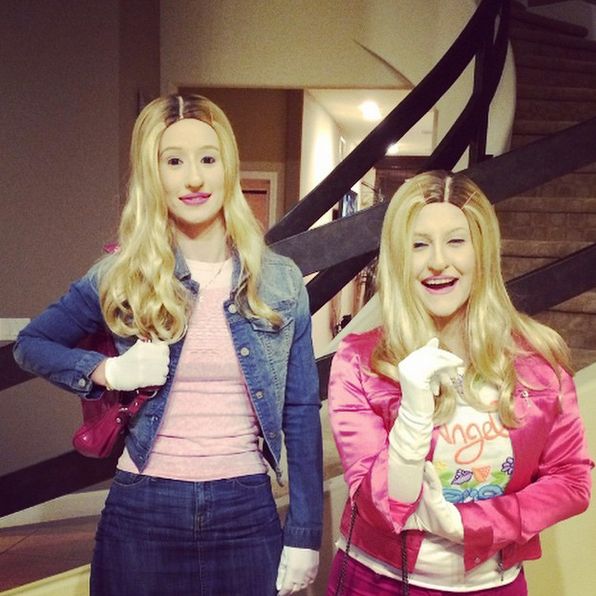 As any good celebrity watcher knows, Halloween is a time for famous people to really strut their stuff and show us how imaginative they — or rather, their stylists — can be. Going as generically sexy or a generic zombie or vampire (or a generically sexy vampire — sorry, Lindsay) doesn't really cut it anymore. We now expect elaborate designs, family-themed getups, and self-referential jokes. Here are the celebrities who didn't disappoint this year.
Iggy Azalea has been teased for looking like one of the Wayans brothers from White Chicks, so what did she do? She dressed up like Brittany from White Chicks.
And then she even hung out with J. Lo and Demi Lovato looking like that.
Beyoncé dressed up as Janet Jackson circa Rhythm Nation. Blue Ivy was her MJ.
Later, she changed into a Frida Kahlo costume. Jay Z went as Jean-Michel Basquiat.
Kim Kardashian did a Vogue-themed group look. She dressed up as Anna Wintour with her daughter as André Leon Talley. Rounding out the foursome in the photo are makeup artist Joyce Bonnelli as Grace Coddington and her son as baby Karl Lagerfeld.
Before that, she was a less-inspired sexy skeleton.
Neil Patrick Harris and his family went Gotham.
Katy Perry is a Cheeto. This is why you either love/hate Katy Perry.
Heidi Klum celebrated her 15th annual Halloween party — this time as a butterfly.
The Cutest Couple award goes to Padma Lakshmi and Susan Sarandon.
Rihanna was Raphael from the Teenage Mutant Ninja Turtles.
Kelly Osbourne was Margot Tenenbaum.
Taylor Swift was a winged unicorn — or rather, a "pegicorn."
Katie Lowes went on Ellen dressed up as the tooth fairy, only to have Ellen (as Amal Alamuddin getting married to George Clooney) get her Scandal co-star Guillermo Díaz to jump out and scare her.
Alyson Hannigan was an adorable frog.
Liv Tyler had a "bun in the oven." Get it?
Kate Hudson and her mom, Goldie Hawn, did a Sons of Anarchy–themed costume (meaning: sexy biker chicks).
And Terry Crews and Robin Roberts did their best Jay Z and Beyoncé. The circle of life is complete.