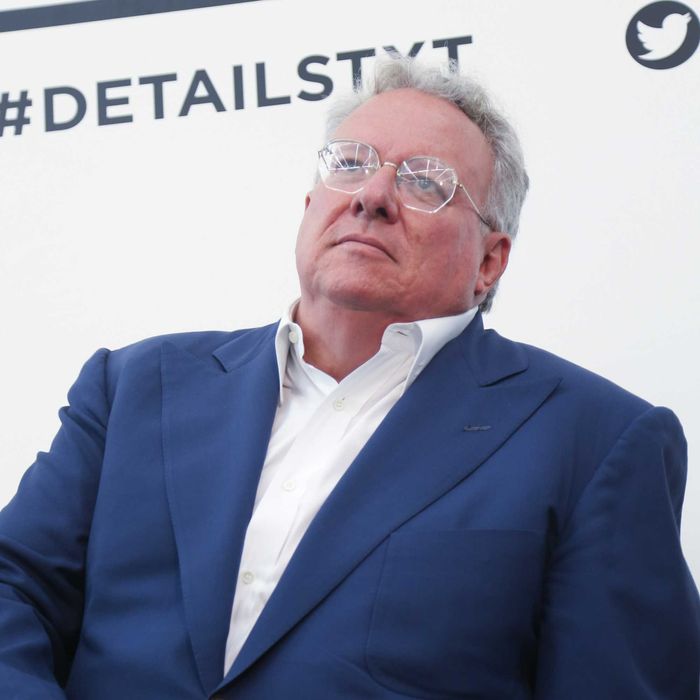 Bill Ruprecht.
Photo: Jason Carter Rinaldi/2014 Getty Images
Six months ago, Sotheby's chief executive Bill Ruprecht welcomed the billionaire investor Dan Loeb — his largest shareholder and vituperative critic — into his York Avenue office for a joint interview with The Wall Street Journal. Loeb had just agreed to quiet his campaign for internal changes at the 270-year-old auction house in return for three seats on the company board. Like a pair of boxers who had just gone the distance, both men sported some bruises. Loeb had publicly called for Ruprecht's ouster, while Ruprecht — in an email that became public in a related court proceeding — had referred to Loeb as "scum." But they were determined to make a public show of reconciliation.
Loeb called the sparring part of the "process of corporate warfare" and said he had come to view Ruprecht as someone he could work with. "I see an organization that's much more responsive and flexible than I thought it was," Loeb said. "I see a path forward now."
In the end, though, Loeb's path forward went right over Ruprecht. Yesterday, the company announced its long-serving CEO was stepping down by "mutual agreement." The move came at the end of a fall auction season highlighted by Sotheby's impressive $158 million auction of the works from the estate of Rachel "Bunny" Mellon, a figure still overshadowed by the enormous sum its archrival Christie's reaped from a record-setting evening sale of contemporary art. But make no mistake: Ruprecht's exit had little to do with last week's results and everything to do with this spring's tussle with Loeb. In activist investing — the art of buying and agitating that has made Loeb a billionaire — there is seldom room for peacemaking. If the targeted company fails to fend off its shareholder critics, the CEO almost always goes, either immediately or after a face-saving interval.
"This was obvious and inevitable," said Michael Plummer of Arvest Partners, a consultant who has expressed skepticism of Sotheby's management. "To start truly changing the company and moving it ahead, you had to start at the top."
Still, Ruprecht was afforded a gentler exit than some of Loeb's previous targets, like Yahoo's Scott Thompson, who was fired after it came to light that he had falsely claimed a computer-science degree on his résumé. Even those who question Ruprecht's recent management admit he played a crucial role in guiding the company through one of the most difficult passages in its history. He became CEO in 2000 amid a potentially catastrophic price-fixing scandal, which resulted in the felony conviction of his predecessor Diana Brooks. He won the loyalty of many Sotheby's employees by making difficult decisions that kept the company solvent and for hastening its evolution from a liquidator of aristocratic estates to an institution at the center of the global art market.
"This is a business that's necessarily always got a big measure of crisis," Ruprecht told Christopher Mason, author of Art of the Steal, a book on the price-fixing episode. "Because people die and you have to rally immediately. It's the fundamental uncertainty of life that's at the core of the services we provide some families. It's the challenge of getting 50 people on a plane tomorrow morning to be someplace. You go ahead and try to show me something I can't handle. There's a sense of pride in that."
In some ways, though, Ruprecht was more representative of the auction house's past than of its present position at the art world's market maker. After a stint as an apprentice furniture maker, he started off at the auction house as a summer employee and came up through the rug department — a pedigree that was sometimes sniffed at within the rarefied precincts of contemporary art. He is from Missouri and lives in Greenwich, not Soho; he likes to fish and is said to enjoy raising chickens. He has compared Sotheby's to a theatrical company, full of bickering egos, and had a reputation as a skilled performer himself during the years when he personally handled auctioneering duties.
By contrast, the CEO of Christie's, Steven Murphy, had a background in music, publishing, and magazines — industries that are more about managing images than bidding up the prices of physical objects. Under his leadership, Christie's has established a dominant position in the contemporary art sector; its $853 million auction last week dwarfed Sotheby's $344 million contemporary sale. There may be less than meets the eye to these numbers: As a private company, Christie's does not have to disclose how much it makes in fees from these sales, and the competition for prize consignments has forced both houses to sacrifice profits. But perceptions matter, not only to art collectors, who have to choose where they buy and sell, but also to the shareholders.
"At some point, these great old brands do need some invigoration," said David Schick, a stock analyst at Stifel Nicolaus. There are some hard realities, however, that are working against the company. Over the last year, it has aggressively increased the amount of money it guarantees consignors of key pieces of artwork, essentially betting that the art market will continue to inflate. It has secured an agreement with company lenders to allow it to increase its guarantee ceiling to $600 million, though it hasn't come close to meeting that threshold yet. The increased risk has yet to translate to greater profits, however. Competition for consignments drove the company's auction margin over the past nine months to 15.5 percent, down from 16.2 percent a year ago. Though revenues have increased during the same period, its overall profit has dropped. The company's stock price has fallen by 20 percent over the last year, though it rebounded a bit on the news of Ruprecht's pending departure.
Earlier this year, when I was working on a feature article about the fight for Sotheby's, I asked board members directly about Ruprecht's job security and received assurances that he had full support. It wasn't an empty promise: Ruprecht's contract, due to expire in August 31, would renew automatically for one year unless the board notified him five months beforehand — in other words, on March 31, right in the thick of Loeb's campaign to win seats on the board. In fact, it's since become evident that some board members had been dissatisfied with Ruprecht for some time. An email disclosed earlier this year, in the course of the company's lawsuit with Loeb, revealed that Sotheby's board member John Angelo had advised Ruprecht that he believed the chief executive was "neither capable or strong enough to do the work at hand." But casting Ruprecht aside in the middle of the proxy battle would have looked like a capitulation.
By August, however, with Loeb safely inside the fold, the Sotheby's board decided to begin laying the groundwork for a more gentlemanly departure. A board source says Ruprecht has been involved in the succession planning since then, although he was reportedly not present when the ultimate decision was made yesterday, in a unanimous board vote. Ruprecht will continue on as a caretaker as the board searches for a successor — who could come from outside the art world, according to the board source.
In March, I asked Ruprecht point-blank whether he wanted to continue on as CEO of the company where he had spent his entire professional career. In an email, he replied: "I've worked at Sotheby's for a number of years because I love being around great art, and talented people — and I enjoy working on complex and challenging issues. That remains true to this day and it's why I very much look forward to continuing doing what I do at this great company."
Yesterday, he used almost exactly the same words in a press release, saying good-bye.