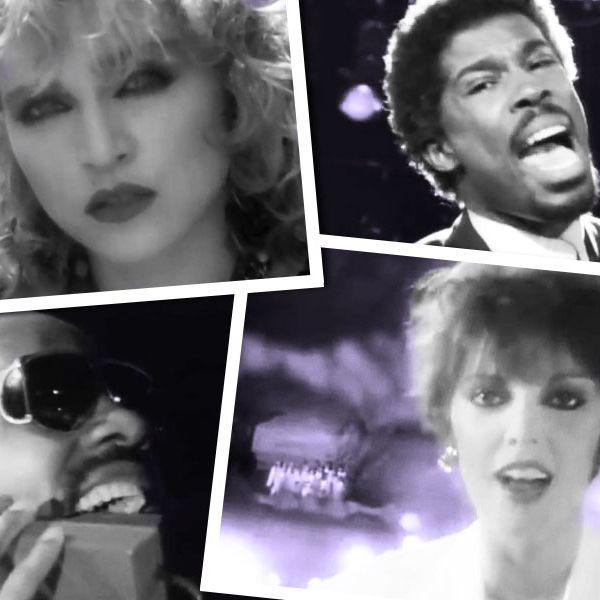 Thirty years ago this week, "Like a Virgin" hit the Billboard Top 40. Also, I'm tired of talking about "Too Many Cooks." So let's hop in my DeLorean GIF and fly back to that November week in 1984 and check out the top 40 pop songs; it'll be just like The Goldbergs, except you will know exactly when it is happening.
40. "Stranger in Town," Toto
Toto did many things: They composed Michael Jackson's finest song, "Human Nature." They wrote a love song to Rosanna Arquette (which was used a few Emmys ago as the walk-on music for presenter Patricia Arquette, in a stunning and flagrant breach of Arquettiquette). They had a No. 1 single that contained the lyrics "I know that I must do what's right, sure as Kilimanjaro rises like Olympus above the Serengeti," yet were not immediately stricken down by a just and vengeful God. They also apparently did this.
39. "All I Need," Jack Wagner
In a 1984 issue of Billboard, songs with music videos are denoted by a little diamond icon next to the artist's name. Nearly all of them have those little diamonds because you could hardly sell an artist without a video in 1984; the only holdouts on this chart are Huey Lewis and Cyndi Lauper (because their albums were already enough hit singles deep, so why spend the money), Kenny Rogers (because he is old), Prince (because Prince will do what Prince pleases), and, inexplicably, Jack Wagner, certainly among this countdown's prettiest faces. Here he is performing "All I Need" on Solid Gold, moments before his friends and family staged a collar intervention.
38. "Like a Virgin," Madonna
Obviously, this video is hugely significant. It minted Madonna as a genuine phenomenon, it cemented her aesthetic (her first one, anyway) in our collective consciousness, and it sent a nation of teenage girls to the mall to buy rubber bracelets and BOY TOY belts. But all I can think about is how they got that lion's tongue to dart out of its mouth in perfect rhythm.
37. "Tears," John Waite
He's lived through a lot of hairstyles, our John Waite — from his jazzy Babys-era shag to his menacing "Missing You" spikes to his Bad English Madeline Stowe 'do. In "Tears," he achieves a look that is both Jim Carrey and Jeff Daniels in Dumb and Dumber To, 30 years early.
36. "I Need You Tonight," Peter Wolf
I will never not be startled by the fact that Peter Wolf was married to Faye Dunaway.
35. "Centipede," Rebbie Jackson
So this is how famous Michael Jackson was in 1984: Literally any Jackson could record literally any song and it would sell. LaToya had a minor hit with "Heart Don't Lie" just a few months before, Janet had some pre–Jam & Lewis R&B hits and did that dance where it looked like she was dealing an invisible deck of cards, and then there was Rebbie. Rebbie came at us with a song comparing her sexual magnetism to that of a crawling, multi-legged insect, and it worked. "Centipede" is the worst, and its video is the best thing you will see all day. It begins in a museum, where a docent says, "And here, ladies and gentlemen, is our museum's most treasured masterpiece: Centipede. A portrait of a woman with true romance and beauty. Tonight, she will come back to show the world her special powers." And somehow, nobody in the tour group says: "Wait, what does that mean? Can we stay and watch? Should the museum even be open if its most treasured masterpiece is going to come back and show her special powers, whatever any of that means, which, again, can you be more specific? Also, how come your most treasured masterpiece is such a shitty painting?" No, they pretty much just all take it in their stride, except ol' Rebbie (or li'l Rebbie; I have no idea where Rebbie falls in the Jackson birth order), who reaches out like a pre-verbal child and gets zapped with insect sex powers. I'd say it gets crazier from there, but really it pretty much stays at that level of crazy, which, I think you will agree, is plenty.
34. "Run to You," Bryan Adams
My father briefly forbade me to play Bryan Adams's "Reckless" because he was convinced Bryan was promising to "raunchy you."
33. "I Do' Wanna Know," REO Speedwagon
Speaking of perplexing titles, nobody on the radio seemed to know what to do with the first single from REO's "Wheels Are Turnin'." Were they saying that they did wanna know? Or that they didn't? And how much of a hurry were they all in that they couldn't just call it "I Don't Wanna Know"? Luckily, we didn't have to worry about it for too long because the song was garbage and "Can't Fight This Feeling" was in the barrel.
32. "Born in the USA," Bruce Springsteen
Bruce Springsteen was held in impossibly high regard by my two older brothers, who came of age in the Born to Run era. I endured endless, breathless reviews of four-hour concerts. I tagged along as they went to Peaches Records to buy their own separate copies of The River on vinyl and 8-track. And then in 1984, when I was 13, "Born in the USA" brought Bruce the commercial success that had eluded him, and I saved up my lawn-mowing money and bought the album as a way of accepting the torch from my brothers. At last, a thing that we could share. Alas, the bros were offended by the synthesizers on this album, which they saw as a capitulation to New Wave, as though he had turned overnight into Klaus Nomi. "That damn organ," they spat. In my family unit, I could not even enjoy Bruce Springsteen correctly.
31. "On the Dark Side," John Cafferty & the Beaver Brown Band
This song — and Eddie & the Cruisers, the movie from which it came — had originally been released a year before, and neither made much of an impact. But then HBO started playing the movie over and over, and suddenly, the song was a hit. That's how few TV options there were: a 1984 midday showing of Eddie & the Cruisers could actually drive record sales.
30. "We Are the Young," Dan Hartman
Dan Hartman was one of those faceless veterans of pop music. When his stuff worked — "Instant Replay," "I Can Dream About You," the Edgar Winter Group's "Free Ride" — he was untouchable. And then sometimes he did things like this.
29. "Hello Again," the Cars
This makes me nostalgic for a time when an immersion in popular culture meant that you would know who John Sex and Dianne Brill were.
28. "I'm So Excited," Pointer Sisters
This song is of course now inseparable from the Saved by the Bell episode in which Jessie becomes addicted to caffeine pills, which is a shame for a variety of reasons. The primary reason is that we tend to overlook its video, which opens with the Sisters breaking a silhouette freeze completely out of sync with one another, and only gets tackier from there. To June Pointer, for pioneering the unsexy bathtub-suds blow that the Mary Jane Girls would perfect one year later: I must deduct points, sister.
27. "Do What You Do," Jermaine Jackson
Yet another Jackson byproduct. Jermaine went for the big-budget video cheese that served his brother so well, and though the song is forgettable, his Jheri curl is nothing short of Jermajestic.
26. "I Can't Drive 55," Sammy Hagar
You also can't pull off a sleeveless yellow cowl-neck jumpsuit with red straps, so you're obviously willing to attempt some things you can't do.
25. "Teacher Teacher," 38 Special
From the Nick Nolte/JoBeth Williams movie Teachers, whose soundtrack includes Roman Holliday's "One Foot Back in Your Door," whose pre-chorus producer Mutt Lange would cut and paste directly onto Billy Ocean's "Get Out of My Dreams." I mean, listen. That's gotta hurt.
24. "Valotte," Julian Lennon
Does pebble mean something different in British?
23. "What About Me?" Kenny Rogers, with Kim Carnes and James Ingram
Never heard of it. Let's talk TV. In 1984, NBC told us all to "Be There," and on Saturday nights, every good preteen obeyed. NBC's mighty Diff'rent Strokes / Double Trouble / Gimme a Break! / It's Your Move comedy block was a pre-"TGIF" that also occasionally included the Chad Lowe sitcom Spencer and something called Our Time, which, I mean, look.
22. "Walking on a Thin Line," Huey Lewis and the News
21. "It Ain't Enough," Corey Hart
In 1984, I told everyone I had the hots (we called crushes "the hots" back then) for Teri Copley, the busty live-in domestic on NBC's We Got It Made, believing that if I said it enough it would become true, but the combined power of Huey Lewis and Corey Hart's chest hair was undeniable.
20. "Hard Habit to Break," Chicago
I really tried, though. This song conjures excruciating slow-dances at the seventh-grade mixers I attended this year, rigid arms clasped onto the waist of some poor Catholic schoolgirl, her hands on my shoulders, holding each other as far apart as two can be while still technically touching, Frankensteining back and forth as we avoided eye contact. Good times.
19. "We Belong," Pat Benatar 
18. "The War Song," Culture Club
Pat's gloves and George's hair: If 1984 was about anything other than complicated collars on men's shirts and jackets, it was about bold color choices.
17. "I Can't Hold Back," Survivor
Recently deceased lead singer Jimi Jamison looks like the lead in a low-budget martial arts movie Quentin Tarantino would own on 35mm.
16. "Blue Jean," David Bowie
This video comes from a David Bowie short film called "Jazzin' for Blue Jean," and it borrows liberally from the first big musical number in the Australian New Wave musical Starstruck. Or maybe it's just me. Or maybe I'm trying to get you to watch the Australian New Nave musical Starstruck. WHO CAN SAY?
15. "Desert Moon," Dennis DeYoung
Better that than the four-minute Dockers commercial that is this Dennis DeYoung video.
14. "Cool It Now," New Edition
If someone made a Vine of the "Ronnie, Bobby, Ricky, and Mike" chunk of this video, I would watch it for probably a solid hour. Until then, I will have to make do with this.
13. "Sea of Love," the Honeydrippers
From the brief moment in 1984 when Robert Plant went all dentist's office on us.
12. "The Wild Boys," Duran Duran
This was the moment many of us hopped off the Duranwagon, only to jump back on at "Ordinary World" and stay there. The mid '80s were a rough time for Simon and the gang — outrageous videos, coke-strained vocal cords, Joan Collins hair — though I will continue to rep for Arcadia's "Election Day."
11. "No More Lonely Nights," Paul McCartney
Though "Give My Regards to Broad Street" is considered McCartney's lowest career point, this is really not a bad song. He's done worse. Related: It is nearly "Wonderful Christmastime" time.
10. "I Just Called to Say I Love You," Stevie Wonder
The video, like the song, is pretty bland. Much better to watch the Cosby Show clip where the whole Huxtable family — MINUS CLIFF, SO IT IS OKAY TO WATCH AND ENJOY THIS — meets Stevie Wonder and fills his sampling keyboard with wonderfulness. The speed with which Theo identifies "jammin' on the one" as a thing he would say at a party is impressive, especially when you consider that neither he nor Cockroach ever said it on the show even once, before this moment or after.
9. "Penny Lover," Lionel Richie
I want to believe that, like the different seasons of American Horror Story, the videos for "Penny Lover" and "Love Is a Battlefield" exist in the same universe.
8. "All Through the Night," Cyndi Lauper
This one was written by Jules Shear, who is pretty much the best. Behold his 1985 single "Steady," truly one of the overlooked classics of the '80s.
7. "Strut," Sheena Easton
I will quote YouTube commenter "LynRuiz": "Do you realize she oozes almost R-rated sex appeal while fully dressed? She doesn't have hair extensions or butt implants and she's not sliding down a pole or thrusting across the stage. She's not even showing cleavage. Can Beyonce, Katy Perry or Nikki Minaj pull off this level of sexual prowess just standing on a stage in front of a band?" Well, ladies? Can you achieve hard-PG-13 sex-appeal levels? What LynRuiz forgets, of course, is that Sheena's next single was "Sugar Walls," which got her into hot water with the PMRC for reasons that 30 years and a few actual sexual experiences with women later I still do not fully understand.
6. "Caribbean Queen," Billy Ocean
I cannot know this for sure, but I suspect Billy's sweater in this video is a Gordon Gartrell. (Cosby Show references are going to be poisonous any day now, so I need to get them out while I can.)
5. "Better Be Good to Me," Tina Turner
Elsewhere on television in 1984, poor Jenny Gardner died in a tragic Jet Ski accident on All My Children, a young Punky Brewster taught some old guy how to love, and Linda Evans believed in Crystal Light because she believed in she.
4. "Out of Touch," Daryl Hall & John Oates
I saw Hall & Oates at the Greek a few weeks ago. The sax player looks like Dumbledore now. Daryl mentioned "Live From Daryl's House" four different times and wore a "Live From Daryl's House" T-shirt. They played all the hits and got us back to our cars by 10:30pm. It was pretty much the best.
3. "I Feel for You," Chaka Khan
Huh: I remember this as one of the all-time-great summer songs, but it seems to have peaked in November. I think Shabba-Doo and Boogaloo Shrimp just suggest summer to me. Yes, folks, it is this level of insight you can expect in my first book, Party of One, coming in May of 2016.
2. "Purple Rain," Prince
I think I've posted this before, but I don't care. Please watch this video of Prince & the Revolution playing "Purple Rain" live for the first time and look at the crowd's stunned reaction. They had never heard this song before. Can you even imagine?
1. "Wake Me Up Before You Go-Go," Wham!
Listen, I love Wendi McLendon-Covey, and I want to love The Goldbergs, but they need to get their period-detail game sorted the fuck out. The kids dress like they're in this video while they're seeing WarGames in the theater while they're dancing the Running Man while they're solving a Rubik's Cube and none of the jokes can pass through the nostalgic dissonance and get into my head. They need a Downton Abbey–style historical expert to keep the Sega Genesis and "Who Shot JR?" out of the same scenes. (Or I need to relax. Neither possibility seems likely.)