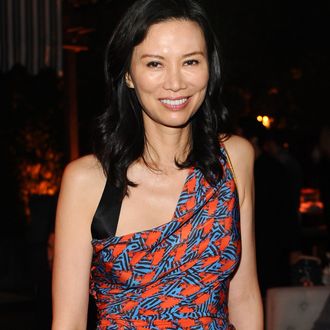 Wendi Deng Murdoch.
Photo: Stefanie Keenan/Getty
Yesterday, at the former Wing Shoon seafood restaurant where the Lower East Side meets Chinatown, Emily Sundblad's ever-cool third-floor Reena Spaulings Fine Arts gallery presented a one-day show, two floors below, of a collaboration between artists Alex Israel and Josh Smith. The restaurant, which sat on the ground floor of the corner building, was closed by the Department of Health in September (the report cited "evidence of rats" and "evidence of mice" in the kitchen) – a couple of weeks after the Times praised the woman behind the gallery upstairs as having achieved "the most coveted kind of fame a person can have in the art world: a suspended state of semi-obscurity that both lends credibility and creates intrigue."
Whether Wing Shoon shut its doors because it couldn't pay its rent or because of its spotty Department of Health record, who knows. But the gallery says it took three days of industrial cleaning to get the place looking respectable, and even then, one would be hard-pressed to say it was spotless. Israel's dusty-pink canvases were painted with figurative palm trees and black suns; the works were mounted on the restaurant's walls, which were still adorned with your standard Chinatown chintzy dining decor (a pair of massive gold dragons, a framed schooner with flashing LEDs). All this didn't seem to matter to Wendi Deng Murdoch, who arrived that afternoon with her children in tow before the reception. A sort of master art-world networker lending her glamour to "Spotify for Art" site Artsy — along with Eric Schmidt, Dasha Zhukova, Peter Thiel, Jack Dorsey, and Larry Gagosian — Murdoch probably wasn't even the biggest high-roller to pass through Wing Shoon that day; a handful of the paintings had allegedly already been sold at $50,000 a pop.