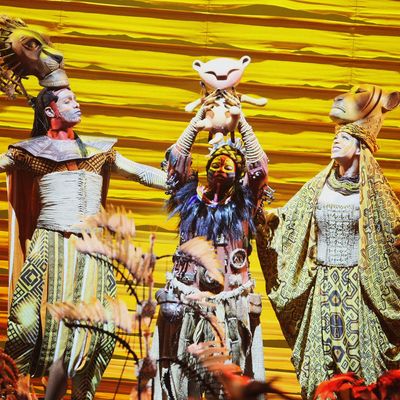 81553544BM216_The_62nd_Annu
Photo: Andrew H. Walker/Getty Images
As soon as Frozen became a "Let It Go"–powered hit animated movie, it was obvious that Disney would eventually develop it into a stage musical. While a date has not yet been announced for the Frozen show, it's in early stages of development and will likely be a hit, just like many of the titles that Disney Theatrical president Thomas Schumacher has helped bring to the stage. John Horn, host of Southern California Public Radio's new daily arts and entertainment show "The Frame," talked to Schumacher about a new production of The Hunchback of Notre Dame, which is currently playing in La Jolla, California, and about how Broadway has changed in the two decades Schumacher has held his position. (Listen to part of Horn and Schumacher's interview below, and subscribe to "The Frame" at iTunes or Stitcher.)
How many Disney theatrical productions are there running right now around the world?
Tonight there are 18 productions produced by Disney Theatrical playing. There are many Disney titles that are playing around the world that we have licensed to various people, and there are schools all over doing performances and productions, but actually produced and managed and ticketed by us and our partners, there are 18 tonight, including ten Lion Kings.
And where are those Lion Kings playing?
Well, you could see Lion King tonight on tour in the U.S. You could see us in New York. You could see us in São Paolo. You could see us in Brisbane, Australia. You could see us in London. You could see us on tour in the U.K. You could see us in Hamburg. We have two companies in Japan, and we're in Madrid tonight, where we have been for a few years now.
The Lion King recently passed $6.2 billion in theatrical ticket sales, which makes it — and I'm not sure how we want to categorize this — the highest-grossing entertainment property of all time. Does that sound good to you?
Well, that's how it has been characterized in the press. When I hear the number $6.2 billion, mind you, that's a gross sales number. And in Hollywood, everybody talks about gross numbers, but nobody ever acknowledges the ticket prices keep changing, right? So my really good friend Cameron MacKintosh, who produced Phantom of the Opera when Phantom began playing many years before Lion King did — the ticket prices were really, really cheap. So the number, of course, is built on the fact that ticket prices have accelerated.
You can't buy a $10 Lion King ticket anymore?
You never could, actually. But in fairness, yes, it happens to be that the time period we fit into. We have grossed $6.2 billion, and it's an enormous amount of money. You could stack up a lot of movies, and they would not even collectively get to that number.
What does that mean for not only your group, but for Disney overall, that a show can be that successful, that loved, that critically acclaimed, that popular with audiences around the world?
What I find most compelling about that number of $6.2 billion is it actually represents over 75 million people who have seen the show. I'm most proud of the number of people who have seen it in their own language. They've seen it in French, they've seen it in Korean, they've seen it in Japanese. And it has felt natural in each place we've put it. That tells you that people have bonded to that story and love the stagecraft of it.
Now, you haven't had a catastrophic flop like The Moose Murders, probably considered the greatest fiasco in the history of Broadway, but there have been a couple of shows that didn't work out as well as you had hoped. Tarzan and The Little Mermaid would probably be those two shows. If you look back on those shows and why they didn't work, what's your postmortem, what were the mistakes you made there, and what did you learn from them?
Last week I was on a panel in New York. And my co-panelists were Michael David, who produces Jersey Boys; Kevin McCollum, who did Motown and Rent; and David Stone, who produced Wicked. So, there were four of us on this panel, and it was called Flophouse. And the four of us represent 40 percent of the Broadway gross that week. But we each have made flops. Kevin McCollum produced a show called High Fidelity, based on the novel and the film. Disney owned that property, so I licensed it to Kevin because it really wasn't something we would do. It ran for ten days. Our "flop" was Little Mermaid. That ran a year and a half. So, yes, we have had shows that, for us, qualify as unsuccessful in their initial Broadway run. In the case of Mermaid, there were a lot of mitigating factors: The economic downturn. There was a huge union strike that stopped the show before it could open. We missed Christmas. There's all these things I could blame it on, but in reality, we somehow missed delivering on the vision of the show and have since been able to reinvent it. We have a version of the show with a whole new team that has played extensively in Holland, did two great seasons in Moscow, and is now a massive success in Japan. And that will likely come back to North America. But I had to go away, get out of here and reinvent it. Tarzan, similarly, is now playing in Stuttgart, where it's a big ol' hit, and it played for five years in Hamburg. Again, a little bit reinvented, not as fully as Little Mermaid, but I get a second bite at the apple, if you will. I took responsibility for the first one, but I also take responsibility for the fact that we turned these things into economic successes.
You've been in this job at the Theatrical Group for 20 years. How has theater changed over that 20 years, and what are the challenges you face now that you didn't face when you started?
A lot has changed. Some things are very basic to the listener, but everything changed on 9/11 in terms of ticket buying. Prior to what happened in New York on 9/11, people were willing to buy tickets a year, year and a half out. Lion King was sold out for a year and then three and four months into the next year. Sold out clean.
People would plan their Broadway trips like they would plan a trip to Hawaii or Disneyland? Pick a random theme park.
Precisely. And you'd plan it way, way far ahead. Today no one has an advance ticket sale that's like that. Advance numbers just don't match what they used to match, even if you adjust for inflation, because people buy in the short term. So, now, with the exception of a few big colossal hits, you can always kind of score a ticket. Ticket pricing has changed dramatically. We have dynamic pricing, so there's always a lot of tickets available at what I think are reasonable prices, but the more advantaged audience member can buy a ticket very close to when they're going to see it for what you would have called brokered prices before, but we're essentially selling the ticket at that price. Who's coming has changed. Over the last 20 years, since 1994 to 2014 — 20 years of that — the Broadway audience has grown by 50 percent. In 1994, roughly 8 million people bought a ticket to see a Broadway show. This last year, roughly 12 million people bought a ticket to see a Broadway show.
Who is buying tickets?
Well, they're often in different categories. If you take a slightly longer view, more like 25 years, people who live in Manhattan have increased by 32 percent. What we call the bridge-and-tunnel crowd, the outside people who travel in through a tunnel or over a bridge, the bridge-and-tunnel crowd, they're only up 12 percent. Everyone thinks that's who's fielding it. Not really. Foreign tourists are up over 350 percent. Domestic tourists are up over 100 percent. People under 18 are up again over 100 percent. But here's the one that fascinates me: In the last 20, 25-ish years, people over 65 are up a couple of hundred percent because Broadway became a safer environment. Therefore, you have kids who are coming now and senior citizens who come.
Safer in terms of Times Square being safer?
The Broadway experience. Yeah, coming to Times Square.
You wouldn't have to walk by or step over homeless people to get into a theater?
And the statistics are so clear that crime is down, so it's changed Broadway completely, and the Broadway mix has changed completely. Tonight, think of the fantastic things you can see on Broadway. You could see one of our shows, you know, Lion King, or a new show, Aladdin, but then you could see Sting's new show, The Last Ship, or you could see David Stone's new collaboration with the guys he did Next to Normal with, If/Then, starring Idina Menzel. But there's a brilliant play that you could go see, The Curious Incident of the Dog in the Night-Time. There is so much variety on Broadway. Plays, which are comedy and dramas. Musicals. Big musicals, small musicals. Every single theater on Broadway is filled with a show. There's no empty doors on Broadway.
You talked a little bit about the audience. There is a perception, which I suspect you're going to try to correct, that the audience for a Disney theatrical productions is families and kids. Statistically true, or not really completely accurate?
First off, I want to be clear that we do throw our doors open for the widest possible audience. So I'm not going to deny that for a minute. That's what we do. Our shows — partly because of the nostalgia value, partly because of the humor and the physical production side of it — are big, legitimate musicals. Aladdin, we produced the stage version 22 years after the film version was made, and an entire generation grew up loving that property. So if you were 12 when you saw it, you're 34 now, right? You're coming. So the theater's full of these kind of Brooklyn hipsters that are coming, but if you're the 45–65 crowd, you're coming because we're the closest thing to the Ziegfeld Follies you're ever gonna see, and this big, spectacular show that's very grown up and interesting. We produced a show that anyone can come to. I would never recommend small children ever come to a Broadway show. It's too late at night and it's too long, and that's why we have things like Disney on Ice and other products. Your little guy doesn't want to sit there. They can't see. They don't understand it and it's not made for them. But for a kid who can go to see a show, bring 'em. However, we just did a survey and it kind of surprised me, only 30 percent of the ticket purchases even include a child.
One of the things that we've talked about are the adaptations of movies. Some of the most successful shows on Broadway are wholly original ideas. Is there room within the company to create something out of whole cloth that is not based out of a movie?
I'm a scholar and a geek of musicals. And you can really count on two hands the number of megahits that are a wholly original idea. Most things that have been hit musicals have been based on either a movie, a play or a literary source, or a historical event. But they're based on something. Most hits are based on preexisting, as we would call it, IP. About six times a week I have to answer the phone to somebody who says, "Can I license this or that title from you that exists in the Disney catalogue?" Since we have the richest catalogue of material and since most of it has music in its base already, why would I look outside when our source material is so rich?
You have within the company now Pixar and Marvel. There is, as you said, a huge catalogue of potential titles. There's Lucasfilm. There's Star Wars. As you start to assess what your priorities are going forward — there's been talk about Frozen, The Princess Bride, Freaky Friday, Father of the Bride, Jungle Book — what are the priorities for you in the next year?
Well, first, you have to have your eyes wide open to say, could something be source material for a great evening of theater?
Jar Jar Binks: The Musical?
You know, if I was looking for a way in through the Star Wars catalogue, it might not be Jar Jar Binks. But I bet he would have a great song. But a great song does not a hit make.