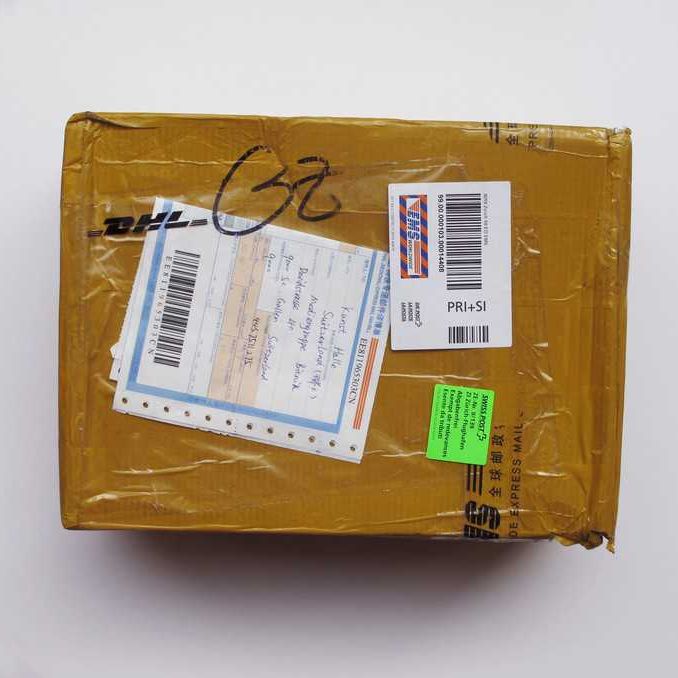 A package containing a pair of Nike Air Yeezy IIs that originated from China. Courtesy of !Mediengruppe Bitnik.
Photo: Courtesy of !Mediengruppe Bitnik
By now you've probably heard about the internet's shadowy "Darknet" black-market sites, where Bitcoin-rich shoppers cloaked in anonymizing software can buy everything from hackers' services to MDMA. The FBI clamped down on the most famous of the sites, Silk Road. Another site, Utopia, was shuttered this year by Dutch National Police after undercover agents bought "several thousand" ecstasy pills and were even offered an assassin. A third site, Agora, has reached a critical mass, with more listings than any other; shoppers there can find everything from "Pakistani Culero hash" to semiautomatic firearms.
Now Agora's become the virtual realm of a new art project, by a Zurich- and London-based art collective called !Mediengruppe Bitnik. The group — Domagoj Smoljo and Carmen Weisskopf — created a bot that crawls along through the site's contraband offerings.
With a weekly budget of $100 in Bitcoins, the bot randomly makes one purchase per week. The illicit goods are then shipped to the Kunsthalle St. Gallen in Switzerland, where they're exhibited in display cases as cumulative additions to the museum's current exhibition, titled "The Darknet – From Memes to Onionland."
Every week, in other words, Smoljo and Weisskopf are faced with an unmarked, nondescript-looking package that yields a creepy surprise. "We underestimated the strain and tension the bot causes with us every time it goes shopping — while at the same time also underestimating the joy it causes every time a parcel arrives," said the duo, who are among several organizers of the show.
The exhibition they've assembled includes a number of other well-known artists intrigued by the implications of tech culture, whether sinister or humorous. Cory Arcangel contributed a conceptual piece, optimizing the museum's exhibition page for search engines. Seth Price, meanwhile, is offering visitors copies of his 2008 book, How to Disappear in America, which dishes out advice on how to avoid surveillance.
Of all the exhibited artists, Smoljo and Weisskopf are tempting their legal fates the most. Could they end up in jail? A legal expert advising the museum thinks they have a good defense, asserting that Switzerland's books permit lawbreaking that demonstrates "a plausible interest of scientific, artistic, or informational nature."
And Smoljo and Weisskopf have that case for plausible interest laid out. "By exploring the Darknet from an artistic viewpoint, we hope to critically evaluate mass surveillance," they said. "How is identity formed in these networks? How do you trust each other if you don't know whom you are talking to?"
Meanwhile, the duo's shopping bot has been hard at work. Thus far, it's purchased goods that include:
• a pair of Nike Air Yeezy IIs, sold by a vendor unimaginatively named "Fake."
• a baseball cap with a hidden camera in its brim
• vacuum-sealed ecstasy pills (multiple times)
• a "decoy first-class letter," which the vendor, "DoctorNick," suggests using to "test a new drop address" or "see if your roommates/parents are scrutinizing or opening your mail."
• a complete Lord of the Rings e-book collection