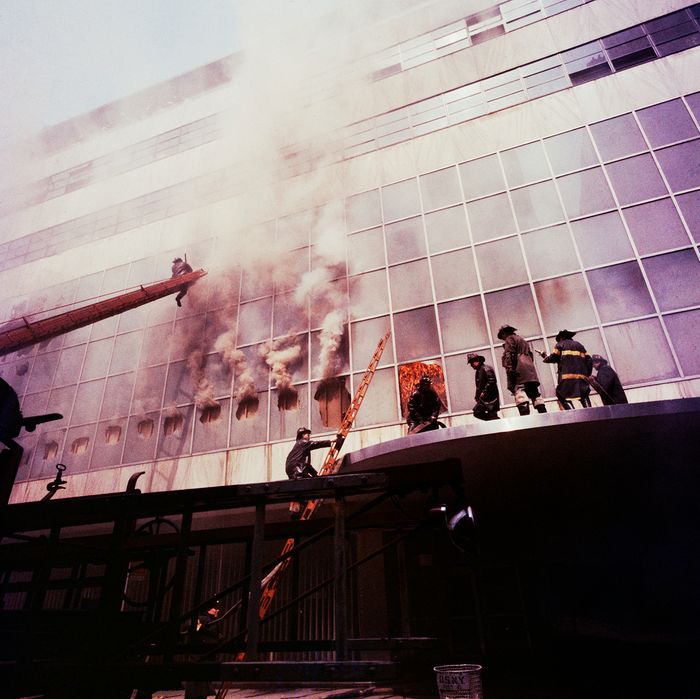 Firemen combat a fire on the exterior facade of the Museum of Modern Art in 1958. The fire was started by welders during a renovation process.
Photo: Charles Rotkin/? Corbis. All Rights Reserved.
Every week, we'll take you back into New York Magazine's archives to showcase our extensive arts coverage. On the occasion of the tenth anniversary of MoMA's Yoshio Taniguchi Building, we unearthed Thomas B. Hess's "MoMA and the Towering Limbo," from March 15, 1976, which skewers MoMA's plan at the time to build luxury apartments in order to stop dipping into its then-dwindling endowment.
Shoals of little shark's grins was the initial observation on my scientific — i.e., totally random — poll of the Greater New York art community's reaction to the Museum of Modern Art's latest expansion program.
"What do you think of the MoMA tower?" I asked two museum directors, three dealers, one shrink, four critics, five artists, a visiting butter-and-egg woman, and about a dozen other fellow sinners. "What do you think about MoMA's plan to double its gallery space by deeding its air rights to a corporation that will fill some of the air above the building with 40 stories of luxury condominium apartments?"
The primary response was a sly smile. "I think it's nice," said one. "Most appropriate," chimed another. "Perfect" … "Riveting" … "How delightful!" All spoke with that cloying expression Germans call Schadenfreude — glee at someone else's troubles. It was saddening to realize that MoMA has accumulated such abundant reserves of free-floating hostility because, after all, to my whole generation the Museum of Modern Art was the true university, the place where we first studied Picasso and Matisse. Alfred Barr, its founding director, was our conscience and best professor. The museum was the guardian of warm memories and strong loyalties. What happened to it? Has it changed, and does the proposed tower articulate the transformation? Or it is merely the diurnal crisis, another Perils of Pauline episode more melodramatic than ever before, but with a heartwarming finale just around the razor's edge?
To recap old data: Since 1969 the museum has been forced to take more than $1 million a year from its endowment to cover its operating losses — a deficit that, if you believe some top executives, sneaked up on them, all unawares, in the late and palmy 1960s.
Friends and trustees of the Modern can't (viz., won't) accept responsibility for such continuing losses. The traditional tab-picker-upper on 53rd Street is the Rockefeller family, which helped launch the enterprise, and, after almost 50 years of multi-million-dollar generosity, is phasing out. Its third generation ("the cousins") is not as interested in art as were its fathers ("the brothers," especially Nelson, David, and John D. III through his wife Blanchette, present president of the museum). Unsurprisingly, no surrogate Rockefellers have turned up. Nor is the institution's endowment big enough to make ends meet. And it's a common, if perhaps unjustifiable, complaint from the staff that the wizards of the finance committee have masterminded MoMA's portfolio of securities from a market value of $27.1 million in 1969 to $21 million in 1972 to $16.1 million in 1975.
Ergo, the trustees must find more money to stay in business; otherwise, in about ten years they will have to shut down all activities beyond showing and conserving the collections.
If hard-headed businessmen haven't done too well speculating with MoMA's money, MoMA's curators have — and spectacularly, as Alfred Barr, Dorothy Miller, James Soby, William Lieberman, and, later, William Rubin, have parlayed tens of thousands into tens of millions of dollars in the software currency of paintings, sculptures, prints, and drawings. It's one of the more ironic success stories of the mid-century. The irony, of course, is that these plentiful assets are frozen — locked in museum ethics and aesthetics as tightly as a mastodon in a glacier.
The icy simile is apt; journalistic protocol requires that MoMA's collections always be referred to as an "iceberg" whose "tip" is the fraction that can be shown at any given time. Doubling the galleries by building the tower wing should also double the "tip space." However, it seems that the "tip" threatens to treble. Trustees and friends swayed by sage MoMA advisers, over the years have pledged cellars of Cubism, silos of Surrealism, acres of abstractions. And as the museum approaches the summer of 1979, its 50th anniversary, many of the bequests are falling due. Curators at MoMA look grave as they tell you how they are bracing themselves against the imminent influx of masterpieces. And from the muscle tics in their jaws, you can't tell whether they're bragging or complaining.
Faced with such dilemmas and contradictions, the museum's trustees took inventory of their hearts and minds and refound the "sleeping" asset of air rights worth, it's said, at least $7 million. The rights derive from the generous original plan that ordained a spacious sculpture garden, which, in turn, permits the extrapolation of a space with enough room for a 40-story tower. In the late 1960s, there was a suggestion to put up an office building. The plan was dropped as unprofitable. Now, stimulated by news of the success of Olympic Tower (the Onassis-backed condominium kitty-cornered from MoMA's site), the concept has been revamped for profitable, domestic posh.
The trustees want to set up a tax-free Trust for Cultural Resources (acronymically, TRUCKLER), which, when enabling legislation is passed in Albany, will receive the air rights and get a developer to build the museum's new wing (for $17 million; MoMA plans to raise about $20 million for construction, endowment, reserves, etc.) and the tower (for $23 million). Then the developer will sell the condominiums, and the museum will receive whatever incomes accrues later (i.e., the real-estate tax equivalents on the apartments, which would amount to about $350,000 a year). Also, TRUCKLER will be a corporate fire door between $40 million in real-estate paper and the museum's own tangible assets. In other words, should things go bust, creditors couldn't invade MoMA's collections or endowment. They'd have to eke what they could out of TRUCKLER.
Urban planners from Major Lindsay's old best-and-brightest team are advising, expediting, and adding an air of gung-ho savvy to the project. It's almost impossible to think of a dirty word like default when faced by their blue-eyed optimism. And to heighten a sensation of confidence, the developers of Olympic Tower are on hand. Only a dreary pessimist like this writer could entertain fantasies about the tower being started, then comes a financial crash, plus inflation; the money will run out; and the structure will stand forever unfinished, like Gaudí's S Cathedral of the Holy Family in Barcelona — vast, hollow, vertical spaces, swept by winds, haunted by pigeons, a monument to the seduction of Art by Realty.
How, you wonder, was the decision to go for a tower reached? Because, in spite of all the fine speeches and expertise, it's going to be a tough job. From the start, the trustees were confronted by a number of possibilities that are almost philosophical in their dialectical implications (museums as institutions are so pragmatic, so mired in possessions, that they're not amenable to pure philosophical analyses, thank the Lord). One of the more pressing decisions concerned programs: Should the Modern stay "modern," with exhibitions and explorations? Or should it encapsulate, become a New York Jeu de Paume, a display case for the world's best collection of art, from say, 1870 to 1970. The Jeu de Paume in Paris is where the Reunion of French National Museums shows Impressionists and Post-Impressionists — Manet to van Gogh, with Monet's Waterlilies cycle included. It's a beautiful museum, highly successful in its scholarly, didactic, and box-office activities. MoMA's staff and trustees, faced with the paradoxes inherent in an open-ended collection, could have exercised such an option. Especially as MoMA's current anemic loan-exhibitions program is hardly worth defending; it has recently shown Beaux-Arts (19th-century academic) architecture, and coming up are Fauves (1905) and Cézanne. Such cautious revivalism is hardly a cause for which to sell air rights and undertake perilous refinancing.
The trustees evidently feel that a more creative, radical program of exhibitions and publications, in keeping with the museum's noble tradition, should be reconstituted. Otherwise the institution will shrivel spiritually and its 50 years of important work will be wasted. "Modern art" can only stay "modern" in confrontations with work being done at the moment. Isolated from contemporaneity, even the recent past assumes the perspectives and cool temperatures of history; a "modern museum" turns into a celestial Frigidaire.
A second quasi-philosophical option concerned either adjusting to the socialist evolutions of the future or digging into the capitalism conditions that prevail. As could be expected from its Rockefeller education, MoMA chose the latter. Which should not disguise the fact that in every civilized country in the world except the United States, major museums are supported and controlled by the government. And that in the United States, federal, state, county, and municipal funds annually assume larger and larger shares of museum operating and program expenses. (Dollars for acquisitions still come from private sources, even at the National Gallery.) An upstate museum director says that ten years ago his institution was supported almost entirely by donations from wealthy patrons; today, 75 percent of his budget is met by public revenues. Twenty-five years from now, I would guess, almost all American museums, like their counterparts in France, England, and Switzerland, will be hooked into some form of state funding and, of course, supervision. Instead of hastening the transition, seizing the day in fine Mao fashion, MoMA has opted for the most capitalistic of all possible solutions, luxury apartments.
It's a Medicean concept. And, of course, the Medicis were the best of all patrons of modern art — just as the state has been the worst. Nor is the scheme as farfetched as it might seem. There's an honorable tradition of the tax-free landlords in New York; the Guggenheim Museum used to own the apartment building north of its site on Fifth Avenue; Columbia and NYU run tenements and palaces. Nor should eyebrows rise too high at the billeting of super-chic, shiny-rich roomers in the headquarters of art forms that, for a century, have been radical, revolutionary, and often violently anti-bourgeoisie. Museums always dampen any political spark that might still glow in their exhibits — with velvet cordage, sleek varnish, gilt frames. We're used to the procedure. And the prospect of MoMA tower's Texans and Iranians, glittering with cabochons, traipsing across one of the scruffier PASTA-MOMA picket lines or getting tangled with a coq-au-vin Happening by Jean Toche and Jon Hendricks, is cheerful. It makes you look forward to Labor Day, 1980.
Meanwhile, a feeling of unreality and of sadness persists about the Museum of Modern Art. And not just because of the tower. Recently it bought Matisse's great, late paper cutout, The Swimming Pool, 1952 (a 53-foot-long design for a wall ceramic); the price is rumored at about $1 million. It's supposed to be the backup show-stopper if Spain ever becomes a democracy and Picasso's Guernica, at the artist's behest, returns to his native country. To raise money for the Matisse, the museum is going through its ritual convolutions, including selling some pictures, among them a lesser Matisse as well as a major Jackson Pollock, Number 5, 1950.
The museum can claim with justification that it owns similar and better Pollocks. Still, there's something that doesn't sit too well about the whole metabolic process — the M.I.P.O., you might say: "Matisse in, Pollock out." There's something ominous about the circulation of taste, about the drive to the established, accepted master, to a dogma for qualitative norms. Why not ignore risky, unsettled, uncertain reputations altogether and concentrate on the greats? And while assiduously gearing up the collection to higher and higher standards, won't that adjective modern begin to sound a bit flimsy, and won't it look, well, you know, tacky and out of place, especially when spelled out in spun bronze on the svelte flanks of a luxury tower?