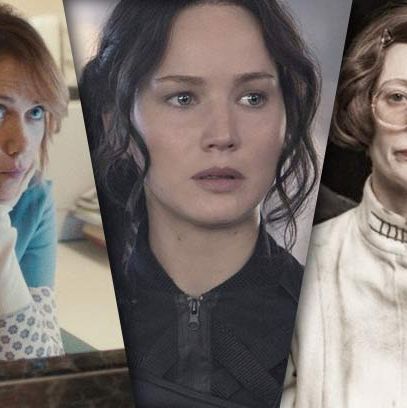 As seems to be the case during every Oscar season, the Best Actor race is currently bursting with potential contenders, and the Best Supporting Actor category is pretty packed, too. Wander on over to the distaff races, though, and you'll hear the same pronouncements from pundits over and over again: "The female categories are awfully thin." "Actress and Supporting Actress are a snooze!" "Where are all the good roles for women?" No. No! I refuse to play along any longer. This movie year has been packed with women doing wonderful work, and though those performances might not all have come in conventionally Oscar-worthy movies and will therefore likely be overlooked by the Academy, that doesn't mean they aren't worthy. If the Oscars would simply deign to include these eight terrific women (all of whom are considered major long shots, if they're being considered contenders at all), maybe we could liven up the meager female categories after all.
Jennifer Lawrence
The Academy loves Jennifer Lawrence. The Academy wants to nominate Jennifer Lawrence! And I firmly believe that an Oscar nod would be in the bag if she had starred in any other movie where she played a PTSD-stricken war hero, haunted by dreams of her fallen comrades, who bristles at the cynical use of her image as propaganda. Unfortunately, though the movie I'm describing sounds like indie-film Oscar bait, it's actually The Hunger Games: Mockingay — Part 1, and will likely be dismissed out of hand as franchise folderol.
Their loss. Jennifer Lawrence is doing some of the most ferocious acting of her career in this series, which has outgrown its YA action-movie roots and hews, in its new installment, much closer to a quiet psychological drama. Though she's always been great as Katniss (and this Catching Fire–ending close-up ought to prove it), Lawrence hasn't rested on her laurels: In each new movie, the series asks more of her, and she continues to push herself further. From her shattered first scene in Mockingjay — Part 1 to the movie's ambiguous final sequence, this is surely one of the most demanding female roles of the year, and Lawrence nailed it to the wall.
If Sigourney Weaver could get a nod for Alien, if Johnny Depp was nominated for the first Pirates of the Caribbean movie, if Heath Ledger outright won an Oscar for a Batman sequel, Lawrence deserves a nod of her own for Katniss. You can tell me that what she's doing in The Hunger Games isn't as iconic as those three genre-classic performances, but you'd be wrong … and the Academy will be, too.
Tilda Swinton
Tilda Swinton hasn't been nominated for an Oscar since her sole win for 2007's Michael Clayton, and that's kind of outrageous given her consistently terrific career. It pains me, then, to know that her delicious work in Snowpiercer is on course to be similarly snubbed. As the supercilious Mason, Swinton slathered herself in makeup and prosthetics to play a martinet who thwarts Chris Evans at every turn, then hilariously cowers from him once he manages the upper hand. (Sure, she's more than a touch campy, but if the Academy were afraid of actors who go over the top, Christoph Waltz wouldn't have two Oscars.) Pundits don't consider Snowpiercer to be an "Oscar movie," and increasingly, the voters only select their acting nominees from the Best Picture pool, so Swinton's shot is as slim as it gets. But wouldn't this Oscar race (and red carpet) benefit from her unique verve?
Rene Russo
Oscar voters love a comeback, so why aren't they touting Rene Russo's terrific work in the dark dramedy Nightcrawler? Excepting a minor role in both Thor movies, this is Russo's first real credit in nearly a decade, and it's a career highlight no matter how you slice it. She plays the coolly amoral news producer Nina Romina, who sizes up crime-scene videographer Lou (Jake Gyllenhaal) with the same shrewd "how can this help me" stare that she uses while parsing his graphic footage. Halfway through the movie, in Nightcrawler's gangbusters Mexican restaurant scene, Lou audaciously flips the script on Nina, and the resulting scramble gives the 60-year-old actress the chance to show every color in her paint box. Give Rene Russo some awards for this! To judge from her incredibly endearing media tour, her acceptance speeches would be the absolute best.
Anne Dorval and Suzanne Clement
Academy voters regularly overlook the best performances that foreign language films have to offer, but with the pickings supposedly so slim in both female categories, they could easily add worthy nominees to both the Lead and Supporting races simply by seeing Mommy. The Cannes prizewinner is the latest movie from 25-year-old French-Canadian filmmaker Xavier Dolan, and it's his best work by far thanks to the two fierce ladies who front it: the stunning Anne Dorval, who plays a white-trash Québécois mother trying to corral her defiant teenage son, and the sensitive Suzanne Clement as Dorval's stuttering neighbor, who lends a helping hand to the family and gains her confidence back in return.
Lorelei Linklater
In Boyhood's first hour, when the performance of its lead Ellar Coltrane is still coming together, it falls to two actresses to carry the picture: Patricia Arquette, who will likely be Oscar-nominated, and Lorelei Linklater, who won't. That's a shame, because as Coltrane's feisty sister, Linklater delivers one of the most natural and appealing child-actress performances in (and at) many ages. It helps, of course, that her father Richard Linklater directed the film and knew exactly what his daughter could deliver, but the movie wouldn't work without Lorelai's spirit: When we're trying to decipher Coltrane's placid expressions as his family moves and his mother remarries, we look to his sister to contextualize him, her outbursts providing him with an inner life. If even Ethan Hawke can be among Boyhood's likely nominees for a performance that's good but hardly surprising (and really just a sample-size version of his more expansive work in the Before Sunrise series), Lorelei Linklater shouldn't be the sole cast member who awards season forgot.
Marion Bailey
Mike Leigh's Mr. Turner earned its star Timothy Spall a Best Actor prize at the Cannes Film Festival, but he'll be hard-pressed to even get nominated in that category at the Oscars, what with the current competition so severe. Perhaps, then, we could shift our attention elsewhere in the cast: As the widowed but warm Mrs. Booth, who attends to the painter J.M.W. Turner (played by Spall) and then falls in love with him, British actress Marion Bailey is a total delight. In a movie dominated by a grunting, inarticulate man, Bailey is effortlessly kind and positive, so contagiously chipper that (much like Turner) you can't help but grin while watching her. I don't think a film performance has made me happier all year.
Kristen Wiig
There were some startling snubs when the Indie Spirit nominations were announced yesterday, but none as needless as the total shutout of The Skeleton Twins, one of this year's biggest independent-film hits. The low-budget dramedy is exactly the sort of movie that the Indie Spirits ought to be honoring; instead, it seems like IFP spent more time figuring out circuitous ways to award Inherent Vice and Foxcatcher, two films too expensive to qualify in the Indie Spirits' normal categories. If only the Oscars would pick up the dropped baton, since Skeleton Twins boasts two great performances from Bill Hader and Kristen Wiig as caustic but codependent siblings; the latter, in her best film since Bridesmaids, manages to tap into a deep reservoir of sadness and pathos without neglecting her abundant comic gifts. We would have settled for a Hader/Wiig Oscar co-hosting gig (could you imagine?), but since that's off the table, let's at least get Wiig back into the awards conversation.