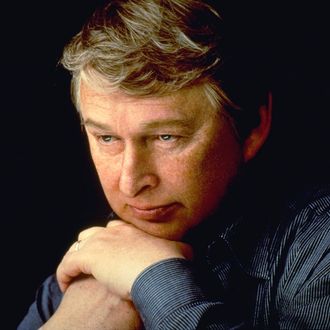 Photo: Frank Trapper/Corbis
In 1931, Mike Nichols was born Mikhail Igor Peschkowsky in Berlin, Germany. Seven years later, his family fled to the United States to avoid the Nazis. There he would grow up to have a legendary career in film, theater, and comedy, eventually becoming a member of the very select group of EGOT winners (the acronym for those who've won an Emmy, Grammy, Oscar, and Tony). Nichols died suddenly from cardiac arrest on Wednesday. He was 83.
In the early 1950s, Nichols moved to Chicago for school. Instead of going to class, however, he started getting involved in the theater. It was there he met Elaine May, his future comedy partner. By 1955, Nichols was asked to join the Compass Players, the improvisational troupe that was the forerunner of Chicago's famous Second City. Things moved quickly for Nichols and May from there. By 1960, they had a Broadway show (An Evening With Mike Nichols and Elaine May), and by 1962, they won a Grammy for Best Comedy Album.
After splitting with May, Nichols began his remarkable directing career. He won three Tonys by 1968, the same year he won the Best Director Oscar for the seminal film The Graduate. He also directed Who's Afraid of Virginia Woolf?, Catch-22, Carnal Knowledge, Working Girl, The Birdcage, Closer, and, most recently, 2007's Charlie Wilson's War. In the theater, Nichols recently directed 2012's acclaimed revival of Death of a Salesman, for which he won his seventh Tony for direction. (Read Jesse Green's profile of Nichols from then here.)