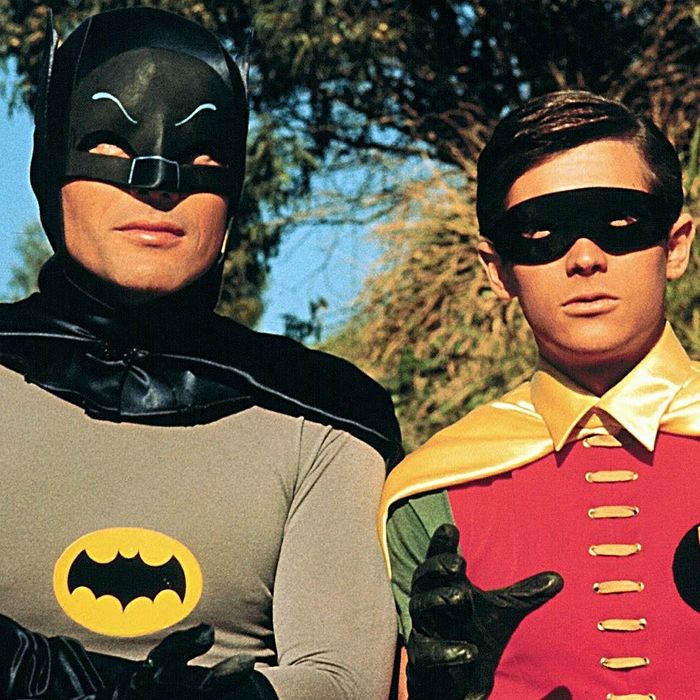 From VHS to DVD to Blu-ray and (legal) downloads, there have been a few TV shows that never made it to home-video, though the numbers are steadily decreasing. This year, Twin Peaks finally made the leap. WKRP in Cincinnati finally got most of its music rights cleared, so it recently found itself on DVD. But this month comes the white whale, the 1966–68 pop-culture phenomenon Batman.
Delayed due to complex rights issues that pitted DC Comics parent company Warner Bros. against Twentieth Century Fox for decades, the series has now been brought out in all digital formats. (If you've desired a box set whose packaging plays the "na-na-na-na-na-na-na-na-na … Batman!" theme and includes a Hot Wheels Batmobile, your dreams have been answered.) But after decades of being a punch line and an embarrassment to graphic-novel fans tired of "Wham! Pow!" headlines, is Batman worth a look, especially for the uninitiated?
What's In
Long before game/competition shows like The Voice and American Idol, Batman appeared twice a week on consecutive nights, with the first episode's cliff-hanger — typically a ludicrous death trap — getting wrapped up in the first few minutes of the second episode. By the third season, the show dropped to once a week, two-part episodes became a rarity, and a fourth season never happened. But the show made its mark with a weird mixture of straight-faced comedy, fantastic music (the theme was by The Odd Couple composer Neal Hefti, the incidental music by Nelson Riddle), and performances by the charismatic — and slightly Shatner-esque — Adam West as Batman, along with an incredible array of guest-stars (Burgess Meredith as Penguin, Cesar Romero as the Joker, and Frank Gorshin as the Riddler) as his foes.
Regardless of which edition you purchase (the "Complete Classic" edition features all 120 episodes, the "Classic" is a best-of boxed set), the colors pop like they never have before — the show is currently running on IFC and MeTV in the non-cleaned-up version, which gives the sense that Vaseline has somehow gotten smeared on the inside AND outside of your screen. And the colors are really the thing. In one commentary, a DC Entertainment executive recalls that Batman was the show that got his parents to buy the family's first color-TV set, and it's easier than ever to see why.
Unlike some classic-TV restorations, where higher fidelity just calls attention to sweat stains and makeup failures (looking at you, classic Star Trek), the new detail adds far more than it takes away. Even though Adam West never looks clean-shaven under his cowl, Penguin's nose is clearly a different color — and material — than the rest of his face, and you can see some serious tights-bunching on Robin (Burt Ward). It's worth it to be able to read background signs in the Batcave, where, alongside the nuclear reactor that powered the Batmobile and the clearly labeled sign for the service elevator (which we can only assume was reserved for Alfred's use alone), we can finally see clearly the "Lunar Scanning Screen" and "Intergalactic Recorder" that never got used to foil Batman's colorful — but decidedly earthbound — villains.
Extras on the fancier sets include screen tests for Adam West and Burt Ward, as well as Carol Burnett Show and Wonder Woman actor Lyle Waggoner auditioning for the lead; Adam West reading his script notes on the first two episodes of the series; and a roundtable discussion of the show with West and some celebrity fans, among them DC Comics co-publisher Jim Lee and a less-annoying-than-usual Kevin Smith. Mini-documentaries — one on Adam West, and one on some of the megacollectors of Batman memorabilia — are surprisingly informative, and a tribute to the production guru who came up with the oversize, comic-book-style "sound effects" that appeared onscreen is an unexpected treat. And what's misidentified on the menu as the "Batgirl Pilot" — actually a seven-and-a-half-minute-long promotional film to propose adding Batgirl (Yvonne Craig) to the cast for the third season to network executives — has long been findable online, but it's nice to see a slightly cleaned-up version here.
What's Out
A short feature where the stars and producers of Warner Bros. shows such as The Mentalist, Supernatural, and The Following talk about the show is mostly forgettable, especially when actors too young to have any real connection to the material pretend to have great affection by humming the theme song. While the various stand-alone documentaries give a sense of how big the Batman phenomena was at the time the show aired (as West describes it, the three Bs of the '60s were "the Beatles, Batman, and Bond") and West's recollections of the pilot are engaging, episode commentaries would have been welcome. Viewers are left on their own to notice how Gotham City is portrayed by New York stock footage in establishing shots and rear projection for the Batmobile going through the streets, but it suddenly becomes Los Angeles (often going from day to night and back again) whenever stunt work or multiple vehicles are involved. Also mentioned separately but worth paying attention to during the episodes is how obviously mismatched the stunt doubles are for some of the cast, most dramatically, Burt Ward's Robin (his double was the years-older and many-pounds-heavier stunt coordinator Hubie Kerns).
And while a quick web search can find annotated footage of some of the more of-their-time cameos in the famous "climbing up the wall scenes," some in-show context would have been a nice addition. "Carpet King" Cyril Lord is no Jerry Lewis, is all I'm saying.
What's Missing
Most permutations of the newly released series omit the 1966 movie that featured West, Ward, and most of the show's top villains (with Lee Meriwether as Catwoman, rather than Julie Newmar, who played the role for the first two seasons of the show), and the one version that does include it doesn't offer a remastered or Blu-ray version. And while there are separate, stand-alone DVD sets of other Adam West–related Batman projects — such as the infamous 1979 Legends of the Superheroes TV specials, and the various animated series on which he reprised the role as a voice actor — it would have been nice to include at least a taste of some of these outings.
But the real rarities are only available in grainy footage online, and there are a lot of them because, seriously, Batman was a phenomenon that The Sopranos, Twin Peaks, and even The Walking Dead can't touch. Among my favorites: the 1983 episode of Family Feud that matched cast members from Batman (with Lee Meriwether representing Catwoman, rather than Newmar or third-season Catwoman Eartha Kitt) against castaways from Gilligan's Island, and the 1972 public-service announcement produced for the U.S. Department of Labor that teamed Yvonne Craig and Burt Ward with Get Smart's Dick Gautier replacing Adam West as Batman to explain that equal pay for equal work should apply to even superheroes of all genders. Forty-plus years later, it's a fine lesson for all citizens.
Even without more elaborate bells and whistles, Batman fills a major hole in the pop-culture history of TV, and of TV superheroes specifically. But in a world dominated by the doom-as-destiny of Gotham on one end and the world-is-in-mortal-danger-every-week heroics of Agents of S.H.I.E.L.D. on the other, is there room for a show where candy-colored criminals leave elaborate clues to their crimes, henchmen wear shirts with their names/occupations stenciled on them, and the heroes carefully lock their safety belts before driving their nuclear-powered cars to the rescue?
Humorless types will say no. To them, I say na. (Or, more accurately, "Na-na-na-na-na-na-na-na-na.")