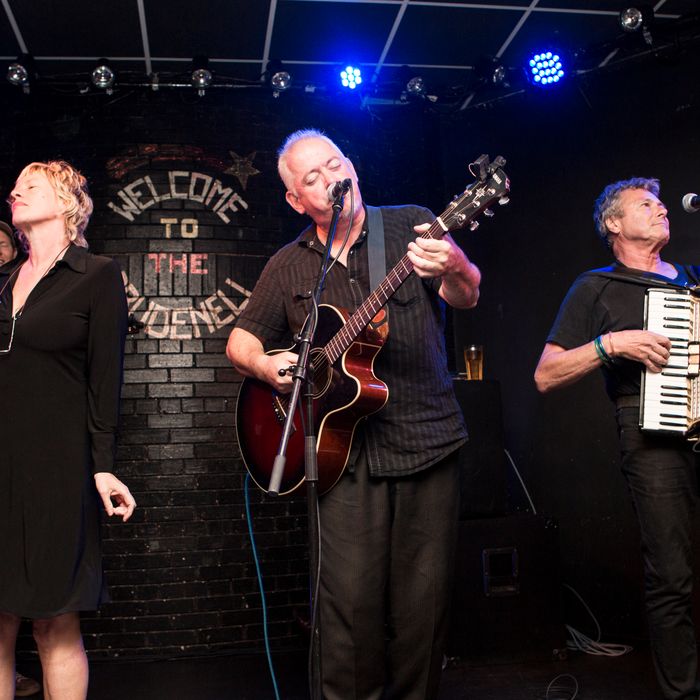 Photo: Andrew Benge/2014 Andrew Benge
Being known for being unknown is a bit of a booby prize, but over the course of 35 years, the British multi-genre-punk band the Mekons has managed to make underachieving a heroic ideal. After recording more than 20 albums, what began as a bit of an art-school lark evolved into something stirring, earning the band a star turn in Joe Angio's documentary, Revenge of the Mekons, which is screening at Film Forum for two more days.
A few of the esteemed devotees they've picked up over the years gathered last Thursday night in a Columbia University auditorium for an Ivy League symposium: Novelist Jonathan Franzen, critic Greil Marcus, American Psycho director Mary Harron, nonfiction writer Luc Sante, and artist and architect Vito Acconci gave readings on the band after a screening of excerpts of the film, while band guitarist and singer Jon Langford sat among them, offering a song about the Mekons' not-so-storied birthplace, Leeds.
The documentary shows how the band maintains their creative community despite typical album sales below 10,000 copies and members often spread across three continents. Their teeming history began at the University of Leeds art department, amid — and in reaction to — the 1977 U.K. punk explosion. The first single was a satire of the Clash's "White Riot," called "Never Been in a Riot." Over a couple shambolic chords, original singer Andy Corrigan bleated, "I never been in a riot, I never been in a fight … I'm always in the toilet, missing out the noise."
Mary Harron, then a music journalist, was the first to write at length about the Mekons, for British magazine Melody Maker. At Thursday's symposium, she read an excerpt from that 1979 profile, nailing the appeal of the band: a blend of "sophisticated theory" and "technical incompetence" that provided a "complex justification for amateurism." That incompetence was a bit cultivated, of course: Over coffee that morning, Langford recalled kicking out an early bassist for being too good: "He was getting too funky, playing slap bass and that." In Harron's recollection, the band's first incarnation had a special talent for self-deprecation. Early gigs involved being wheeled onstage while sitting on a couch. The band was likely to wander offstage, invite the audience else to sing, or make up new lyrics on the spot.
Greil Marcus read a column he'd written about a 1986 Mekons show in San Francisco, which encapsulated the band's evolving sound and ethos. "The cauldron that made the band was Reaganism and Thatcherism," Marcus said beforehand, which gave the Mekons their core concern: feeling like exiles in your own land, but finding community despite it. "Winning is simple. Losing is complex," he read.
Franzen, perhaps the group's most famous cheerleader, read from a book of lyrics, "because you can't always hear them." From "Curse of the Mekons": "Call it intuition, call it luck, but we're right in all that we distrust." When he read "Darkness and Doubt" off the band's 1985 masterpiece Fear and Whiskey, Franzen seemed to take special relish when each time he spoke the word doubt.
For similarly embattled fans, the Mekons could feel like "a kind of home team," read Luc Sante from a 1999 Village Voice review. He continued: "Their failure has come to look triumphant, and never more so than in the current climate of vile success."
A couple financial bubbles, crises, and botched wars later, the moderator Katherine Dieckman remarked that lines like these seemed more true all the time. She recalled a particular lyric that stuck with her: "The abyss is close to home." Langford said they'd lifted that from someone more famous, but he couldn't remember where, and he and Greil Marcus started arguing about it off-mike (it was Marshall Berman's All That Is Solid Melts Into Air). The panelists ignored the audience for almost a minute before Franzen butted in, laughing, "This panel is beginning to resemble a Mekons show."