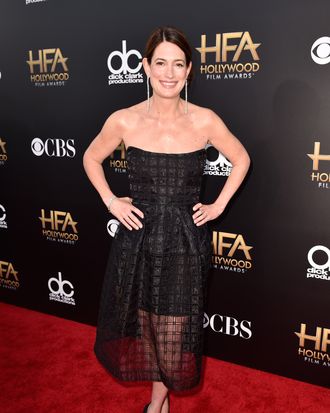 Photo: Frazer Harrison/Getty Images
Ben Affleck's penis in Gone Girl is the gift that keeps on giving. And as luck would have it for us, last Friday's Hollywood Film Awards proved to be yet another golden opportunity to gather more expertise on the subject. 
In addition to Affleck's jokes about how cold it was on set when he filmed that scene, Vulture asked Gone Girl author/screenwriter Gillian Flynn and a few of the film's female co-stars (all of whom had a good laugh at the silliness of the question) for their thoughts and reactions to all of the attention being paid to said surprise shower scene.
Flynn admitted she appreciates Affleck's Method acting: "He's a man who got into the shower the way a man might, so I appreciate his dedication to his craft."
"I think it was hilarious and totally unexpected — just funny," said "Blurred Lines" model/actress Emily Ratajkowski, who plays Affleck's mistress.
Lisa Banes (a.k.a. Marybeth Elliott, the cold-as-ice mom to Gone Girl Amy) encouraged audiences to form their own opinions and to also appreciate another gratuitous Affleck element. "I think that's up to the moviegoer to decide. It's just a pleasure to see him with his shirt off," she said. "There's nothing wrong with that. That's not going to hurt anybody."
Forward-thinking Missi Pyle, who unfortunately has not yet heard what Nancy Grace thinks about her Grace-esque conservative talk-show-host character Ellen Abbott, smartly observed that we won't fully be able to analyze/appreciate the scene for a while. "It's so quick I think you have to wait until the DVD comes out and you can watch in slo-mo," Pyle said. "Watch it on your computer and lighten [up that scene]."