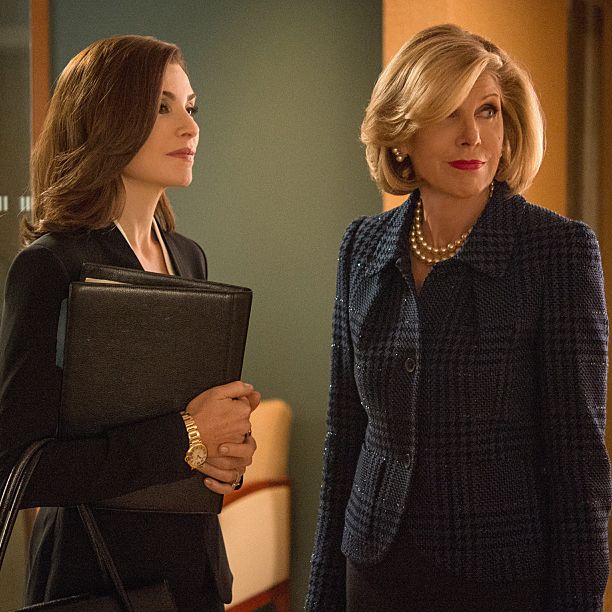 The Good Wife
Photo: David Giesbrecht/CBS
My threshold for secondhand awkwardness is very, very low (I have to watch inarguably mild scenes on The Office muted, with subtitles on, and can't watch shows like Curb Your Enthusiasm at all), so I found an episode of The Good Wife largely focused on Alicia's inability to ask and answer questions really difficult to watch. But my discomfort speaks to the quality of the episode — Julianna Margulies, David Hyde Pierce, and The Good Wife's writing team absolutely nailed the agony of awkward conversations.
Alicia's partner in awkwardness is Frank Prady (played by Pierce), a CBS journalist who is, unsurprisingly, a total delight, all Panama hats and cookie tins and professorial facial hair. When Eli intuits that he's going to jump into the State's Attorney race, he sends Alicia to his dressing room to force his hand by asking him to endorse her. Awkwardly. Prady won't agree to endorse just yet but asks Alicia to join him for an interview instead. Alicia bemoans how bad she is at asking people for things, and Eli and Johnny semi-incredulously point out that running for office is itself an act of asking for something.
Johnny drills Alicia on the basics of being interviewed ("Questions are for dopes!"), and it's a little odd to see her so flummoxed when she's typically very composed, and when she's presumably had at least some training in what to say as a candidate's wife. She's absolutely primed for tough questions going in to the interview with Prady, but then slowly, excruciatingly sinks as she's unable to answer the softball questions Prady lobs at her. "He Katie Couric–ed you," moans Johnny. Alicia wanders off to get drunk.
Finally, Prady and Alicia have yet another awkward conversation after a paper he wrote in law school leaks. Alicia was shown the paper and opted to ignore it, but Castro's camp leaks it instead. It's about how Israeli settlements in the West Bank violate the Geneva Convention, and Prady shows up at Alicia's office and tells her how sad he's been to be losing friends over an old thought experiment. He tells her he'll be running, and that he only just decided to get into the race after "her campaign" leaked the paper. And Alicia absolutely goes for the jugular. We've seen Alicia get point-blank, say anything angry more than once this season — with Peter, with her son, with Castro — and it's an interesting new layer to her.
Meanwhile, Peter's hiring a personal lawyer to keep him up to speed on complicated issues, and he asks Eli to put Ramona (the mother of Lauren, the panty-less, transferred intern) on the short list. I feel dumb for not realizing this possibility when we first met Ramona, but: What do we think the odds are that Peter is Lauren's father? I don't think the fact that Alicia and Ramona have a friendly past rules this out. It seems like there'll be plenty of time to figure out what the extent of Peter and Ramona's past is — she's gotten the job, and her first assignment is dealing with the fact that Peter's been subpoenaed to testify in Cary's case.
When he was working under Peter, Cary brought a large portion of cocaine to the lab for testing himself, rather than letting it move through the proper channels. The cocaine went missing shortly after. Cary handled it himself on Peter's request — Peter wanted to take Bishop down as fast as he could, to shore up his chances in the governor's race. But Cary won't tell Diane that he was acting under Peter's orders; Kalinda has to do it for him.
It's … touching that Cary's instinct is to protect Peter, but it's also not particularly realistic. He and Peter aren't enemies, but it's not like Cary spent his time in prison making friendship bracelets for him, either. And Peter wasn't doing anything illegal by asking Cary to try to rush into a Bishop conviction — it doesn't make him look great, but it's not like it would kick him out of office, or even hurt his chances for reelection eventually. "Nope, not going to vote for Florrick again — he cares WAY too much about getting criminals off the street!" It wouldn't look great for Peter, but it wouldn't be so catastrophic that Cary can't speak of it, either.
It's Ramona who realizes that the State's Attorney's office wants Peter to file a motion not to testify based on privilege; Castro wants it to look like Peter and Cary are engaged in a cover-up. She files based on relevance instead, and saves Peter from testifying, which sends Kalinda in search of new ways to help Cary. She hits the mother lode when she (basically accidentally) finds Trey Wagner, the missing informant from the Lemond Bishop case, whose testimony is one of the sole reasons why a case was made against Cary. Sidebar: Wasn't Trey presumed dead? Was I the only one who presumed that?
Wagner's apparently found religion hiding out at his sister's house, and is willing to testify against Bishop and confirm that he falsified the audio evidence the State's Attorney has on Cary. Finn Polmar excitedly takes this news to Castro, who tries to downplay what a big break it is. Finn finally realizes that Castro doesn't just want to take down Bishop; he wants to hurt Alicia. What's odd is that Castro set this case in motion long before Alicia decided to run — has he always just had a terrible vendetta against her? They've never gotten along, but it's a pretty big leap from "professional dislike" to "screw justice; I'm going to make sure as many people you love as possible wind up in jail."
And so Finn resigns, but just as Cary and Diane are headed to meet the new prosecutor, they get word that Wagner was killed in a car accident. It's all very mysterious, if by mysterious, you mean "very, very clear that Bishop probably followed Kalinda to where Wagner was hiding and then ran him over." Bishop's back next week, and if (or since) he knows what Kalinda's been up to, things are about to get complicated. Again.