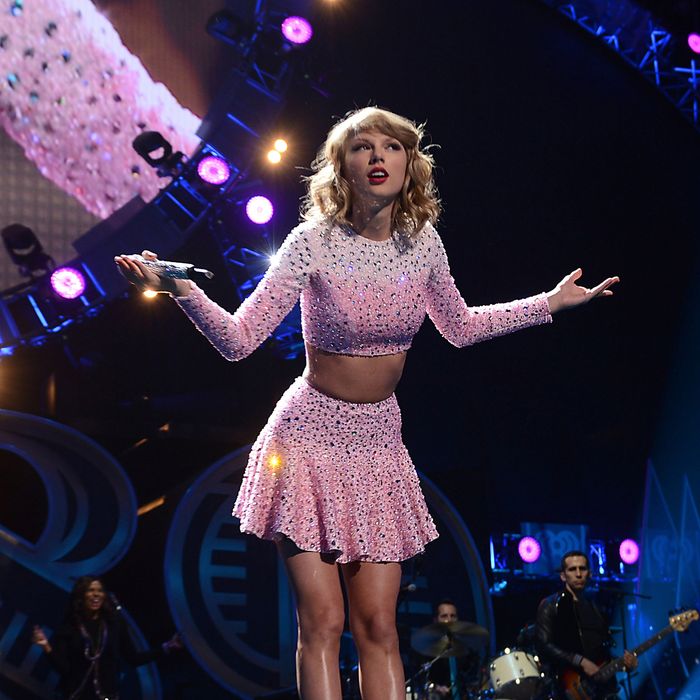 Photo: Denise Truscello/2014 Denise Truscello
It's been one week since Taylor Swift released 1989, already the biggest-selling album of 2014, with Billboard predicting that she's moved 1.3 million copies. As of last Thursday, she already sold 727,000 LPs via iTunes, Target, and Walmart alone, an astronomical figure in a year when nobody else has dropped a record that's sold a million, period. That, on top of her just-announced 2015 world tour, means her net worth, which we estimated at around $195 million before 1989, is going to get a whole lot bigger very quickly.
With that kind of income, it's puzzling to some fans that not only did Swift neglect to stream 1989 on Spotify, she removed her entire back catalogue from the service earlier today. While it's not uncommon for popular artists to keep their latest albums off the service in the short-term — as of now, Beyoncé's self-titled 2013 album and the Black Keys' Turn Blue aren't available in full — few acts have completely denied Spotify access to their material. The Beatles, Garth Brooks, Bob Seger, and AC/DC are some of the most notable holdouts, though none of them have done a 180 and taken all of their songs down. (And all came of money-making age in a very different paradigm.) So why did Taylor do it? It's a combination of business savvy, a bit of a "don't tell me what to do" hardball, and a dash of protest.
On the financial end, Swift's megastar power gives her the freedom to flip a proverbial bird at anyone she feels isn't properly compensating her. A reported 71 percent of the sales of 2012's Red were physical copies, an astonishing amount in today's iTunes-dominated era. The financial details of her royalty rates are unknown, but sales of that volume will bring her a lot more dough than Spotify's average payout rate of "between $0.006 and $0.0084" per stream. Many Spotify users don't pay a dime to stream the albums, settling to listen to ads instead, while a premium user of the service pays $9.99 a month for no commercials and the ability to store songs, albums, and playlists offline. Swift, meanwhile, is selling a deluxe edition of 1989 with bonus tracks and goodies exclusively at Target for $13.99 a pop. Days ago, she'd already sold 247,000 copies there for a gross of $3,455,530. If there were that many streams for all of 1989's 13 tracks at Spotify's highest payout rate, she'd get $26,972.40. Pocket-change.
Fans and critics alike have characterized Swift as brazen — or worse — for the move, but the 24-year-old has already positioned herself as a star who stands up for the ones who shine less brightly (or lucratively). "Music is art, and art is important and rare. Important, rare things are valuable. Valuable things should be paid for," she wrote in a Wall Street Journal op-ed last July. "It's my opinion that music should not be free, and my prediction is that individual artists and their labels will someday decide what an album's price point is. I hope they don't underestimate themselves or undervalue their art." This is a generous statement, to be sure, but it also helps Swift establish her creative-person bona fides — she's not just a pop star, you see, she's an artist, too.
With digital sales falling (the RIAA reported an 11 percent decrease in digital singles sales for the first half of 2014) and streaming becoming the easier, cheaper alternative to both buying music or illegally downloading it, Spotify and their cohorts have no small amount of leverage over artists and labels at the moment. But perhaps Spotify overplayed its hand with comments criticizing Taylor's decision to keep 1989 off their servers. "There are over 40 million music fans on Spotify and Taylor Swift has nearly 2 million active followers on the service who will be disappointed by this decision," spokesman Graham James told Time. This is not how you make nice, Spotify.
Already, Spotify has pivoted, releasing a statement that ends with the lines, "Taylor, we were both young when we first saw you, but now there's more than 40 million of us who want you to stay, stay, stay. It's a love story, baby, just say, Yes."
Perhaps Spotify underestimated the 24-year-old's backbone. If only they'd ponied up the $1.29 and paid for a copy of her next single, "Blank Space" — they would've realized that, when it comes to love and royalties, she's a nightmare dressed like a daydream.