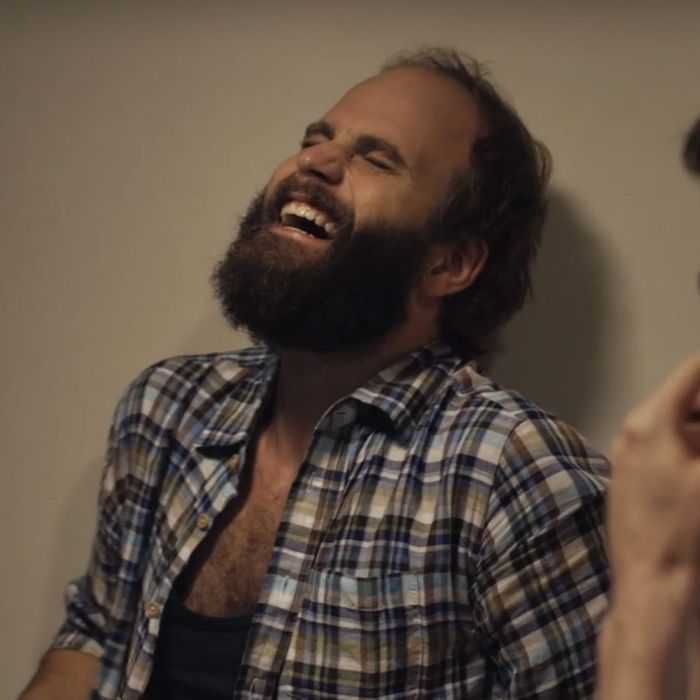 Katja Blichfeld and Ben Sinclair are the co-creators of High Maintenance, the much-loved web series about to launch its second season on Vimeo on November 11. They're also a married couple. The two provided Vulture with tips on how to pump out episodes with your loved one — and maintaining a reasonable stoned-sober balance.
1. BE CRAFTY
The prop weed on High Maintenance is a homemade recipe: cotton balls dipped in glue and rolled in herbs like parsley, sage, and marjoram. The prop weed used for smoking scenes is a non-intoxicating herbal blend from the couple's local apothecary, Sacred Vibes.
2. BE LOOSEY-GOOSEY
By the time shooting starts, a script will be 80 to 90 percent complete, with plenty of wiggle room for improvising. Some of the best moments wind up being ad-libbed.
Blichfeld: It freaks us out when we're corresponding with actors beforehand and they're like, "I'm learning my lines!" We're like, "No! Don't learn them! Just learn the story.
Sinclair: Having flexibility has been our largest asset.
3. BE COMPLEMENTARY
Sinclair: Katja has very specific strengths that are different — that are geared toward details, keeping a high standard, elevating the level of the show. I just have a very vomitory, scrappy, make-this-shit-at-all-costs way of thinking. She has a finer eye than I do.
4. BE CANDID ABOUT YOUR DRUG USE
Blichfeld: The attitude about weed has shifted in the past decade of my usage. Even five years ago, I didn't feel as comfortable divulging exactly how much I was using it.
5. BE MINDFUL OF YOUR DRUG USE, TOO
Both Blichfeld and Sinclair stay sober on set. Says Sinclair: "Everything I ever wanted — which was to be able to make jokes, do it for a bunch of people, and do it in an intelligent format — I was able to achieve as soon as I admitted that I use a lot of pot."
6. BE TEAMMATES
The couple takes turns writing.
Blichfeld: We do a notecard situation. We have our five-point rubric for the story. We write an outline.  Depending on who has the stronger vision, that person will take a first crack and hammer out a rough script. Then the other person will go in and fine-tune it and add more details.
7. BE COOL
They also not to let minor personal tussles interfere with work.
Blichfeld: Our work is fucked if we choose to keep wallowing in whatever discord may come up.
Sinclair: For better or worse, it makes us save that shit for later. By the time we get home to talk about it, we're not mad about it.
Blichfeld: I'm not gonna say High Maintenance saved our marriage, but — it improved it, in many ways.
Sinclair: It was like having a kid …
Blichfeld: … without shitty diapers.
8. BE FORGIVING
Blichfeld: Even when we're mad at each other, we still want to hang out.
Sinclair: We don't hold onto shit.
9. BE OPTIMISTIC
Sinclair: We have no reason to believe than any of the new episodes will be worse than the ones that came before.