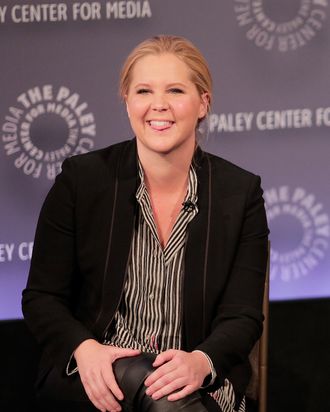 Photo: Randy Brooke/WireImage
"We can say pussy now!" said Inside Amy Schumer's head writer and executive producer, Jessi Klein, eliciting applause from the sold-out audience at last night's Paley Center panel about the show for the New York Comedy Festival. "Can we talk about that? It was a great moment in U.S. history." Indeed, it's thanks to Inside Amy Schumer that Comedy Central personalities can now say pussy uncensored.
Fellow executive producer Dan Powell took up the important cause during season two. "Dan decided that it wasn't fair that they bleep the word pussy," said Amy Schumer. "Because you are allowed to say the word dick on Comedy Central," added Klein. At the time, Comedy Central's standards arm would okay certain anatomical references like dick if they weren't used in reference to sex, but Powell cried gender inequality.
"Halfway through the first season, we started to realize that a lot of the show was addressing women's issues and gender politics," said Powell. "I'd written a letter, sort of like write I'd write to my congressman, and I guess it struck a chord." A conference call with network higher-ups soon followed, and the network assented. "That was Dan's Mr. Smith Goes to Washington," said Schumer.
Thus, in the sketch "Acting Off-Camera," Schumer got to say pussy un-bleeped for the first time. In the sketch — which Schumer called her "favorite" — Amy gets a seemingly plum voice-over gig alongside Jessica Alba and Megan Fox in a kids movie about three animated ass-kickers. "It's like Charlie's Angels, but with meerkats," her agent explains. When Schumer goes to the studio to record her lines, she learns that while Alba and Fox's characters are syrupy and curvaceous, her meerkat, Dumpy, is "really fat, with twigs in its hair, and a huge [visible] vagina." It only takes a few seconds in the sketch for Schumer to deadpan, "My character has a pussy."
During the Q&A, an audience member asked Schumer when she felt like her series had finally arrived. "Someone dressed up as that meerkat with the exposed pussy for Halloween," she answered.