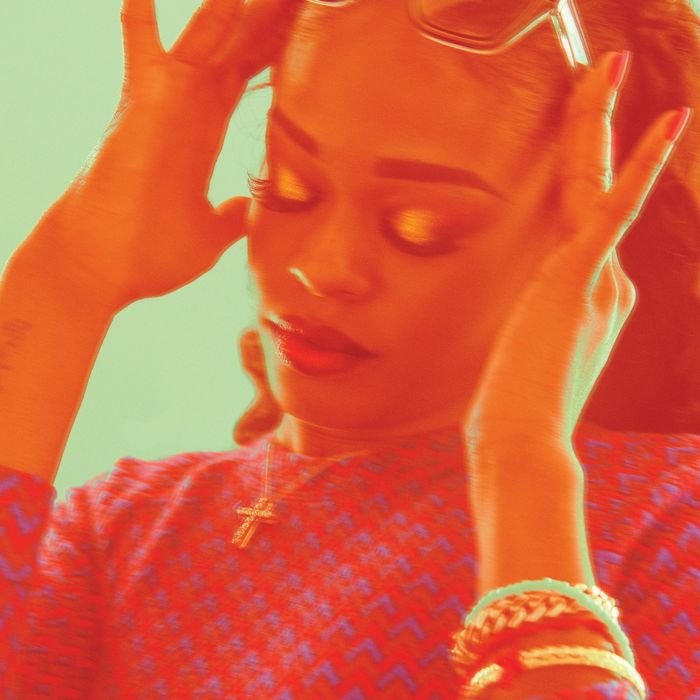 Photo: Christopher Anderson/Magnum Photos/New York Magazine
Photo: Christopher Anderson/Magnum Photos/New York Magazine
Last week, after innumerable delays, Azealia Banks's debut album Broke With Expensive Taste improbably arrived in the iTunes music store. Herewith a short history of how the record finally came together.
1. Azealia Banks is born on May 31, 1991. She's a talented teen dancer and actress who wins admission to La Guardia High School, the artsy hothouse near Lincoln Center. But her home life in Harlem is troubled: When she was 2, her father died of pancreatic cancer, and Banks has said her mother became abusive. "She would hit me and my sisters with baseball bats, bang our heads up against walls, and she would always tell me I was ugly."
2. Stymied in her goal of becoming a professional actress, Banks begins to write songs and creates a MySpace page in November 2008. She spends hours a day on the site, brashly contacting industry kingpins, including Diplo, and they do a song together, "Supplier." By May, she has a development deal at XL Recordings with Richard Russell, whose acts include Adele, M.I.A., and the xx, and she drops out of school.
3. Banks records several songs, none of which Russell releases. She gets frustrated, sends him a new track called "212," which is full of taunting references to lesbian sex, and Russell drops her from XL. Banks goes into "a bit of a depression," moves to Montreal, and later moves back in with her mother and dances at a Queens strip club.
4. Banks releases "212" as a free digital download in May 2011, with a video shot in Montreal—she's wearing pigtails and a Mickey Mouse sweater while chirping the refrain "I guess that cunt gettin' eaten." The song goes viral: Fans include Karl Lagerfeld, Kanye West, and Gwyneth Paltrow, who declares herself "obsessed." Critics adore her rapid-fire triplet cadences and knotty rhymes. After "212" is named one of the year's ten best songs by Pitchfork and The Guardian, she signs to Interscope Records. A debut album is planned for September 2012.
5. The album is pushed back several times in 2013, and internet wags start comparing it to Chinese Democracy. However, Banks is not unproductive during the year; she increases her renown with a series of Twitter feuds, which Stereogum memorializes in the post "10 Dumbest Azealia Banks Beefs of 2013."
 6. She releases a few new songs, including one with Pharrell, "ATM Jam," but her Interscope album is delayed again, to January 2014. Banks feuds with Pharrell and pushes buttons by using the word faggot as an insult and cunt as a compliment. Her defense: I'm bisexual, so stop calling me homophobic.
7. Come January, Banks denounces Interscope on Twitter: She's "tired of having to consult a group of old white guys" about her music and is "literally begging" the label to drop her. In the summer, Interscope complies.
8. On November 6, with no advance warning, Banks self-releases Broke With Expensive Taste to digital outlets. Within hours, Spin renders its verdict: The album is "dripping in confidence, class, brilliance, and personality."
*This article appears in the November 17, 2014 issue of New York Magazine.