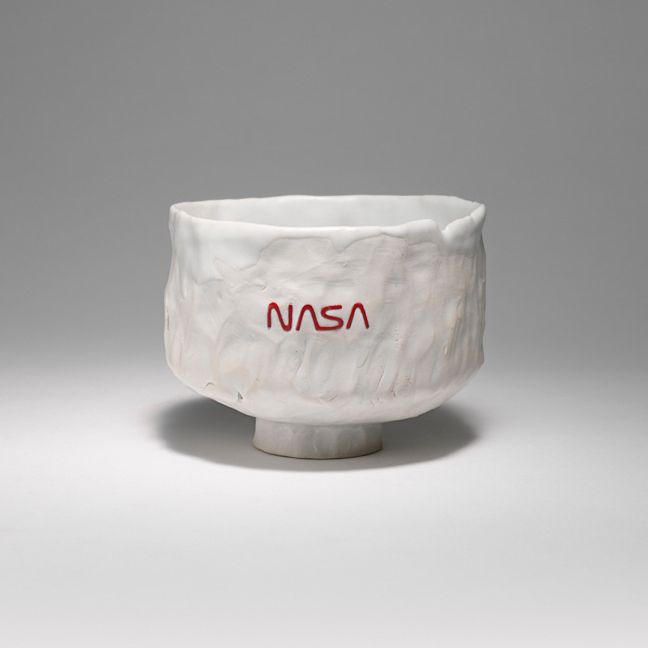 Tom Sachs, Chip, English porcelain, temple white glaze, Nasa Red engobe, reduction fired, 2014. Courtesy the Artist and Salon 94, New York.
Photo: Courtesy of Jeanne Greenberg Rohatyn
SEEN learned how Jeanne Greenberg Rohatyn, the owner of Salon 94, was first introduced to the tea ceremony, an ancient Japanese tradition, and how she learned to appreciate it again this year — as a busy New Yorker with too much to do and too little time — through the eyes of Tom Sachs. 
I first discovered the tea ceremony where one ought to: in Japan.  It was 1997, and I was visiting David Hammons during his residency in the city of Yamaguchi. Our host, an art dealer, was a lay practitioner, typical among women of her generation and status. I admired her transformation from patron to serene chief in command and noticed her highly formalized movements hidden beneath a kimono. For the next few (endless) hours, she led us through a series of controlled and learned steps, her body enacting a faint and ancient dance. As she served the thick, bitter green-tea, I sat in awe of her silence and her sleight of hand. Only later did I realize that this practice held a cultural value equal to her work as gallerist, wife, and mother. The tearoom (chashitsu) was her refuge. At the ceremony's finish, she invited us to look more closely at the utensils and bowls. I was fascinated by her collection of modest stoneware — at once both practical and aesthetic objects.
But as a New Yorker, I had little patience for this unabridged tea ceremony. This year, I found my tea-ceremony kindred spirit when, on a visit to the studio, Tom Sachs pulled out a jerry-rigged, battery-powered chasen, whisking my powdered tea to just the right froth in seconds. Celebrating our limited attention spans, he has sped up the tea ritual with piped-in music and easier-to-wear garb (in collaboration with Nike), all in a super-sophisticated DIY setting. Despite his bells and whistles and high-octane pace, the traditional tea-ceremony steps and setup remain intact. Another devout student.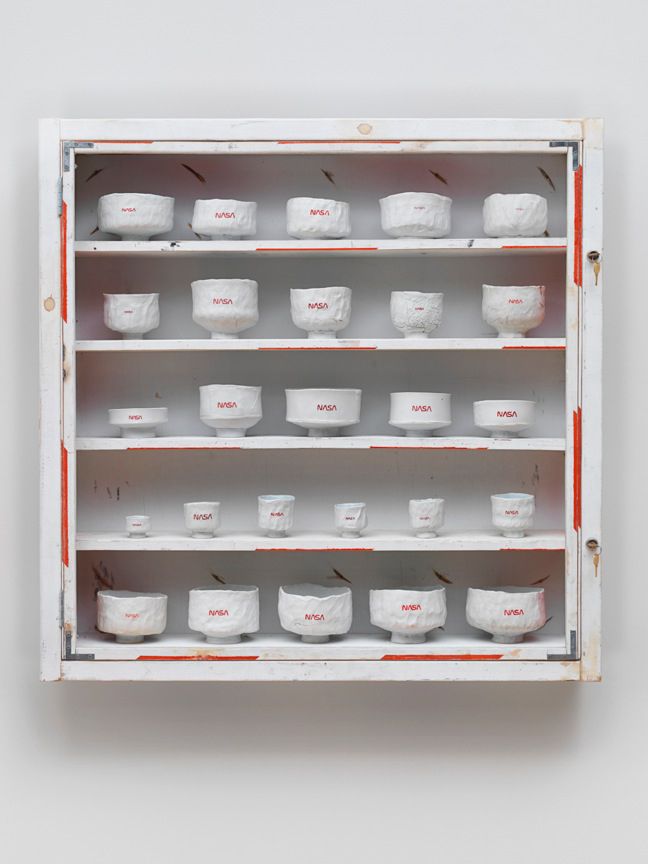 These days, Tom has been visiting me en route to his class at the 92nd Street Y, where he is making his chawan, or tea bowls. He has made some 220 of them and counting. My own burgeoning ceramic collection — which includes pots and objects of all sorts and dates — serves as a study lab. Tom loves pointing out the evidence of a clay pot's making — stress points, a slab body, or spots of lustre powder in an enamel repair. This makes sense, as objects in his studio are in a constant state of being broken and repaired. Duct tape is always within arm's reach; a visible record of Tom's hand is essential to his aesthetic practice. Of course, now I understand how a mended object develops an aura beyond the structural interests, and that through the aesthetics of repair, an object can espouse Zen ideals of rebirth, natural accident, and beauty. I am struck by the audacity of a nonfunctional gold drip, a signature, for example, by the conservator on my favorite 1907 Georges Hoentschel vase.
It is said that matcha looks best in a black bowl. Then Tom's white porcelain with its NASA signage is the completely wrong color! His single black tea-hut-style bowl stands out as the "black sheep" in a cabinet filled with white ones.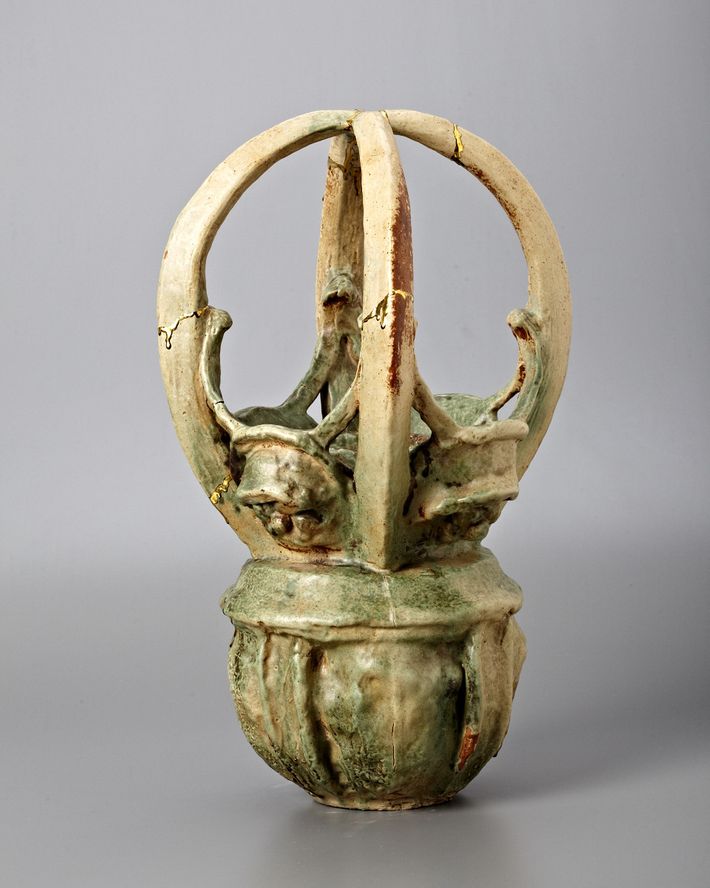 But all good ceramicists are rebels and outliers. Master Betty Woodman recently refused to have her work shown in a decorative art museum, and as her dealer, I concurred. Set on my coffee table and casually placed on shelves, my things of clay function seamlessly as artworks, bowls, and/or flower vases. And while they sit outside any sacred or secreted ceremony, they respect the tea-house mantra that every object is carefully chosen, used, and admired. Tom's and Betty's work are not privileged raku ware laden in tradition, but rather, artworks of a contemporary kind. Their vessels will acquire their stories and history outside any tearoom. Right now, I am using my Tom Sachs chawan for drinking water in the office, while hollering for someone to answer the door.