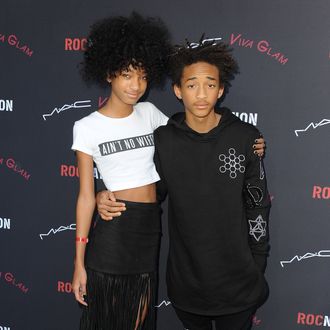 Prana energy.
Photo: Angela Weiss/Getty Images
Any interview with a Smith offspring is a joy, but a joint interview with T Magazine that answers the question, "So is the hardest education the unlearning of things?" That's a blessing. There is so much to learn from Jaden and Willow and their Zen gibberish, like how to deal with the passing of time ("I can make it go slow or fast, however I please, and that's how I know it doesn't exist") and the entire circle of life. Here's how it works:
First, you're a baby:
JADEN: When babies are born, their soft spots bump: It has, like, a heartbeat in it. That's because energy is coming through their body, up and down.

WILLOW: Prana energy.

JADEN: It's prana energy because they still breathe through their stomach. They remember. Babies remember.

WILLOW: When they're in the stomach, they're so aware, putting all their bones together, putting all their ligaments together. But they're shocked by this harsh world.
And then, a teen:
JADEN: Here's the deal: School is not authentic because it ends. It's not true, it's not real. Our learning will never end. The school that we go to every single morning, we will continue to go to … Kids who go to normal school are so teenagery, so angsty.

WILLOW: They never want to do anything, they're so tired.

JADEN: You never learn anything in school. Think about how many car accidents happen every day. Driver's ed? What's up? I still haven't been to driver's ed because if everybody I know has been in an accident, I can't see how driver's ed is really helping them out.

WILLOW: I went to school for one year. It was the best experience but the worst experience. The best experience because I was, like, "Oh, now I know why kids are so depressed." But it was the worst experience because I was depressed.
Finally, an adult:
JADEN: That's another thing: What's your job, what's your career? Nah, I am. I'm going to imprint myself on everything in this world.