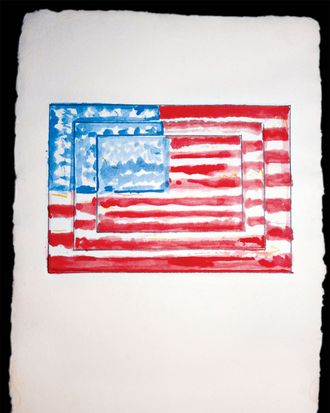 An untitled Jasper Johns drawing that is part of a civil suit against Johns's former assistant James Meyer. Art © Jasper Johns/Licensed by VAGA, New York, NY
Photo: Jasper Johns/Vaga
In his half-century as one of the universally sanctified titans of modern art, Jasper Johns has led a private life, if not a reclusive one, shuttling between his homes in Connecticut and St. Martin with a circle of friends who are protective of him and guarded on his behalf. "He's spent his whole life cultivating a certain air of mystery," says David Ross, a friend of the artist and the former director of the Whitney. Those who still see him say Johns, now 84, can be a brilliant, charming presence, but also by turns slightly cool and prickly — the counter­weight, in temperament, of his ­vivacious late friend and partner Robert Rauschenberg. Another friend compares him to fellow introverts like Philip Roth and Philip Glass: superficially polite yet diffident—and, at moments, abrupt and even biting. The work comes first, and they work alone.
Johns's primary studio — a large, fully renovated old barn on the grounds of his 130-acre estate in Sharon, Connecticut — is a reflection of his personality. There is no Jeff Koons–like army of implementers doing his bidding and no Andy Warhol–like Factory of hangers-on in the corners, watching it all happen. He only occasionally allows visitors; the few assistants he's employed are meant to recede into the background, there but not there. It was in Sharon that one friend, the art dealer Francis Naumann, first met Johns's longtime studio assistant James Meyer.
Given how withdrawn Meyer was around Johns, it's a little remarkable that Naumann managed to get to know him at all. Stocky and mostly silent, Meyer seemed mainly to be on hand to help Johns move things around in the studio; he would join them for lunch, too, but rarely took part in the conversation and almost never shared an opinion. After a number of visits, Meyer let Naumann know that he, too, was an artist. "He was painting a little like Jasper," the art dealer remembers, "though, of course, he was completely unknown." When he learned that Meyer had dyslexia and had difficulty writing the personal statements and other literature that an artist needs to be noticed by gallery owners and dealers, Naumann offered to help. "Every once in a while he would send me something that he wrote, and I would try to put it into better English."
Naumann's next brush with Meyer — the important one — took place in the spring of 2009. Naumann was contacted by a fellow art dealer named Fred Dorfman, asking if he knew of any collectors in the market for a small work by Jasper Johns, a 12-by-14-inch black-and-white drawing on plastic — "a complete and fully finished, beautiful drawing" signed by Johns, Naumann says. Dorfman emailed a photo of the drawing to Naumann, who then sent it to a client of his, a New Jersey–based collector named Frank Kolodny, who fell in love with it. Soon after, Naumann learned that the person selling the drawing was Meyer. On the face of it, he insists, the news that Johns's longtime studio assistant was unloading one of his boss's works struck him as only slightly peculiar. Artists like Meyer "always need money at one time or another," Naumann says.
Given everything that's happened since, it's not surprising that Naumann sounds a little defensive when he tells the rest of the story. It made sense at the time, he says, that Meyer would, over the years, have received at least one of Johns's works as a present. In fact, Naumann had once seen a Johns drawing not so different from this one hanging above the fireplace in the home of Sarah Taggart, Johns's secretary. It also made sense, Naumann says, when he learned that Meyer had set two conditions on the transaction: The sale could not be public, and the buyer could not resell the drawing for eight years. "You can't go tell the artist, 'I'm selling the drawing you gave me,' " Naumann says. "It might make it a little bit uncomfortable if he's still working for the guy."
They agreed on a sale price: $400,000. Naumann says he conducted the appropriate due diligence. He negotiated for Kolodny to be allowed to break the eight-year sale restriction if Meyer stopped working for Johns for any reason. He had Dorfman send him a copy of an official record kept in Johns's office, verifying the work was a gift to Meyer. And he got a sworn affidavit from Meyer himself saying the work was authentic, he'd owned it since 1995, and he had the authority to sell it.
What he didn't do, however, was pick up the phone to try to discuss the sale with Johns. Better, he thought, to be discreet — and sensitive to the studio assistant who was parting with an artistic treasure he no doubt had witnessed the master create. For the same reason, he says, he never spoke with Meyer. This couldn't have been an easy decision for the man. Why rub it in?
It would be another three years before Naumann, along with everyone else, would learn the truth — that the page from Johns's ledger was a complete forgery; that the drawing, though a genuine artwork by Jasper Johns, never belonged to Meyer; that Meyer had covertly pulled it from a file drawer in Johns's studio; and that there'd been a lot more where that came from.
Johns was only 27 when he became a darling of the art world. The Museum of Modern Art snapped up three of his works at his first solo exhibition at the Leo Castelli Gallery in 1958. Pushing past Abstract Expressionism, Johns brought in tantalizing figurative elements — flags, targets, numbers, letters. In the early years, working out of a loft studio downtown, Johns, awash in money and attention, had thrived on the creative foursome he forged with Rauschenberg, John Cage, and Merce Cunningham. As he's gotten older, Johns's circle has narrowed while, among collectors, his work has remained as precious as platinum. In 1980, the Whitney paid $1 million for Three Flags (1958), a record price for a living artist at the time. In 2006, Citadel hedge-fund founder Kenneth Griffin bought False Start (1959) from media mogul David Geffen for $80 million, setting a record.
To continue to produce work at that level demands a great deal of help, and practically no artist of Johns's caliber gets by without a staff of paid assistants maintaining the studio, cataloguing work, and handling the paperwork for sales and authentication. It's a relationship that demands a great deal of trust, and Johns was perhaps particularly trusting. Gary Stephan, one of Johns's first assistants, says he named his own salary, which Johns paid without discussion. "He was very happy to just let things happen. It was like that Cage thing, allowing for chance." Stephan remembers being charged with disposing of large sections of a huge artwork Johns was making for the 1967 World's Fair. "I could have easily outstretched the canvas and walked out the door with it. But I didn't."
Meyer began working for Johns in 1985, starting when he was just 22. He grew up in suburban Northport, Long Island, a boy of Mexican ancestry adopted by white middle-class parents. Meyer's father sold insurance. Neither his father nor his mother understood art or knew what to make of their son's interest in it. He started painting in earnest at 17, producing prints and showing them in Northport. Though Meyer has not commented to the media since being accused, he has shared his story in interviews in the past, even arranging for a friend to interview him for a long Q&A on his own promotional website. "I was fearless," he said. "It never occurred to me to be shy about my art."
At the School of Visual Arts, where he enrolled in 1980, he was, in his own words, "finally asked to leave because I would hand in whatever I was working on and pay no attention to the assignment." Deciding "I knew what I wanted to make," Meyer lived cheap, couch-surfing in the city. His work was included in exhibitions at Danceteria, the New Museum, and the Pat Hearn Gallery. In search of a regular job, he made some slides of his work and knocked on the doors of the studios of Rauschenberg, Roy Lichtenstein, Frank Stella, Richard Artschwager, and Jasper Johns. Most of the studios weren't open, but an assistant was there at Johns's, and he left his slides. When he came back for them the next day, Johns was there. "Two hours later," Meyer recalled, "he hired me."
From that point onward, Meyer's ambitions and tastes were subsumed to those of Johns. When Johns moved to Sharon in the '90s, Meyer and his wife, Amy Jenkins, followed, to a cheaper town nearby called Lakeville. At the estate in Sharon, Meyer worked four days a week, Tuesday through Friday, and lived close enough to come by and help Johns if he needed anything in the studio over the weekend. Each winter, Meyer would come down to Johns's home in St. Martin just long enough to set Johns up for the season, then leave. All the while, Meyer kept waking up early in the mornings — 5 a.m., he'd say — to make art of "the rich bed of images, banal as they sometimes are, that sometimes keep me awake at night." Suburbia dominated Meyer's art: a girl playing with a hula hoop, a boy jumping over a fence. The figures were often in silhouette, with candy-colored patterns behind them. "They're pretty crudely rendered and serially rendered," says one gallery owner who has shown Meyer's work, "which I think was a direct influence of Jasper's, using the same image over and over again."
Meyer's descriptions of his art told the story of being unnoticed, of observing others, and of a deep, unchecked insecurity. In one show, he cited the influence of Dostoyevsky's Notes From Underground. "There is this man narrating his story, trying to be something and always failing, and always blaming other people for his poor behavior," he said at the time. "So he watches the world from his silent perch. I can't help but be like that in a way." A year later, he mounted a show in which his work focused on windows, explaining their appeal as "a removed situation where you can remain unseen."
Northwestern Connecticut has its share of cultural elites like Johns, among them David Whitney and Agnes Gund. Meyer became a visible and endearing presence in a different, more workaday circle of hopeful artists. Together with Jenkins, a teacher at the Indian Mountain School, Meyer helped found the Art Garage, a 2,000-square-foot art studio that hosted an after-school art program at Housatonic Valley Regional High School. He mounted fund-raisers for the Art Garage and solicited donations of artwork to be sold there. Johns donated at least once. But the creative side of Meyer never was part of his daily working life. Meyer once told a friend that any lines he drew on Johns's canvases would eventually be erased and redrawn by the master. (One friend of Johns's says it's preposterous for Meyer even to have suggested that Johns would have let him draw lines on his work in the first place.)
Meyer cycled through galleries in Connecticut and New York, never finding the right launchpad. His networking in the art world had a sharp, disingenuous edge to it. "Once he even gave me a work of art out of the blue," says one major art critic. "I was so freaked out I returned it to his dealer, saying, 'I don't accept anything.'  " Another art writer, John Yau, who visited Johns a few times, had a similar experience. "I had mixed feelings about him. I never felt I wanted to cross any lines. He wanted to get a gallery and dealers. He was rather aggressive about it. I felt there was a kind of attitude that he had, so I kept my distance."
After a while, Meyer became known as abrasive, on the make, creepy even. The artist Laurie Simmons, who has a place with her husband, the artist Carroll ­Dunham, in northwestern Connecticut, remembers the email blasts she'd get from Meyer over the years. "That's not uncommon," she says. But she recalls one time getting a fund-raising email from Jenkins, and then a follow-up from Meyer that began "My friend, Amy Jenkins, has been trying to get in touch with you …"
"I thought, That is so odd," Simmons says. " 'My friend'?" She'd never call her husband her friend, even in an email. "A really odd disassociation thing to do."
What set Meyer off most, it seemed, was rejection. "He took his work very seriously and himself very seriously, a little over-the-top," one gallery owner says. When this gallery dropped Meyer, "it was taken personally," he says, and "the reaction was way out of line." Jenkins even called to complain.
His lack of success, however, didn't stop them from living well. Around 2007, Meyer, Jenkins, and their two children moved from their shingled Cape-style house on a bustling street in Lakeville to a more remote mid-century-modern home in Salisbury, once the home of the cartoonist Robert Osborn. They never sold the Lakeville house, and they rented the Osborn house. There were other conspicuous purchases — four cars, two motorcycles, three trailers, a 42-foot fiberglass sailboat — at the same time that Meyer's children were approaching college age (one has graduated from NYU, and the other attends SVA). A few others in Johns's close orbit now say they'd noticed Meyer was living high. "I think they tried to draw it to Jasper's attention," Naumann says. "But then Jasper maybe concluded he's doing well selling his work. Because what did he know?"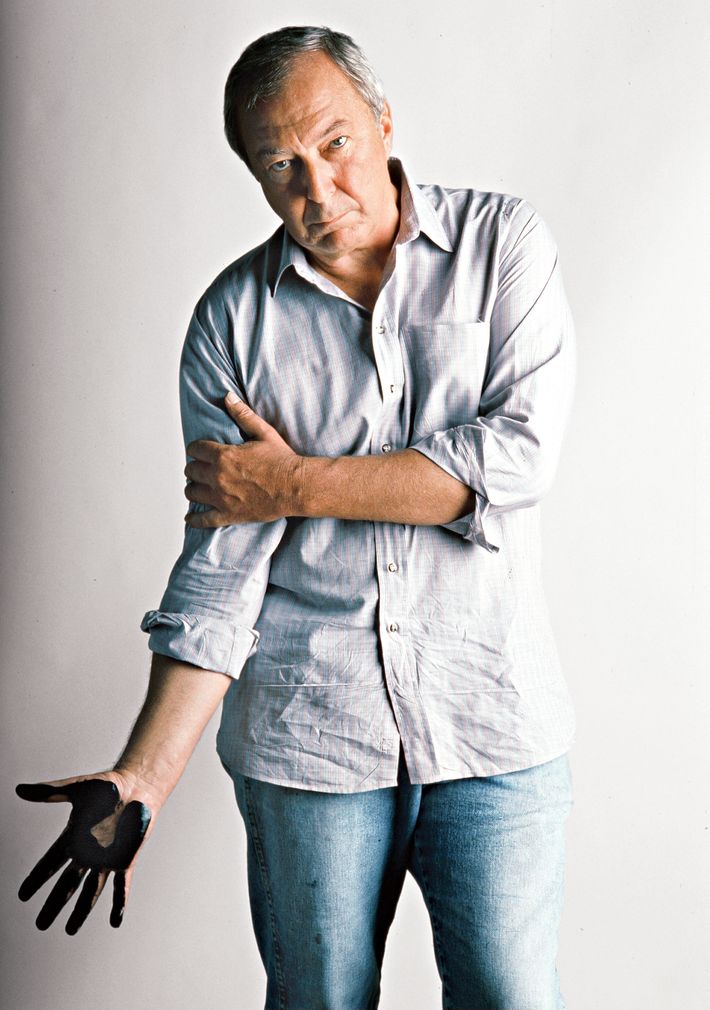 In February 2012, word trickled out around Sharon and Lakeville that Jim Meyer wasn't working for Jasper Johns anymore. It didn't take long for Meyer's friends in the local art community to hear the reason, though the details were vague. "Someone emailed an image to check against the catalogue raisonné, and it got back to Jasper," one friend of Meyer's says. Johns "knew immediately it was not something he permitted. Jim was fired that day."
Naumann was shocked, he says, and puzzled. The artwork that exposed Meyer was not the drawing that Naumann had helped his client Kolodny buy. Naumann spent more than a week unsure of what to do. Finally, he says, Johns called him and politely asked Naumann to tell his lawyer everything he knew about what had happened. Naumann, relieved, said he'd be happy to. During that call, Johns said something that astonished him: Meyer had mailed Johns back one of the stolen drawings. Naumann told Johns that he hoped he kept it in its original paper. "If somebody mailed back a drawing, isn't that a clear acknowledgment that you were the thief? Isn't that, like, admitting to it immediately?"
For 18 months, Meyer and his family proceeded as if nothing were wrong, at least outwardly. Meyer mounted two different exhibitions of his own art—at the Hotchkiss School and Gering & López on Fifth Avenue. Meanwhile, he quietly transferred ownership of the Lakeville house to Amy's name. When the indictment was finally unsealed in August 2013, Meyer stood accused of stealing 22 artworks, some unfinished, between 2006 and 2012. They all apparently had come from the same drawer in Johns's studio, a drawer Meyer maintained. Meyer was said to have created fictitious inventory numbers for the pieces — and, for certain sales like Kolodny's, fake pages in the ledger book. The pieces brought in $6.5 million, with Meyer pocketing $3.4 million.
After a year of negotiation with the U.S. Attorney's office, Meyer pleaded guilty in August, agreeing to pay back nearly $4 million, or about $600,000 more than what he is said to have earned from the sale of the works. At his December 10 sentencing, he could get a prison sentence of as long as ten years. Since Meyer never stood trial, his motivation remains speculative. "The assistant's probably sitting there," one friend of Johns's says, "thinking each brushstroke is a thousand dollars."
Dorfman, who orchestrated the deals for Meyer, avoided prosecution. But in May of this year, he was pulled into the case by a civil suit filed by Kolodny, claiming in court papers that Dorfman "conspired with Meyer to perpetrate this elaborate fraud." The lawsuit argues that Dorfman could not possibly have believed that Johns had generously gifted artwork valued at $6.5 million. In October, Kolodny's lawyer, Judd Grossman, amended the suit, alleging that Meyer and Dorfman had colluded to steal not 22 but "nearly 50" artworks by Johns — including the work at the top of this story — and that Dorfman had kept them not in his gallery but at home. Dorfman's lawyer, Adam Mitzner, says that his client would never knowingly sell stolen art and that "James Meyer defrauded many people, including Fred Dorfman."
Naumann and Kolodny aren't facing prosecution. The U.S. Attorney apparently considers them to be victims of the swindle, like Johns. And the buyers of Meyer's 21 other stolen Jasper Johns artworks? "Whether they're exposed criminally, they're probably already on the government's radar," Grossman says. "We have people come to us all the time saying, 'Oh, I've got this great deal on this work. The work's got a bit of a sketchy provenance, but it's worth the investment.' Which is why I think you don't see a flood of litigation following this disclosure."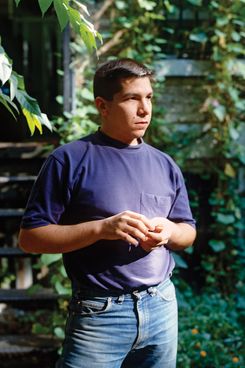 When Naumann thinks of Meyer now, he remembers perhaps the one time when he saw his more vulnerable side. Grateful for Naumann's help in rewriting the notes to his shows, Meyer repaid him with a drawing he'd made. Naumann later used the cardboard the gift came with as a base to cut something without remembering that the drawing was inside. "I cut his drawing in half," Naumann recalls. Slightly abashed, Naumann decided he had to tell Meyer what had happened.
Meyer was livid. "How did you not know my drawing was in there?" Meyer said.
"I mean, maybe I should have been a little more empathetic," Naumann says. "It just came as a surprise, you know? It's not like I cut up a Jasper Johns. I cut up a James Meyer."
Naumann hasn't spoken with Johns since that phone call in early 2012. The dealer spent most of the call concerned that what had happened would hurt their friendship. When he tried to tell Johns how bad he felt, Johns surprised him by saying, "You feel bad? Imagine how bad I feel. I got duped."
Earlier this year, Johns unveiled a new series of paintings and works on paper, mainly in gray tones — all variations on an image of a man sitting and holding his head sadly. The words REGRETS, JASPER JOHNS are stamped on each piece — a coy reference to the stamp Johns has used for years to decline various invitations and offers.
Asked by a Financial Times reporter if there was any meaning to be gleaned from the fact that he started the series just after he discovered being swindled by the man who'd been helping him create his art for 27 years, Johns brought down the curtain.
"I don't want to talk about it. I don't want to define it in any way," he said. "Regrets belong to everybody, don't they?"
*This article appears in the November 17, 2014 issue of New York Magazine.
*The original version of this article incorrectly referred to the town of Lakeville as Lakewood in one instance.