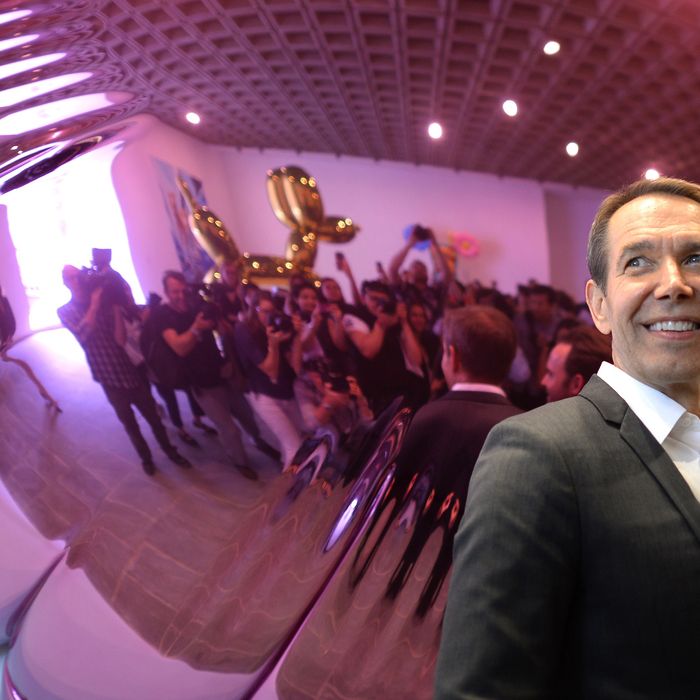 Jeff Koons.
Photo: Timothy A. Clary/AFP/Getty Images
Jeff Koons is one of the most popular and successful artists in the world, and he has never had any sort of reluctance about the pleasures of capitalism. But just because global capitalists love you doesn't mean you can't get pushed out by gentrification (apparently). The family that has for the past century owned the cluster of low-slung, garagelike buildings on 11th Avenue and 29th Street in which Koons makes his studio has just leased the property to Douglaston Development for the next century. Pending a rezoning, it should be an apartment tower or two in a few years. (Douglaston already owns a 34-story rental building across the street at 312 11th Avenue.)
This isn't the first time this has happened. In the late 1980s, Koons had his studio on the corner of Houston and Broadway, where meticulous young artists produced his paintings (which look like no human hand ever touched them). But that area became too expensive. And now, as the windswept, formerly industrial area he moved into in 2004 — between West Chelsea and the Hudson Yards — fills in with high rises, he's on his way out.
Koons's studio takes up almost a quarter of a city block: Inside, there's a big, open-plan office, a room full of scaffolding for the painters, and extending around that are various other fabrication areas, including an industrial paint shop for his sculptures (which looks like a place to repair your dinged-up battle robot) and places where half-complete pieces from his various iconic series are in storage.
It hasn't all been hard real-estate luck for him, though: This past summer, he got approval to combine the side-by-side townhouses he owns at 11 and 13 East 67th Street into one supermansion. He paid a total of $32 million for them both in 2009 and 2010; it'll cost $4.85 million to merge them. At over 19,000 square feet, it ought to be big enough to kennel at least one Balloon Dog.