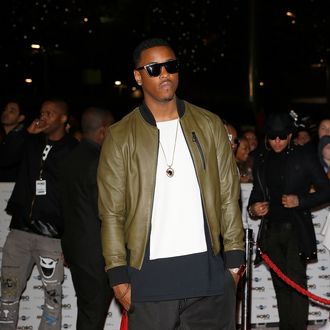 Photo: Tristan Fewings/2014 Getty Images
Jeremih, the guy who gave us 2009 Song of Summer contender "Birthday Sex," recently rolled into a Fuddruckers in Billings, Montana, with his entourage and allegedly trashed the place. According to the manager, Jeremih and his crew ordered cheese sticks and chicken fingers and then hit on the cashier, who said she felt uncomfortable. When the manager asked them to step away from the employee, they grabbed the mike and accused them of racism and then threw beer bottles, causing $700-worth of damage. 
TMZ has now secured video of the incident. The video quality makes it hard to make out what happened, because it just looks like someone is casting a hex. From the looks of it, though, Jeremih wasn't involved in the destruction.
Update: Jeremih has responded on Twitter, saying he has "never experienced such blatant racism" as he did in Montana.