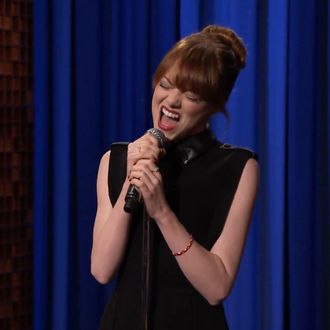 Jimmy Fallon's greatest celebrity challenge — the lip-sync battle — is getting its own stand-alone TV show. As we've learned from RuPaul's Drag Race, the lip sync tests a performer's charisma, uniqueness, nerve, and talent. Fallon, along with John Krasinski and Stephen Merchant, will executive-produce Lip Sync Battle for Spike TV. They'll also perform on the series. We already know Merchant does a mean lip sync, but we'd like to see a throwdown between Paul Rudd and Emma Stone, who gave us the most memorable performances on Fallon. Let's revisit, shall we?
And of course, Ms. Stone. Who wins. No matter what.
The show is set to drop April 2, 2015.