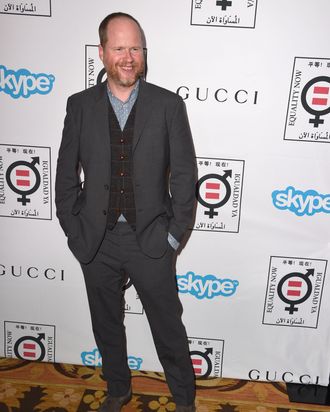 Joss Whedon.
Photo: Steve Granitz/Getty
Joss Whedon has plenty on his plate right now, since he's finishing up next summer's eagerly anticipated Avengers: Age of Ultron (which will apparently now include Idris Elba and Tom Hiddleston, according to an indiscreet Elba), but the writer-director still made time to attend an Equality Now event last night at the Montage Hotel in Beverly Hills. On the red carpet, Whedon caught up with Vulture about all things Marvel and talked about feminist controversies in the online age.
How would you advise men in the world who are shy about saying they're into feminism? What do you think is the best way to support the cause?
Well, they need money, they need volunteers. Action is the best way to say anything. A guy who goes around saying "I'm a feminist" usually has an agenda that is not feminist. A guy who behaves like one, who actually becomes involved in the movement, generally speaking, you can trust that. And it doesn't just apply to the action that is activist. It applies to the way they treat the women they work with and they live with and they see on the street.

Especially since you participate in the online realm, where things can get a little hateful, what for you is the most surprising thing about how people attack each other because of sex or gender?
You know, it's one of those things that's always surprising. I was raised by a very strong woman, I didn't know feminism was actually a thing until I left home and found out the country didn't run the way my mom's house did. So I have this goldfish, idiot, forgetful thing in that every time I'm confronted with true misogyny, I'm stunned. I'm like, Really? That's like, I don't believe in airplanes. It's like, What century are you from? I don't get it. So usually I'm shocked, then occasionally amused, then occasionally extremely not amused, but once I get over the shock, it's very clear that misogyny in our own culture — and not just where they perform genital mutilation and marry off 10-year-olds — runs so deep. When I see this hate bubbling up towards any kind of progress, my reaction is twofold: First, it's horror, and then, it's delight, because you don't get this kind of anger unless real change is actually happening. It is a chaotic time. It's an ugly time because change is happening. It would be lovely to be living after the change has happened.
Did you have to send a scolding "Tsk, tsk" email to Mr. Elba?
Um, should he receive an email from me, there might be an attitude of scold.

I'm sure Marvel Studios head Kevin Feige was in touch …
Yeah, when you have a cast of 19,000 people, inevitably, once every month, you pick up [a story] and you're like, "Awww."
People on the inside who have read the Avengers: Age of Ultron script have told me it's bananas, in the best way. How is the experience for you at this point?
Well, at this point, I'm still trying to connect those bananas and turn them into a bunch. Yeah, I don't think that banana metaphor is going to go very far [laughs], but it's really fun, honestly. Even while I'm looking at ways in which I messed up, it's fun taking everything and connecting it, finding a way to make something more emotional or funnier or cooler, so I love the work.

You were at the event where Marvel announced its slate of movies through 2019. Is it a little daunting to see things planned out that far in advance?
You know, it is a little daunting, and you sort of go, [mock-whiny] "What about my movie? I haven't even been born and you already like my younger siblings better?" But at the same time it's exhilarating. It's really fun to see where Kevin's taking it and to see the workings of that mind. I think it was a very canny and very human move, I really like the slate.

Do you ever look at the fan reactions and speculation?
Sometimes. Sometimes it's depressing, sometimes it's enlightening. Every now and then, you definitely learn something from some random person on the internet who sees your work in a way you didn't, who sees truth in it, that's worth it.

Mark Ruffalo says he has no idea how many of those movies he's supposed to be in. Do you know?
No, I don't. Because these plans become mutable. "These guys have these rights, oh, now we have these rights. Oh, this guy is now not available." Again, you're dealing with so many moving parts and so many factors, you just can't really predict much.