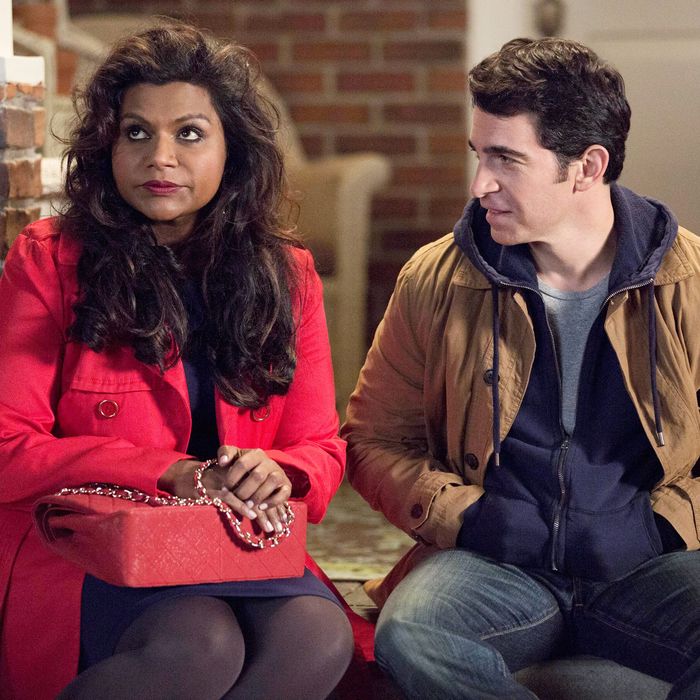 The Mindy Project is turning into a soap opera with hints of sitcom — and that's a good thing.

Mindy Kaling's training ground, The Office, slipped into and out of this mode, often well, occasionally not so well. So it makes sense that she'd be able to work that vibe here, especially since the "project" of the title is, if anything, an examination of romantic comedies. Instead of worrying about A plots and B plots, we now seem to be focusing more on ongoing story lines that happen to lend themselves to weekly arcs. And as a result, the show is having its most consistently engaging season so far.
This week, Danny and Mindy's relationship faces yet another test, which presents itself in the first scene: They're supposed to meet at a theater to see The Godfather Part II, and Mindy is late as usual. They miss the movie despite her elaborate attempts to pretend she's less late than she is. (Texting that she's in a cab when she's still at home, texting that she's "in the crowd" when she's not there yet …) This conflict escalates when she's late for work the next morning and Danny calls her out on it. Though it's only 9:18, which is practically 9:15, which is practically 9, as Mindy explains: "If anything, I'm early."

Dr. Fishman then returns, showing up at Schulman and Associates to suggest that Danny get counseling — "an outlet for your uncomfortable feelings," as she says. Because we've had a few weeks off from Mindy, it took me a moment to figure out what she was talking about; then I remembered his faked "suicide" threats that helped Mindy wriggle out of the uncomfortable love triangle with Dr. Fishman. See! If this same plotline was played out with deadly seriousness and extraordinarily good hair, it could be on Grey's Anatomy. Soap opera.

It is at "Laughaboutit, a night for New York's best Italian comedy," that we realize Danny is trying to teach Mindy a lesson about punctuality. This sort of made me tired — is every week now just going to be Danny trying to teach Mindy a lesson about some character flaw, with ensuing high jinks? But the plot eventually took enough turns to satisfy me — something Mindy often does. First, there's the treat of the terrible comedian performing when Mindy gets to the club after Danny has already left. I couldn't figure out if this was some kind of commentary on Italian-American comedians or just standard Castellano humor, but the guy was hilariously awful. His big joke: asking Mindy, "J.Lo, who you texting? Ben Afflecks?" I do love, too, that Mindy takes the J.Lo comparison without comment and instead points out that Jennifer Lopez and Ben Affleck broke up years ago.

Things really get going when Mindy complains that she feels like Danny is giving her a lecture, and "not the good kind, where I end up stalking the professor at the end." Tamra defends Mindy's right to be as late as she wants by citing the principle of "Caramel Princess Time." I say she's allowed to be as late as she wants if it means we eventually get to see more of Rhea Perlman as Danny's mother, Annette — which, indeed, was the case. It's complicated, but essentially, Danny acts crazy at the office when he and Mindy are trading "lessons" with each other, and Dr. Fishman happens to be there to see it, so she demands he go to mandatory counseling with one of the Deslauriers on Saturday or face suspension. The rub: He's supposed to take Ma for errands that day. Mindy volunteers to take her — and Ma's friend Dot, yay! — instead. Thus, we all win.

Danny resists his counseling at first, of course, grumbling that everyone should deal with his or her emotional problems by eating lean protein and exercising ten times a week "like a normal person." He finally breaks down under intense questioning by Deslaurier. ("She was late to which particular ethnic exploitation film?") It turns out Mindy's lateness reminds Danny of the time when his dad was supposed to take him to see Ghostbusters; when Dad didn't show up, little Danny had to see Amadeus because Ghostbusters was sold out. Danny has his realization, though Deslaurier wants more. ("No, tell me about the priest. There has to be a priest!")

Annette and Dot turn out to be much, much worse about staying on schedule than Mindy is, which finally does teach her a lesson through sheer frustration (and a crazy "Dixie Carter hairstyle" during a trip to the salon with them). Mindy even becomes Danny-like, forcing his mother to get a mammogram after begging a doctor friend to stay late for it. (Incidentally, I love the little hints at rich personal histories whenever Mindy and Danny run into other doctors at the hospital. The ophthalmologist whose child they knew, and now the mammogram doctor whom Mindy once helped when she got drunk on margaritas and passed out at a medical convention.)

Our lovebirds find each other on the stoop of the Castellano home on Staten Island, apologize, and trade insights; order is once again restored. They've managed another relationship hurdle together.

In our other big, soapy plotline for the episode, Peter's quest to get over Jeremy stealing his girlfriend continues when Tamra announces she'd like to set him up with her best friend. She explains, "She's been looking for a strong-ass man but is now lowering her standards." This line is delivered with its own little interpretive dance that embodies the magic of Xosha Roquemore.

Peter agrees to meet Tamra's friend. When he gets to the date's appointed location, he asks the restaurant host, "Have any beautiful women of color checked in?" This immediately clues us in: There is no way his date is going to look anything like Tamra. Indeed, he instead discovers Abby, a 30-ish white woman who says she's "meeting a doctor who looks like Meatloaf … or a meatloaf." She's played by Allison Tolman of Fargo, which is particularly cool because Kaling wrote the part just for her after the two exchanged Twitter admiration. Peter, clearly disappointed not to find a Tamra doppelgänger, escapes the date by lifting the plot from Look Who's Talking. (Don't worry; Abby is onto him.) Abby Berman, it emerges, is a rather successful historical romance novelist, thus revealing yet another intriguing layer to Tamra. For every stereotypical trait Tamra has (sassy remarks, dance moves), she has at least two surprising traits: We've learned, for instance, that she loves Downton Abbey and once made Mandy Patinkin instantly fall in love with her. Why shouldn't she have a best friend who's white and writes historical romance novels?

The day after Peter and Abby's bad date, Tamra demands Peter apologize to her friend. When he goes to her book signing to do so, he finds out how popular her work is, and is also impressed by her steamy prose, which he reads while in line to talk to her. She's not interested in him anymore — she sees right through his initial shallow reaction to her. But he's determined to win another date with her, so he writes a terrible historical romance of his own — something about the two of them being on the Titanic and him being an idiot — then storms her writing group to read it to her.

It's romantic-comedy perfection, yet again, from The Mindy Project. Keep the soapy goodness coming, Mindy.