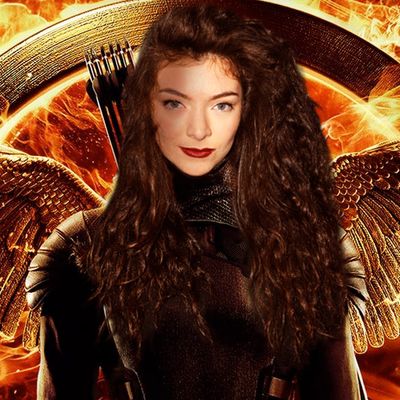 Photo: Maya Robinson and Photos by Getty and Lionsgate
When we first saw the track list for the Lorde-curated Hunger Games: Mockingjay – Part 1 soundtrack, we wrote, "Lorde's Mockingjay Soundtrack Is Very Lorde." Now that the soundtrack is out, we can confirm we were super-right. It could only be more Lorde if the soundtrack were just Pure Heroine with all the nouns changed to Katniss, bow, and arrow. We have ranked the soundtrack's 14 songs by Lorde-ness, from least Lorde to most Lorde. Who will be No. 1? Will it be Lorde? The odds are definitely in her favor. (Listen to all the songs below.)
14. Major Lazer and Ariana Grande "All My Love"
As we all now know, Diplo, a.k.a. Major Lazer, is not a friend to Lorde. They've done remixes together before, but after Katy Perry's boyfriend dissed Perry's rival Taylor Swift (Lorde's BFF), Lorde decided to go ahead and tweet something. This is all unrelated, except to say that a song by Ariana Grande (a star who exists on the other end of the pop spectrum from Lorde) featuring Diplo is not very … Lorde-ish.
13. Tinashe, "The Leap"
Make no mistake: Tinashe is great, and so is her debut album, Aquarius. But is she moody enough for Lorde's Hunger Games reign? Not exactly.
12. The Chemical Brothers, "This Is Not a Game" (featuring Miguel and Lorde)
This song sounds nothing like Lorde, but it's good as hell. And Lorde makes good music. Vis-à-vis the rest of the album, it's not completely Lorde-free. 
11. XOV, "Animal"
This sounds like Imagine Dragons covering Lorde. The problem is it ultimately leaves a radioactive taste in your mouth.
10. Stromae, "Meltdown" (featuring Lorde, Pusha T, Q-Tip, and HAIM)
Ever hear that phrase, "Too many cooks spoil the pot"? Lorde's the pot.
9. Grace Jones, "Original Beast"
The idea of Lorde reaching out to Grace Jones to ask for a track is indeed quite Lorde, but the track she got in return? Hm.
8. Tove Lo, "Scream My Name"
The verse has a very Lorde-y, minimalist beat, and the vocals are relaxed and soulful. Then the chorus kicks in, and it might as well a house song. 
7. CHVRCHES, "Dead Air"
Not only is it a tad gloomier than most stuff by CHVRCHES, but like Lorde, the lead singer sounds like a baby. Just two singing babies, playing in a dystopian sandbox.
6. Lorde, "Yellow Flicker Beat"
Just this: "But I got my fingers laced together and I made a little prison / And I'm locking up everyone who ever laid a finger on me."
5. Lorde, "Flicker" (Kanye West rework)
What could possibly be more Lorde than a Lorde song written for the Hunger Games: Mockingjay soundtrack? A Lorde song written for the Hunger Games: Mockingjay soundtrack reworked by Kanye West. (It's also slower, darker, and moodier than the original.)
4. Charli XCX, "Kingdom" (featuring Simon Le Bon)
And now for the British portion of the soundtrack, self-proclaimed London Queen and her Duran Duran forefather bring a dark, loud, and forever-'80s track.
3. Bat for Lashes, "Plan the Escape"
At first, you're like, This just sounds a lot like Bat for Lashes. Then you're like, Wait, has Lorde sounded like Bat for Lashes this whole time?
2. Raury, "Lost Souls"
Raury is not only a teenager like Lorde, but you probably haven't even heard of him yet. He's that cool, like the "100" emoji or fleek. No, you can't use either.
1. Lorde, "Ladder Song"
Is there anything more Lorde than Lorde herself covering a Bright Eyes song!? (No. The answer to that is no. There is not.)