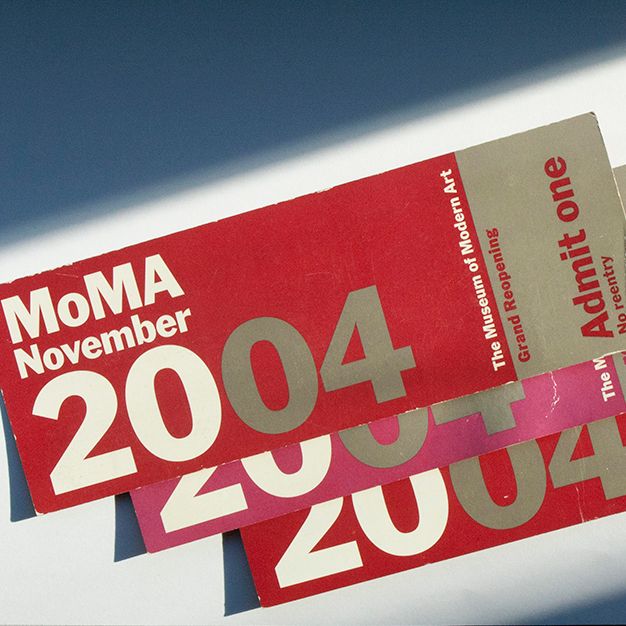 Tickets from MoMA's 2004 grand reopening.
Photo: Tirzah Brott/New York Magazine
Ten years ago today, the Museum of Modern Art opened its sleek, shiny, billion-dollar, handsome but essentially invisible Yoshio Taniguchi Building —  you can walk past it and not even know it. MoMA is the art world's Garden of Eden, the place we all go to commune with the past ancestors of Modernism. But as soon as I walked in, I knew something was off; since November 20, 2004, a nightmare has overtaken Modernism's garden. Only a few days after MoMA reopened, I wrote, "A terrible gnawing sensation in the pit of my stomach tells me something is dreadfully wrong … there is a serious shortcoming … the total square footage … housing what is often called the greatest collection of modern art in the world is just too small. This spells trouble."
MoMA repeatedly and regularly claims that it is "a victim of its own success," that it's become the museum it has become because of its popularity. It's probably churlish on this tenth anniversary to say that this is patently untrue and that the museum's horrendous planning of the spaces for the permanent collection is entirely at fault for this unparalleled catastrophe. Instead, let's just say, Happy Tenth Anniversary, MoMA: Please get out of your own way, put the collection first, understand that painting and sculpture are also "a time-based art," and get this next renovation right. This is our last chance to come back to the Garden.