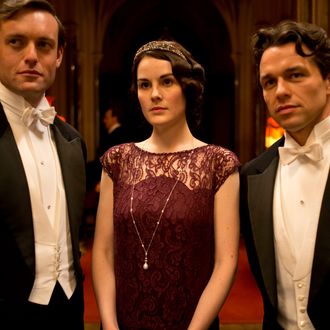 Part Five Sunday, February 2, 2014 9 – 10pm ET on MASTERPIECE on PBS Rose's surprise party for Robert risks scandal. Mary meets an old suitor, and Edith gets troubling news. Shown from left to right: Brendan Patricks as Evelyn Napier, Michelle Dockery as Lady Mary and Julian Ovenden as Charles Blake (C) Nick Briggs/Carnival Film & Television Limited 2013 for MASTERPIECE This image may be used only in the direct promotion of MASTERPIECE CLASSIC. No other rights are granted. All rights are reserved. Editorial use only. USE ON THIRD PARTY SITES SUCH AS FACEBOOK AND TWITTER IS NOT ALLOWED.
Photo: Nick Briggs/Carnival Films
Downton Abbey will return for a sixth season, PBS announced today. Julian Fellowes will be back to write the episodes, but the rest of the cast isn't confirmed yet — so everyone could still die in stupid, arbitrary, or sad ways. The show's fifth season (eight episodes plus a Christmas special) is currently airing in the U.K. and will air in the U.S. starting January 4. Maybe this season Lady Edith can finally find a happy way to live? Or at least a less sad way?